FOXBOROUGH, Mass. – When the New England Patriots announced plans last winter to build the Optum Field Lounge, they told fans  they'd be treated to a game-day experience unlike any other. After Thursday night's preseason opener at Gillette Stadium, it's safe to say the team made good on its word.
At the posh, members-only 20,000 square-foot venue, which stretches across the south end zone, fans enjoyed all the Optum Field Lounge has to offer: a climate-controlled space with premium food and bar service, private restrooms, state-of-the-art HD televisions – highlighted by a 9-foot-by-32-foot high resolution media wall – and an on-field patio that gave them an unprecedented sightline to see the action.
"I don't always go to preseason games, but with the new field lounge opening, I had to come today," said Steve DeMego, the first fan to arrive, who proudly christened the Optum Field Lounge by ordering the first drink. "I didn't want anyone to tell me what it was like, I wanted to see it for myself and it's unbelievable. I saw a picture of this place in the brochure the team sent out and it looked good, but this blows the drawing away."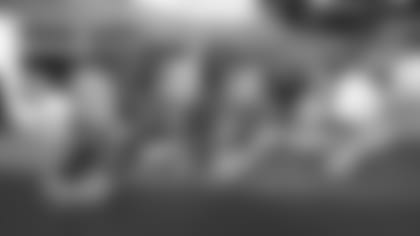 Optum Field Lounge members have the ability to go to and from their season ticket seats throughout the game. For DeMego, who's had to endure some wretched weather over the course of his 26-year tenure as a Patriots' season ticket member, that's a huge perk.
"I was here for the AFC Championship Game against the Colts and I stood out there and got soaked," said DeMego. "I enjoyed the game, but at least now I have an option to watch from inside. Here, you've got the best of both worlds."
Southern New Hampshire residents Joe and Kathy Leahy, season ticket members for the past 20 years, were two fans who had doubts about the Optum Field Lounge, but the ambiance immediately won them over.
"It's more upscale than I was expecting, but it's casual at the same time," said Kathy. "It's not a cold, stuffy environment. It's definitely a football venue," added Joe. "It's a really nice space; I think they hit it right on the head. The Kraft family has really outdone themselves this time. We thank them, because this place is amazing."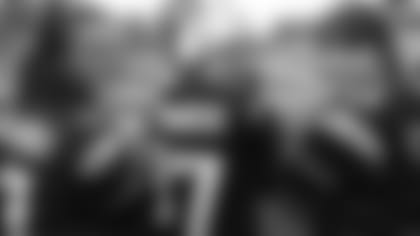 Patriot diehards weren't the only people lavishing praise on the new space. Adam and Cait Mundt, a pair of Packer fans donning Green Bay garb, were thoroughly impressed with the retrofit facility.
"This is super unique," said Adam. "Getting to see everyone up close and personal is really exciting. It's an on-field experience when you're at the game, which is pretty awesome because a lot of other stadiums don't have anything like this."
Few fans were as excited to welcome back the Patriots for another season as Nykola Isaia, a sophomore at Goffstown High School in New Hampshire. Isaid admitted she "cried and started shaking" when she received tickets to her first game as a gift. Getting to see it from the field was beyond her wildest dreams.
"My jaw dropped when I walked in here," said Isaia, wearing Patriots gear from head to toe. "I didn't realize I was going to be this close to the field. It's awesome, it's amazing."
Patriots' season ticket members were given the option of purchasing a one-year or three-year membership to the Optum Field Lounge. Scott Sherman rolled the dice and went with three. As far as he's concerned, he hit the jackpot.
"When I first heard about the place, you got to see some schematic diagrams, but you really didn't know what to expect, " said Sherman. "It was a pig in a poke, but I decided to pay for three years anyway and I'm overly enthused I did. Normally in professional sports, you don't find value, but this is a great bang for your buck. It vastly exceeds my expectations."
On non-game days, the lounge will be available for a variety of events, functions and parties, including dinner receptions and business meetings.