On Oct. 9, 2006, The Gridiron Club of Greater Boston gathered at the Marriott Hotel in Burlington, Mass., to honor Vito "Babe" Parilli as its Man of the Year. The event took place at the National Football League Legends Night Dinner, which benefited the Italian Home for Children and the Cystic Fibrosis Foundation.
"When I first got introduced, I don't know how many people were there, but they all stood up and cheered," said Parilli recently. "It caught me by surprise. It seemed like a big change from when I was playing. I didn't get too much applause back in those days [laughs]. Gino [Cappelletti]introduced me. He was throwing me the pass this time. All those years I threw him the ball. He introduced me and thew me the ball, I guess you could say. I retired in 1970. That's 37 years ago that they still remember. I realize that athletes come and go and you make room for the young guys. I wouldn't have traded our years together for anything, seven years there. It meant a lot to me."
The award, previously given to such greats as Steve Nelson, Steve Grogan, Dick MacPherson, Mike Holovak, Ron Burton, Nick Buoniconti, Tom Yewcic and Cappelletti celebrates Babe's outstanding career. Born the youngest of three kids in the Parilli family, Babe played fullback in a single-wing backfield while attending high school in Rochester, Pa., but was converted to quarterback at the University of Kentucky by then-Head Coach Paul "Bear" Bryant. Babe led the Wildcats to the most successful three-year stretch in the school's history, setting four NCAA passing records. He was twice a first team All-America selection and finished third and fourth in Heisman Trophy balloting.
A member of the Patriots Hall of Fame, Parilli still holds the club's single-season touchdown record with 31 touchdown passes in 1964. He remains the fourth all-time leading passer for the Patriots, though he was the franchise's first quarterback. He played professionally for 16 years, but stayed with the game after retiring. He coached for the Patriots, then the Steelers and Broncos, and also worked with a number of teams in the expired World Football League as well as the Arena Football League.
"It's time to let other people do it and enjoy my life. I enjoyed all of it. I never felt I had a job. I looked forward to all of it, playing and getting knocked around," he said. "I think [events like these are] two-fold. I think the charities are very important, but I think it brings back the memories of the guys who got things started – the workhorses of this franchise. It brings people together. All the older guys come out and get together for it. It was quite impressive."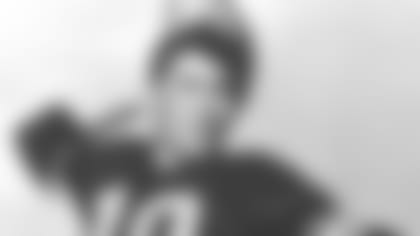 Parilli currently resides in Denver, Colorado, where he enjoys playing as much golf as possible. His friends at the Gridiron Club outfitted him with a new set of clubs to commemorate the award.
"The fact that the guys still living in the (New England) area and when they have an affair like this that it really brings everyone together – it's nice. Nice to see everyone and the fans," said Parilli. "It's a great thing that they're doing there, Tommy [Yewcic] and his committee. They're doing a great job."