FOXBOROUGH, Mass. – The New England Patriots announced that three former Patriots have been selected as finalists for this year's induction into the team's hall of fame. This year's finalists (listed in alphabetical order) are cornerback Raymond Clayborn, offensive tackle Leon Gray and defensive end/linebacker Willie McGinest. McGinest is a first-time finalist, while both Clayborn (2014) and Gray (2013) are second-time finalists.
Starting today, Patriots fans are encouraged to vote for the former Patriot most deserving of hall of fame enshrinement. Fans can vote on www.patriots.com/2015hof for the next month. Voting will end on May 16, 2015 and the Patriots will announce the 2015 Patriots Hall of Fame selection at a later date.
This year's inductee will become the 24th person to be enshrined into the Patriots Hall of Fame and will join defensive lineman Houston Antwine, who was selected to the hall of fame by the senior selection committee, as the 2015 honorees. The Patriots Hall of Fame induction ceremony is held on the NRG Plaza just outside The Hall at Patriot Place presented by Raytheon. The outdoor ceremony is free and open to the public. Patriots fans of all ages are welcome and encouraged to attend. The date and time of this year's event will be announced at a later date.
Beginning in 2007, the Patriots started a new hall of fame tradition, inducting one player or head coach to The Hall each year. The process for induction involves a panel of media, alumni and staff who collectively nominate the players or head coaches most deserving of induction. After the nominations are made, the committee votes and the top three tallies become that year's finalists. The Patriots then give their fans the opportunity to vote online to select each year's winner.
The New England Patriots held their annual nomination committee meeting on Thurs. April 2 to nominate this year's candidates for induction into the Patriots Hall of Fame. Now it is up to the fans to select this year's honoree.
This year's finalists are listed below:
Raymond Clayborn was a three-time Pro Bowl player (1983, 1985, 1986) for the Patriots from 1977 through 1989. He joined the Patriots as a first-round pick (16th overall) out of Texas in 1977 and quickly established himself as one of the best cornerbacks as well as a superb kickoff returner. He finished his career with a franchise-leading 36 interceptions, a record which was tied by Ty Law in 2004 and remains today, 24 years after he retired. He returned those interceptions for 555 yards for an average of 15.4 yards. His 555 interception return yards are second in franchise history to Law's 583 return yards. Clayborn also returned 57 kickoffs for 1,538 yards and three touchdowns. As a rookie in 1977, Clayborn returned 28 kickoffs for 869 yards and led the NFL with a 31-yard return average and returned three kicks for touchdowns, both of which remain franchise records. He is one of just 18 NFL players since the 1970 merger to finish a season with a better than 30-yard average on kickoff returns (min. 20 returns) and is the only Patriots player to accomplish the feat. Clayborn played a vital role in bringing the Patriots to respectability in the late 1970s and early 1980s. During his 13 seasons with the Patriots, he helped the Patriots to 10 winning seasons, including four postseason berths. Clayborn intercepted Hall of Famer Dan Marino and recorded six passes defensed to help end an 18-game losing streak to the Miami Dolphins in the Orange Bowl in a 31-14 AFC Championship victory that lifted the Patriots to their first Super Bowl. Clayborn was a member of the Patriots 1970s and 1980s all-decade teams. He also set a franchise record by playing in 161 consecutive games.
Leon Gray was a third-round draft pick in 1973 by the Miami Dolphins as a tackle out of Jackson State. He was cut by Miami before the start of the season and claimed off waivers by New England. By the 1976 season, he was viewed as arguably the best left tackle in the game. He was a key reason that QB Steve Grogan was sacked a franchise-low 14 times in 1977. He teamed with Patriots and Pro Football Hall of Famer John Hannah to form what is generally considered the best guard/tackle tandem in the NFL. At the end of the 1976 season, Gray was selected to play in the Pro Bowl – the first of two such honors as a Patriot and the first of four trips to the Pro Bowl during his NFL career. In 1976, Gray helped power a Patriots rushing game that averaged 210.6 yards per game (which remains a franchise record) and led the Patriots to their first 11-win season in franchise history. In 1978, Gray once again paved the way as the Patriots surpassed their season rushing record with 3,165 yards, an NFL record that still stands 37-years later. Gray was rewarded for his role by being named a first-team All-Pro by the Associated Press, Pro Football Weekly and the PFWA. He was also selected to the Pro Bowl for the second time. After six seasons with the Patriots, Gray finished his career with Houston (1979-81) and New Orleans (1982-83).
Willie McGinest was the Patriots first-round draft pick in 1994 out of Southern California and was the first draft pick selected under the ownership of Robert Kraft. He played 12 of his 15 NFL seasons with the Patriots and was one of the cornerstones of the team's success in winning the Super Bowl in the 2001, 2003 and 2004 seasons. He ranks third in team history with 78 sacks and led the team in sacks six times, including a career high 11 in 1995. McGinest owns the NFL record with 16 career postseason sacks and set the NFL mark for most sacks in a postseason game with 4½ in a 2005 Wild Card win vs. Jacksonville. One of his most memorable plays came in a 2003 regular-season game when he stuffed Indianapolis running back Edgerrin James on the goal line with 11 seconds remaining to preserve a 38-34 win. He was a versatile player, who played defensive end and linebacker and earned Pro Bowl honors in 1996 and 2003. The Patriots had winning seasons in nine of his 12 seasons, won the division six times, the AFC four times and the Super Bowl three times.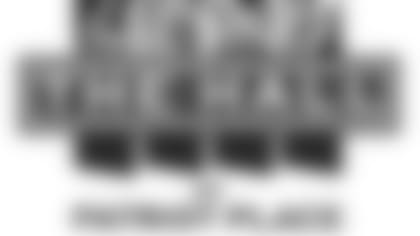 About the Patriots Hall of Fame
The Patriots Hall of Fame was officially formed in 1991 after John Hannah became the first Patriots player to be inducted into the Pro Football Hall of Fame. With the hall of fame, the Patriots created a new way of honoring their greatest players. It wasn't until 2008, with the opening of The Hall at Patriot Place presented by Raytheon, that Patriots players, past and present, truly had a place to call home that they could share with their fans. Now, enshrinement into The Hall is an honor befitting of the franchise's greatest players, with 30-foot video pylons displaying each enshrinee. Beginning in 2007, fans became part of the hall of fame tradition and active participants in the selection process.
This year's inductee will join other Patriot greats and two contributors as a member of the New England Patriots' Hall of Fame (listed in alphabetical order below with year of induction):
Houston Antwine (2015)
Bruce Armstrong (2001)
Drew Bledsoe (2011)
Troy Brown (2012)
Tedy Bruschi (2013)
Nick Buoniconti (1992)
Gino Cappelletti (1992)
Ben Coates (2008)
Sam Cunningham (2010)
Bob Dee (1993)
Steve Grogan (1995)
John Hannah (1991)
Mike Haynes (1994)
Jim Lee Hunt (1993)
Ty Law (2014)
Stanley Morgan (2007
Jon Morris (2011)
Jim Nance (2009)
Steve Nelson (1993)
Vito "Babe" Parilli (1993)
Andre Tippett (1999)
Contributors:
William H. "Billy" Sullivan, Jr. (2009)
Gil Santos (2013)
About The Hall at Patriot Place presented by Raytheon
The Hall at Patriot Place presented by Raytheon is the crown jewel of Patriot Place and the only sports and education experience of its kind. Through a dazzling array of interactive multimedia exhibits and artifacts never before viewable by the public, The Hall at Patriot Place presented by Raytheon showcases the tradition of the New England Patriots, explores the history of football in New England, and promotes math and science education for the thousands of schoolchildren expected to visit each year. For more information, please visit www.thehallatpatriotplace.com.