FOXBOROUGH, Mass. - Since arriving at U.S. Coast Guard Station Menemsha in Martha's Vineyard more than one year ago, Petty Officer Adam Smith had never been north of the Bourne Bridge. That changed on Thursday, Aug. 6, when Smith, 28, joined a group of 50 members of the U.S. Armed Forces at Patriots training camp as guests of the Kraft family and New England Patriots Charitable Foundation. 
"Foxborough is actually a really cool area with Gillette Stadium and Patriot Place here," Smith said. "I'm having a great time and am very appreciative of the Kraft family and Patriots inviting us to watch the team practice." 
The visit marked the team's annual Military Appreciation Day on the fields behind Gillette Stadium, where 10 members from each of the military's five branches were treated to lunch before finding their seats in the Patriots Charitable Foundation's VIP Tent to watch practice. 
"It's amazing how all of these people are out here supporting the team during training camp," Smith said. "The overall experience, seeing how big everything is, is pretty cool."
Smith, who has been in the service for eight years, grew up in Pennsylvania, but became a Patriots fan shortly after he was stationed in Massachusetts. 
"I'm stationed in Martha's Vineyard, so if you don't support the Patriots you get shunned," Smith said with a laugh. "I definitely became a fan when I moved up here."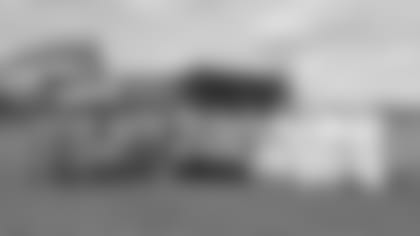 Watching the players run through individual and team drills, Smith said he was especially excited to see quarterback Tom Brady and tight end Rob Gronkowski on the field. 
"Rob and Tom are the two guys I really like on this team and I couldn't wait to see them in person," Smith said. "This is a once-in-a-lifetime opportunity and pretty cool to see these players up close."
For Dan Tracey, of the U.S. Air Force, attending Thursday's practice was like coming home. 
"I grew up in Norwood, so I'm a big Pats fan," Tracey said. "It's definitely an honor to come here. Whenever we get the opportunity to be appreciated by others, it's a real treat for us. Being appreciated by the Kraft family and the Patriots is an incredible experience." 
Tracey, 25, said he was looking forward to getting a firsthand look at the players and watch how they practice. 
"It's cool because I get to see who's doing what and hopefully get an idea of how they might play throughout the season," Tracey said. "Of course, it's pretty much a toss-up right now; anything can happen during the season."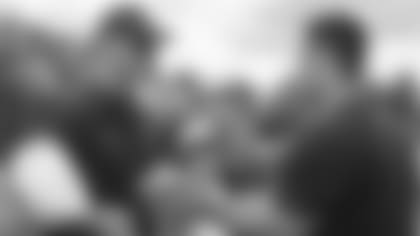 Despite being a Denver Broncos fan from Arizona, Air Force Senior Airman Jeremy Russell described his experience at Patriots training camp as "great," and enjoyed watching his first NFL practice. 
"I'm a Broncos fan, but this is definitely cool seeing the Patriots from this side of things," Russell said. "Training camp kind of reminds me of high school football a little bit, in terms of how practice is run, but obviously, this is on a much more professional level with some of the best athletes in the world." 
Joking that he was going to take his observations back to the Broncos, Russell, who lives in Weymouth, admitted it would be his fiancée receiving intel on the Patriots practice. 
"She's a huge Patriots fan and I kind of came out here for her," Russell said. "I will let her know who I think is going to be good this year after watching practice." 
Air Force Master Sgt. Michael Forte, with more than 18 years of military service, called his training camp experience, "awesome."
"It was a fantastic time out here," Forte said. "The Kraft family is phenomenal and they always take care of the military and we really appreciate it. They treated us like royalty." 
Staff Sgt. Rafael Roca of the 25th Marine Regiment out of Fort Devens, also thanked the Kraft family for the invitation to training camp.
"The guys had a great time," Roca said. "We could not have asked for more."
Petty Officer Danny Libby, of the U.S. Navy, grew up in Chelsea and said he's been blessed to see the Patriots win four  Super Bowl titles and hoped the team was building the foundation at Thursday's practice for a fifth title. 
"Hopefully they can win a fifth," Libby said. "It's cool seeing the greats like Tom Brady and Rob Gronkowski out here. I've also enjoyed seeing some of the new guys on the team this year."
After practice, players and coaches visited with the team's special guests and signed autographs to conclude a memorable day for the U.S. Armed Forces. 
"This is a really good thing the Kraft family and Patriots organization does for us," Smith said. "It shows their appreciation, but we appreciate the opportunity, too. It's really awesome that they reach out to the military like this; it makes us feel good at heart."