Ted Karras planted his feet firmly and braced for impact, but when the player ran into his blocking pad, he backpedaled until he could regain his position. This wasn't a teammate or a normal practice though. Rather, the opposing player was a young boy who eagerly ran to the end of the line, looking forward to another chance to challenge Ted.  
On Thursday afternoon, the Patriots Alumni Association hosted more than 200 local kids for a Football for You clinic that was open to the public, and the players didn't hold back in their efforts against Ted, Lawrence Guy, Eric Lee, Derek Rivers and alumni Pete Brock, Tully Banta-Cain, Patrick Pass and more.
The kids were tasked with blocking, catching and working on foot skills, coached by the Patriots.
"Hopefully we can teach them some drills and not mess it up too much," Lawrence said with a laugh. "Hopefully they can learn about making an effort and hard work."
When it comes to football clinics for kids, Ted is an expert. He feigns falling over with each hit, jokes with them and leans into their contagious energy. 
"I'm still a kid. I love children's unbridled enthusiasm. You can fire them up. It doesn't take anything," he said. "There's no self-consciousness with their attitude towards just having a good time, screaming and yelling, and I think that's something we lose as we get older. Our enthusiasm for whatever we're doing, so I really appreciate children's attitudes."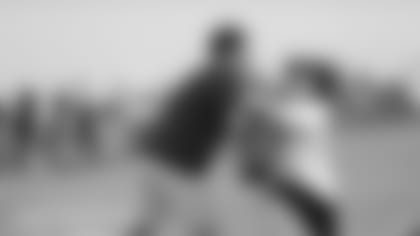 For the kids who come out to the annual clinic, being able to run around on the field with current and former Patriots is a highlight and a reminder of the power of football. 
Every year, the Hockomock YMCA's Integration Initiative makes it a point to attend this Football for You. With three integrated flag football teams, which include people with and without disabilities playing alongside each other, it is a great chance for them to get out there and practice alongside the Patriots, according to the program's Integration Coordinator Barbara Manuelpillai. 
"These guys have been coming for many years so they know. They are thrilled when someone remembers them and calls them by name. A lot of these people will do that," Barbara said. "It's more like family."