HEAD COACH BILL BELICHICK
(on if he can compare some of the traits of New England cornerback Darrelle Revis and Seattle cornerback Richard Sherman and what he looks for when scouting a cornerback)
"Well, you know, I think there's a lot of answers to that question. It's a great question. I think they're both real good players. I'd say their styles are a little bit different. The schemes that they play in are a little bit different. They're both good. I think they both have their unique style of play. And, say again, I'd certainly agree with (you that they are) playing a little bit of different schemes. Good ball skills, good concentration, good ability to defend the primary routes, and with good reactive quickness and length and size to handle the routes that they're not as heavy on. I mean, you can't cover everything – if they're outside, you can't cover inside as well; if you're inside, you can't cover outside as well. So there's always a part of the route that you're a little bit lighter on, there's a route that you have leverage. So it's finding a way to somehow compensate for that lack of leverage on the technique, and length and anticipation and quickness is a big part of it. They both have that."
(on his impressions of the Arizona Cardinals practice facility that they will use to prepare for the game this week and if they will practice inside and if that will provide an advantage to the team)
"We went over and walked through the facility yesterday. Looks good. They were very cooperative. (Arizona Cardinals Football Administration Coordinator) Mike Caracciolo was there. Of course, he was with us (on the New England staff) so a good, I would say, working relationship with him. Their facilities are good. We'll utilize whatever we think is best. They have a nice indoor facility, pretty nice outdoor fields. So we'll make it work. Not sure exactly how everything will turn out here today. We'll get everything kind of finalized. We know we have a couple of options. We'll do what we think is best. But the facility looks good."
(on the impact cornerback Brandon Browner had joining the team after Week 4)
"Well, Brandon has kind of a unique style of play. He's very long – a 6-4 corner, you don't see a lot of guys like that. Long, very physical. Has a lot of experience. Has played both inside and outside for us. At Seattle, he played primarily on the perimeter, but we've used him some on the inside part of the defense as well as the outside part. Strong, physical, good tackler, very competitive guy, really works hard to do his job and to work in good cohesion with the rest of the secondary. So he's been great to have on the team. I really like the guy personally, and I like the way he competes and works. He's a tough football player."
(on how he would describe the core of his coaching philosophy)
"You know, I'd just say they try to give the players a good plan and opportunity to play to put them in a position that they're able to be competitive and be aggressive and let the players play. I mean, they're the ones that have won our games, they're the ones that make the plays out there, so if we can just get them in a position where they can be competitive and sound and prepared, then they can go out there – and they have gone out there – and performed well and made the plays we've needed them to make to win. And that's really what this game is about – it's about players making the plays that your team needs to win, and they have a lot of them that have done that. I think as a coach, you want to make sure you don't screw that up."
(on what went into the decision to bring back running back LeGarrette Blount and if he had any concerns about him and how his time in Pittsburgh ended)
"Yeah, I don't know anything about Pittsburgh. You'd have to ask Pittsburgh about Pittsburgh. You know, we had a good year with LeGarrette last year. He came in after the trade right around – I think it was April, somewhere in there. Had a good offseason with us, good training camp and obviously performed very well for us last year. We were in communication with him through the whole free agency process. We wanted him back; he wanted to come back. In the end, it was a contractual, I think, decision. And obviously that didn't work out and when he was available, we were excited to get him back. And when he got here, he was excited to be back. We didn't claim him on waivers; he actually cleared, so we had a day there to kind of, you know, work things out with him. And I think he's been a good addition to our team, very popular guy in the locker room. He's good for our team and he's a good player, so (it) worked out well."
(on his level of respect for Ron Wolf and his protégés, including Seattle general manager John Schneider, and how much did he exert from Wolf's philosophy for roster building)
"Tremendous respect for Ron and Ron's philosophy, which is, of course – I wouldn't say indirectly, but really directly tied back to the Raiders and Al Davis and that philosophy. You know, Ron and I are good friends and we've known each other for a long time. We have a lot of – been able to cross paths on a number of occasions for various reasons. But the bottom line is we talk frequently, I have tremendous respect for what he has done. He, of course, has a good relationship and close relationship with Coach (Bill) Parcells through my time with Bill. I'm sure a lot of Bill's philosophies were somewhat related or connected to Ron's. I mean, that's a discussion that they would have, not me. But you could certainly see that. I know Bill referenced that from time to time, as did Ron. You know, I have tremendous amount of respect for what Seattle has done in five years that (Head Coach) Pete (Carroll) has been here, the way that they've built the team – the way that he and John have built it. I don't know exactly what the inner workings of it are, but I see from a distance the way that they've put the team together, the way that Pete coaches the team, the way that the roster is turned over, the way that they're – obviously, create competition and find players and develop players. As I said yesterday and also on Monday, even though I've never been a part of that, just from a distance, I've tried to look at it and I've definitely taken some things from it, learned from what that organization has done – John and Pete, again, I'm not really sure how that gets divided. But they've done a great job – tremendous job in building that team. They're very consistent, they know what they want, and you can see how it's come together, I would say, particularly as I've observed them now from when we played them in 2012 into this year. Didn't have a lot of interaction with that team last year, but now this year (and) going back to last year, and looking back, you've got to look at what we saw in 2012 and it's really impressive. Those guys have done a great job with that football team and that organization."
(on how he feels about the NFL's domestic abuse ad that will air during the Super Bowl)
"I mean, the advertising and all that, that's not really my field. But we certainly support the league's efforts in that area. We've always done that with our team. That's always been a priority. It's been a priority for (owner) Mr. (Robert) Kraft. Going all the way back to 1996, the first year I was with the Patriots, we had an incident in the draft that's well documented. So it's always been that way for us, for our organization, and obviously we support everything in that area. But what the league decides to do relative to things like that, you know, it's not really my pay grade."
(on this being the first Super Bowl matchup with two Croatian head coaches)
"You know, I mean, the last big Croatian matchup that I had was with Coach (Nick) Saban when he was with the Dolphins and that was within the division – we kind of had the battle of Croatia. But very proud of my dad's family tradition and history with Croatians. Had the opportunity to visit the beautiful country a couple of times and I'm proud of that heritage. But no, I didn't realize we were breaking new ground here. So looks like we'll have a Croatian champion one way or the other, right?"
(on if it bothers him that there is a national perception that New England is
"a bunch of cheaters")
"You know, right now, our focus is totally on the Seattle Seahawks and this game and that's really what we're about this week and what we'll be about from here on out. We'll try to prepare our team and compete as well as we can Sunday afternoon against a great football organization. And like I said, that's really what our focus is."
(on how he responds to the theory that defense wins championships)
"Well, I'd say it's pretty high up on the list. If you can keep your opponents from scoring, that certainly enhances your chances to win in any sport. So I don't think you can argue with that. Seattle's defense is outstanding. Done a great job, really, in the last three years statistically have pretty much led the league in everything. I think you can see why because of the way they play, the way they're coached, how well they play in situations. They do it week after week, quarter after quarter, down after down. They're very consistent, have a lot of good players, they're well coached. So it's not really surprising when you watch them play. They're good all the time. We're going to have our hands full trying to move the ball and score points against them, as everybody else does. So we'll work hard to come up with the best plan we can, execute as well as we can, and see what happens Sunday. You know, it will be tough – that's for sure. They're good."
(on the process that led to the hiring of offensive line coach Dave DeGuglielmo and his mark on the team)
"Well, 'Guges' has been in the league for a number of years now with several different organizations, has a New England background, has a strong college background, has a lot of experience. He was available – he wasn't in football last year. We interviewed him at the end of the season – I think it might have been during the bye week last year before the Indianapolis game if I remember correctly, but somewhere in there. Because we knew that Dante (Scarnecchia) was going to be retiring, we wanted to kind of try to jump on the process. Met with our staff, we all spent time with him, brought him back for a second interview and hired him. So not a normal process I would say. Again, he's got a lot of experience, works hard, knows our system very well – obviously, there's a lot to learn – but from his background with the Giants and also with Miami, there are a lot of similarities in the things that they did in Miami when Coach (Brian) Daboll was the coordinator down there, or with the Giants in terms of terminology and so forth with Coach (Tom) Coughlin and some of the similarities that we had going all the way back to the roots of Charlie (Weis) and Tom and the Giants. I think that there was a good amount of carryover, certainly a good amount of differences, but due to his – very adaptable coach and he can take things that he's done and modify them, and the way we're doing, either change it or find some intermediate compromise to get it done right – he and (offensive coordinator/quarterbacks coach) Josh (McDaniels) and the rest of the offensive staff have worked well. I think it's been probably as good as you could hope for. Like you said, Dante is – his career as a coach and as an offensive line coach for the Patriots really was second to none. But I think I've said I think he's just come in and done a great job for us."
(on if he has noticed a change in the way tight end Rob Gronkowski approaches the game and if he has matured after battling through injuries)
"Well, you know, I think he can express it a lot better than I can. But, yeah, Rob always has a great energy and enthusiasm for the game, is always ready to go, loves to practice, loves to work, works hard in the weight room, competes well all the time. You never really have to get on Rob and go,
"You know, that wasn't your best," or that kind of thing. He's always out there working hard. But I do think that being said, there's maybe just a little extra level there, just like what you referred to. Coming back multiple times, he's come back from various setbacks, and I think the fact that it's gone well, that he continues to feel better and better each week – I think that certainly any time you either lose something or go without something for a little while, you have that appreciation when you're able to regain it or even possibly move up to a little bit higher level, which I would say probably is the case with him. His hard work and diligence in all areas from training to technique to just a lot of little things. And I think that he and (tight ends) Coach (Brian) Daboll have a great relationship and Brian's done a great job with all of our tight ends, but obviously Rob in particular. But there are a lot of little coaching points that – things that Rob does better now than he did a year ago or two years ago. Part of that's experience, part of that's just a little bit better understanding and harder work on those little things – they become big things. But, you know, in the end, the credit goes to Rob. He works hard, he competes well, he listens, we tell him to do something and he really tries hard to do it. I have tremendous respect for Rob and the way he goes about his job."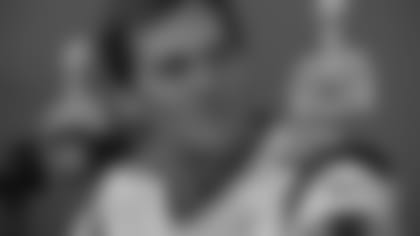 (on getting back to the practice field and the game plan for the team this week)*
"It will be good getting back on the field today. I think there is a lot that goes into Super Bowl week. It will be good to be on the field and for us to refocus. We've got our game plan pretty much set. Now it's about refining it and making sure is exactly what we want it to be. Like I said, this defense causes a lot of issues. They don't make anything easy. So we're going to have to work hard. It's about obviously having a good plan and you're always confident going into the game with what you're doing. You've got to be able to go out and execute it well. There is nothing easy about it. It's going to be a lot of attention to detail."
(on whether he can treat the Super Bowl like any other game or do you have to embrace the magnitude)
"Well, you're right. It is. It's not just another game. It's the biggest game of our season, but, truthfully, when the ball is kicked off, it's like any other game. You just rely on the experience that you have to be able to temper the emotions and the enthusiasm, and then it's an emotional game, so you've got to let it all hang out when you get out there. It's going to be a tough game. We're prepared for that. We've been in some tough ones this year. We've been behind. We've had to come back in the fourth quarter. Whatever we've got to do."
(on if he remembers his emotions going into his first Super Bowl and his message to the younger players on the team)
"That happened so fast in my life. I didn't quite understand what was going on in that time. I was just a young guy and then there was only one week from the time we won the AFC Championship game to the Super Bowl. You've got to appreciate the opportunity we have and whatever we've got to this point. It's hard to do. You know, all the guys, Coach (Bill Belichick) does a great job of preparing the whole team and getting those guys focused, whether it's young guys or veteran guys, to try and just brace for what happens and accept the challenge, and then go out there and try to meet the challenge."
(on how tight end Rob Gronkowski has returned from injury to regain his form)
"Gronk is a phenomenal athlete. He's got great presence, a great understanding of the game and how to get open on different types of cover guys whether they're big or small. What I think he's done a great job at over the last few years is really understanding his individual technique of what he needs to do to try and be a better play. I thought in a lot of ways he's taken his game to the next level with different techniques. When you watch a lot of guys that have done it so well for so long, the Antonio Gates, the Tony Gonzalzes and the Jason Wittens, you see things and you try to take those to your game. I think Gronk's done such a great job of kind of refining his own techniques and really going from just a great athlete who catches football to really a great tight end that knows how to run routes, knows how to block, takes a lot of pride in those things, understands coverages and understands how to gain leverages. He's been a phenomenal player for our team."
(on Seattle's ability to force a lot of turnovers on defense)
"They're a ball-hawking defense and they definitely get after the football. I know Coach (Pete) Carroll said it's always about the ball. It's all about the ball. He's right. You see all their players are conscious of that. They're very conscious of stripping the ball. They're very conscious of getting their eyes on the quarterback when the balls being ready to be thrown so that they can make breaks on it. They've done a great job turning the ball over the last however many years that he's been there. They've been one of the top teams along with us to take care of the ball and also get the ball, so the turnover margin has been a big strength of theirs. They've got a lot of eyes on the quarterback. When we're running, they've got a lot of bodies at the line of scrimmage when we're running. That's why they're a great defense. They challenge you on every play. There is no easy play, no easy guards. You've got to go out and you've got to work for them."
(on the importance of cornerback Darrelle Revis to the team)
"He's been a huge asset to our team. He's a great player; he's a great leader. He set a really great example for all the guys about how to practice and how to play. He's a great competitor; hates when you complete passes on him. He's been great to see out there covering the other teams' best receivers."
(on the reported trash talking that has occurred between himself and Seattle cornerback Richard Sherman)
"It's just part of whatever motivates guys and whatever they say. Ultimately it comes down to how well you play. What I've learned over the years, a lot of guys talk. What you need to do is go out there and play, back it up. They've been able to back it up, so that's why it works for them. Hopefully we can go out there and do our talking on the field."
(on how the team blocks out Seattle's trash talking)
"There's so much going on. You don't pay attention; those going back and forth. There are a lot of teams we've played that there is something said after a play, but you get in the huddle and you think about getting back to the job you're to do."
(on if Seattle has the best safety tandem in the NFL and how he challenges Earl Thomas)
"Earl is a phenomenal player. He covers a lot of ground. He's so rangy back there. He's got great field vision. He does a great job. He's a very disciplined player in his assignments. He does a great job reading the quarterback. I'm conscious of that. You can't just look at exactly where you're going to throw it, just fire it in there and see if he can make the play because he's proven time and time again that he can make those plays. Kam (Chancellor) is a phenomenal player, too. He is an imposing presence. There are sometimes that he's free in the middle of the field and he's just looking at the quarterback and trying to go in there and blow something up. Those two guys really set the tone. They've got, you know, (Richard) Sherman's a great player, Byron Maxwell's a great player. Jeremy Lane's done a great job as a nickel guy. It's a great secondary. They obviously, one of the best that we'll play, certainly the best we've played all season."
(on if he is sick right now)
"I've been fighting the cold. I'll be good."
(on how New England has been able to sustain success)
"I think Coach (Bill Belichick) is always pretty consistent with how he's dealt with our team. Like I said a few times this year, you don't ride the highs and you lows of the season. Whether it's one win or one loss, you just try to get better and make improvements, and you've got to play your best at the end. You get to the playoffs and you get an opportunity like the other eight, the other 11 teams. You've got a great opportunity to try and accomplish the Super bowl if you're able to win. We've been able to do that."
(on the controversy in New England)
"I don't have any comment on those things. I talked about that last week and I'm not going to talk about any reports. I'm focused on the game."
(on if there is extra motivation to win in his second Super Bowl appearance in Arizona after losing to the New York Giants in 2008)
"I wish that game would have ended differently, but we didn't make enough plays that day. It's good to be back here and have the opportunity to play in this game. We're playing against a great team. Like I said, it's not where you play; it's how you play. I think if we want to win this game, we've got to go play really well."
(on attacking Seattle's defense because they tend to stick to their system rather than adjusting to the opposing offense)
"They don't, you're right. They kind of do what they do. They line up and it's not always so challenging of where they're going to line up. They do a great job with their discipline and their responsibilities. We put together a plan that we like and we think can exploit some of the things that we see. I'm sure they'll be confident. We'll be confident. That's why we go out and play the game."
(on the versatility of New England's skill players and non-skill players)
"Everybody plays a role. You wouldn't be on this team if you couldn't contribute to the winning, king of winning culture of our team. It's had to make our team. Coach (Bill) Belichik puts a lot of pressure on guys in training camp. If you make the team, you know that you have the confidence of the coaches that you can help us win. Everybody's got a skill. Everybody's got a skillset. Whoever is on the field has to be able to gout there and perform their job."
DEFENSIVE LINEMAN VINCE WILFORK
(on if he looks back at his past Super Bowl appearances)
"This is a different team, and we don't look in the past. That's one of the things that we've always done. We always live for the moment and the future. We never look back at the games we've lost or won in the Super Bowl, in the regular season. Sometimes you have to look back just because you play teams twice a year so a lot of carryover from that first game to the second game, but for us at this position, we don't look back at anything we've done, win or lose in the Super Bowl."
(on what he remembers from his first Super Bowl victory as a rookie)
"The feeling. I think everybody asks me what if feels like to be a Super Bowl champ and it's something that you really can't put into words. It's just the feeling that you have being a World Champion, that everybody looks at you as a World Champion. Being on that field after the game with your family and friends, organization, the confetti coming down of your colors and everything runs across your mind. Everything that you worked for that whole year, it finally came to conclusion that you finished where you wanted to finish, and that's the main thing that I take away from games like this. And I've also been on that other side where we're walking off the field and don't like that feeling. But I always tell people it's the feeling that you have after being able to win this game is what you're searching for."
(on if he expected to win the Super Bowl every year after winning it as a rookie)
"I'm coming from college where we won a lot of games. I didn't lose many games in college. I was a National Champion in college. My first year in the NFL, winning the Super Bowl, I was like, 'Man, this is easy. I could do this all the time.' And little did I know here I am 11 years later more excited now than then that I'm at this level with my teammates. So it's one of those things you just work so hard for. At the beginning of the season, you have 32 teams starting at the same level. We all have one goal, and it's to get to this point. The saddest thing about this is you have to have a loser in this game. The two best teams in the game, somebody has to win and somebody has to lose. So hopefully we're on the right end of that this year."
(on his experience at the University of Miami and how it prepared him for the NFL)
"I think we had good coaches down there, we had great players down there. The organization was the top organization down there. A lot of things that we did in college football translated for me to the pros just on how we attacked the playbook, how we go to practice and how we compete. And I think that was one of the similarities from college to pros where I had an advantage just being down there with those guys playing at the level that we played at in college. The game wasn't slower for me getting here because like I said, we played fast in college. But they prepared us well from the playbook all the way down to playing the game and understanding the game. They made sure we knew what it took to win."
(on the state of the University of Miami football program today)
"Everything you have to build and right now we're building, we've been building. Hopefully we can get back to the U that we all know. I know there are a lot of alumni out there that really are waiting. And we've got a feeling it's coming soon, but you have to be able to rebuild and put a program in place that works. And I think right now we're searching for that and when we find it, we'll be okay."
(on his faith, family and football mentality)
"It benefits me because it keeps everything in perspective for me. I wouldn't have football if it wasn't for my faith or my family. That's one of the things that I always lean on when things get rough, when things get tired, when I really don't want to practice, have got to do this, when my body is feeling like this. (If) I have a bad day at work, I go home and see my family. My kids, they're so innocent. The only thing they want to do is play, they want to tell me about school. And it kind of puts everything in perspective when you look at it because no matter what I'm going through in life, I can always go home and have that feeling that I'm not a loser or that I'm not this or I'm not that. And that's the luxury of having a good family. That is one thing I cherish the most. Everybody who knows me knows how I feel about my family. I would take family over football any day. My family and faith, I would take it over football any day. But I'm lucky to be at the level I'm at just because of what I've accomplished just because of my family and my faith and being dedicated to what I do and that's football. Without them, I wouldn't be who I am and I understand that and I cherish those moments with my family and my faith and my friends. I cherish all of that."
(on what the day before the game is like)
"As an individual, we do things differently. Some people listen to music, some people sleep, some people do whatever it may take for them to be prepared to play. Sometimes we have guest speakers. Over the years we've had people that come in and speak to us. If it's not before the game, it's the week. Just close friends through the organization that come in and spend time with us and speak to us about sports or whatever it may be. So we don't know until we get to Saturday if Bill (Belichick) has something for us or not. But at the same time, we have in our mindset where we're in game mode, where everything is done and the only thing that matters now is our execution. And once you get to that point, really nothing else matters. Our pep talk doesn't matter. You have everybody focused in on the target. And Saturday that's how it'll be. It'll be a moment where we're focused in and there's nothing else anybody can tell you. If you don't know it now, you won't know it because you have the biggest game of your career coming up. You've got to be ready to play that. We'll see Saturday if Bill has something for us."
(on Seattle running back Marshawn Lynch)
"He's a complete back. I think you give credit where credit is due. He's a complete back in this football (league) and I've said many times I think he's the best back in the game. With the ball in his hands, catching the ball, running the ball, blocking, yards after contact, you name it. All those areas he leads. He's amazing when he gets the ball in his hands. It's almost like having a quarterback that throws for 300 yards per game. And when you have a guy that special and he plays better in the fourth quarter – when you have a guy that special that's a running back and the bulk of his load is when he has the ball. The only reason the quarterback has it more than him is because the quarterback has to get it from the center. So that's how especially dominant he is at that position. I don't think anybody out there does it any better than him."
(on how his mindset has changed from being a rising star to elite veteran)
"Well, it's trying to keep a balance. How I put the team to be the best. Knowing that I've been in the game for a while, guys have seen me play for a long time. What kind of edge I can get through the course of the week by playing against my opponents and I think that's one of the main things now of my career where people know how I play, they know my style of play, they know what I have to do. And they kind of know how to block it up and stuff, so it's being at a point where I feel comfortable where I can show teams different things or I can do little things different just to show on film that I'm capable of doing something if I have to do it. But it's just one of those things. You continue to work and that's one thing I always do. I continue to work. I demand it from my teammates and they demand it from myself and I think that's the great thing about being a football player is the discipline you have to have, the commitment that you've got to have to be successful at this level. And the day I stop being that disciplined, I think it's time for me to call it quits. But my teammates depend on me too much for me to sit down and say, 'I'm okay, I've been doing it for so long. I don't have to do it.' I do everything they do and probably a little bit more and I think that's one thing my teammates really love from me is that I put the work in. I'm not one of those guys that tells them what to do and I sit back and don't do it. I'm right with them. If he's a rookie or he's not a rookie, his vet is going to be right with him, working with him. And I think that's one of the things my teammates love for me the most is because I actually cherish the time that we have together and try to lend a hand when I can for those guys. So I'm going to continue to work until I don't have to work anymore but this is what I love to do."
(on how to defend running backs that generate yards after contact)
"You have to wrap up. Being able to wrap up and being able to get multiple guys to the ball, I think that's the key when you talk about running backs or anybody running with the ball after first contact. Just being able to have more than one guy committed. Everybody rallying to the ball, I think that's the biggest thing to slow down a running back that likes to run the ball. After he gets hit, you've got to kind of say, 'The first defender is not going to get him down,' which he will or he might, but, at the same time as a defensive player, you have to have that mentality to keep coming. Your engine has to keep coming. Sometimes it might be 15 yards down the field, sometimes it might be five yards, sometimes it might be 40 yards. But as a defender you have to keep coming at all costs against a back that is so elusive like these guys. And that's what we're going to have to do. If we want to be successful against these guys, that's one of the things we're going to have to do."
(on if he notices any evolution on how Bill Belichick handles the team since the beginning of his career)
"Yeah, I've seen the difference in Bill in the 11 years that I have been here and I tell him he is getting soft. But this is a different era of football now with how the team is shaped up and how a lot of guys are younger guys. You don't really have that veteran team that he used to have. When I first came in the league, he had a veteran team that didn't take much to get those guys going. But if I have to say anything, I think over the years he got a soft heart. But he's more understanding now. I think when you get so used to having a certain quality of players and it changes, it's hard for you to adapt to change. And I think Bill had to do a good job of that ever since I've been in the league because we've changed so much. We were a veteran team, it was a younger team, at one point we were the youngest team in the league. So I think he had to try to find the identity in what works for that team. And I think he's done a great job over the years of doing that. But at the end of the day, he is still Bill. He coaches the same way. He demands everything the same way. But I think he's got a little soft heart now. Over time, he got a little softer though."
OFFENSIVE COORDINATOR/QUARTERBACKS COACH JOSH MCDANIELS
(on if he thinks he has the luxury of being selective on his next coaching stop)
"I'm very fortunate to have the position that I have. To me, any time you have the honor of being interviewed or the privilege of being offered an opportunity like that in the NFL – that's up to the team. I wouldn't say that I have the chance to be selective. I just think that I'm very happy with the job that I have right now, the role that I'm in. I know that I'm very fortunate to have this position. I'm just going to try to continue to do the best that I can at this job. If down the road somewhere it works out where I have another opportunity then that would be great and if doesn't, I'm going to be completely happy with that too."
(on what are some of the things he took away from his first head coaching experience)
"The people that you work with and for are so important to you. Your ability to not only to set the path, but to also be a great listener - I've said that numerous times now. That's an important part of being a leader, listening to the people that are around you. I think, sometimes, when you're young, you don't really understand that the same as when you go through experience like that. It was a great learning experience for me. I'm very fortunate, very thankful to (Denver Broncos Owner) Pat Bowlen for giving me the opportunity at such a young age. I think I'm a better person, a better father and a better coach because of all the adversities and all the challenges that I've gone through and I hope I can continue to get better in all those roles going forward."
(on how much thought he put into the referee's reaction to the plays using different eligible receivers against the Baltimore Ravens)
"We were very open, I believe, with the officials and all that before the game and telling them. You know, they always ask you if you have anything that's unique or different or whatever. I think everybody was – I wasn't at the meeting – but, I'm sure it was communicated to them. Again, when we did that, I think we've only done it five times all year. We've huddled every time. We've reported every time, ineligible. And once we did that we broke the huddle, we lined up and we ran the play. We didn't try to hurry. We didn't try to do anything that was deceptive in that manner. I think it was unique for a few plays. What most people probably don't know is we ran it a couple times last week against Indianapolis and got nothing out of it. Everybody talks about those couple Baltimore plays, but Indianapolis defended it very well. It's just something we tried the one week and it gave us a little spark."
(on if he thought the referee handled the plays well in the Baltimore game)
"I thought it was handled very well. I thought it was handled very well in both games. Again, we weren't doing anything at a no-huddle type pace. It was a normal procedure: substitution, report, he declared it. We lined up, we ran the play. It's no different than if Cam Fleming goes in and says, 'Hey, I'm eligible.' He says, '(No.) 71's eligible.' We huddle, we line up, we run the play. There was a lot made of that, I'm not sure if needed to be made such a big deal."
(on Head Coach Bill Belichick and QB Tom Brady and their legacy)
"I think how consistently good they've been at their jobs. Both of them, I've had an opportunity to work very closely with. They care so much about doing things well. They go through every detail. Their preparation is just endless. To me, how they've been able to sustain this level of success at their positions has been an unbelievable thing for me to witness and watch. I've learned a tremendous amount from both men. They've taught me a lot about football, a lot about life, a lot about working hard, a lot about the right way to do things. Any of us that are here and have the opportunity to work for Bill or coach Tom, we know that we're fortunate."
(on how Belichick and Brady have sustained success through the years)
"There's never a satisfaction with what happened in the past. There's always a forward-thinking vision with both of them. When the season ends, we're not basking in the glory of however many victories we had or whatever we've accomplished. We're looking forward to the combine and the draft like that (snaps). I remember, we were in the locker room after the AFC Championship game and someone was having a conversation about the Senior Bowl. There's always a push forward and what can we do to be better. We understand that this year's challenge is going to end with our last game and then we're on to next year's challenge. If you sit there and look at what you've done and you're satisfied with that too long, I think you get complacent. I've never seen either one of those two guys even have a hint of complacency in their job. The way that they come in and work the next year like last year never even existed, is really, really a neat thing to see."
(on Belichick's and Brady's credibility being questioned and if that pains him to see that)
"I know what they are and I know what they are about and I think that they do too. I don't know what all that other stuff is, but I just know these guys are an enormous reason of why we're here. We're so fortunate to work for and with these people. They've deserved everything that they've gotten."
(on tailoring plays to certain players and if that's what he did a younger play caller)
"I think you learn every year, probably every game that you do this. Sometimes you can start to think that maybe the scheme will help too much and maybe it's not the scheme, it's more the player and sometimes you need to help them a little bit more. I think that as you get older and you realize you have certain skill sets with your players, you really try to allow them to do the things that they do best. Ultimately, in pressure situations that's what they want to be doing and that's what you want to be calling. You can't over think it. Sometimes you have a tendency to do that as a coach, especially when you have as much time as you have to prepare for a game like this. You can put together five game plans in two weeks if you wanted to, but ultimately it comes down to those guys and giving them something they feel comfortable doing. As a play caller, if you're making a call and you know that they feel good about it – that's about as good as you can do. Give them an opportunity to go out there and play fast and be aggressive and do something that they're good at doing."
(on if there are times when he comes up with a unique play but it's not tailored for the personnel so he can't use it)
"I think you try to blend that as best as you can. If you can get the best of both worlds, that's perfect. If you can really help them with some type of scheme that would really force the defense into a problem and let them have the ball and get the ball and now we're running with it, and we're uncovered a little bit. That's always something you're striving for. I think you have to try to maybe strike a balance there where you're not doing it too much. Our players are great. Whatever we ask of them, they're going to do. They do a great job of preparing each week and digesting the game plan. Usually by Saturday night, we're going to have it nailed down, what we think we're going to be really good at this week. Hopefully, this week will be no different."
(on the precision of the passing attack and if that separates New England from other offenses)
"I don't know if it's unique. I've been in one system most of my life and then I was in St. Louis for a year, but I was running our system there too. I don't know. That was the way we were taught as we grew up here in New England: to really be precise, have great attention to detail and try to make sure that the players are just as prepared as possible. If you feel like there's something that will give you an extra advantage on the play, whether it's a split, a motion, something else. Then you try to incorporate it without paralyzing it. Our players will say that the things we ask of them, they can handle. And if there's anything that we ask of them that we're seeing them struggle with, we're going to take it out anyway. It's never going to be our offense, it'll be theirs. We're trying to design it to where they have the most opportunities to be successful. If it's something we see that they're not doing well, then we're going to remove it. Ultimately, this is a player's game and our job is to try to help them be in a good position to do some things that they do well."
(on the dynamics between Belichick and Brady)
"Obviously, both of them are really good communicators. They meet and talk about different things during the course of each week. That's happened for 15 years, which is a great thing. A lot of the things they talk about, both of them have seen over and over again. It's probably a unique relationship in the fact that they've been together for this long. There's a lot of things that they can conversate about that most of us wouldn't be able to do that. They do a great job of preparing hard each week themselves, but then they're also always in communication with each other about different things that can make us better as a team."
CORNERBACK DARRELLE REVIS
(on how he deals with playing for a new contract)
"Just experience, growing as a professional athlete and not really focusing on off-the-field situations or my off-the-field situations. I feel like I've got a great team behind me, and they do a great job of where I need to be or where I want to go. I mean do I want any of the attention? No, but at the same time, this is how my career has been panning out. I've just got to make the best of it."
(on choosing to bet on himself in terms of getting a better contract elsewhere)
"Yes, it's very risky to take that chance, but I believe in myself. I have faith in myself, in what I bring to the table, in how I prepare and just me overall as a person. This is what I love. This is what I do. If I don't believe in myself, who will?"
(on if the first string players go against the first string players at practice during the season)
"(Head Coach) Bill (Belichick), I don't really know how he maps out what we need to get better at or work on or how practice is even scheduled, but we compete in certain drills."
(on how much it helps going against quarterback Tom Brady in practice)
"It's pretty awesome to go up against Brady all the time. This guy is probably going to go down as probably the best player to play the game, the best quarterback to play the game. It's great to get that competition when we practice against him in practice."
(on what it means to him personally to be playing in a Super Bowl) "This is where I always wanted to be. It took eight years. In New York it was two back-to-back AFC Championship games that we failed to win, and that was it. After that I tore my ACL. I had to worry about other things and focus on my health. It's a sigh of relief, but this is the biggest game of this year. It's great to be a part of it."
(on how Seattle quarterback Russell Wilson can drive a defense crazy)
"He's very great. I'd say Russell is very poised. He doesn't get rattled. He stays very poised and very confident. I think that helps their offense, and I think their offense feeds off that. Two, he hurts you with his legs all the time. He scrambles around. He extends plays and hurts defenses. He does the little touch passes here and there, but he does them at key times. I think he makes big plays at key times and at key moments in the game."
(on when the defense started to gel) "I think we clicked probably after the Kansas City Chiefs loss, but we felt like we had a great game plan against them. We felt like we just let that game slip away from us, but I think we clicked probably about during that time."
(on who the leader of the defense is)
"All of us. I think we all across the board have leadership, so I'll just say everybody."
(on how difficult it is to contain Wilson when he starts scrambling around)
"It's very difficult. He's very dangerous in the passing game, and he's also dangerous at extending plays. When you turn on the film, that's what you see all the time - him scrambling around, running everywhere, getting first downs, extending plays, throwing the ball down the field to receivers. We just have to do a great job of keeping him inside the pocket, and in the pass coverage we've just got to plaster onto receivers down the field."
(on what he thinks this game means for his legacy whether the Patriots win or lose)
"We have to win it. I think that's the biggest thing. I know people are trying to focus on the legacy thing, but at this point right now, I'm just really trying to focus on the game and let everything take care of itself."
(on the Seattle defense getting a lot of attention for how touch and physical they are and if he feels like the Patriots defense hasn't gotten enough credit)
"They won last year. They've been one of the top teams for the past year as well, so they've built that. They've built the toughness and their defense doing great, which is fine. We feel like we're very physical. Actually we feel like both teams are very physical across the board, offense, defense and special teams.
(on how his perceptions of Head Coach Bill Belichick have changed since he became a Patriot)
"I think my perspective changed when him, (Chairman and CEO) Mr. (Robert) Kraft and I sat down in the offseason to try to get a deal done for me to become a New England Patriot. When I sat down in that meeting, he just made me feel very comfortable. At that point it was a no-brainer. We understood each other personally, and it was fine."
(on what he thought of Belichick and the Patriots organization when he was playing against the Patriots as a New York Jet)
"It was a rivalry at that point. I was on the other side of the fence, and you know how rivalries go."
(on if he feels he'll have more of an appreciation for winning a Super Bowl given how close he's come in the past)
"Oh yeah, it's tough to get to this point. It really is, and when you've failed in the past, you just know you were that close but it's so far away. Actually getting here is pretty awesome, but to win it, it would be mind blowing to win it. That's one of our team goals. It would be very great because we've worked so hard."
(on the Patriots and the Seahawks both getting a lot of penalties this year and if that is just part of the territory when you're sure a physical group)
"Penalties, I think neither team wants to have a lot of penalties because it's a lot of hidden yardage with those penalties. It can hurt you sooner or later in the game. Being a New England Patriot, we definitely want to keep the penalties to a minimum because it can hurt you, but we do play aggressive. The game is so fast. Things are going to happen, and you've just got to go to the next play and just focus on the next play."
(on Jacksonville having the least penalties this year)
"Wow, I didn't know that."
(on who he thinks is the best receiver in the NFL right now)
"All of them give me challenges. Week in and week out I get challenges. I don't really know if I could pinpoint because I haven't really followed everybody. I'd have to sit down at look at film and see who's really tearing the league up."
(on his impression of Seattle cornerback Richard Sherman strictly from a football perspective)
"He's a great player. He makes plays all the time."
(on his impressions of Sherman as a person)
"I guess that's him. I don't really have an opinion. That's him."
(on if knowing how hard it is to get to a Super Bowl gives him an appreciation for Belichick and quarterback Tom Brady making it to their sixth Super Bowl)
"Oh yeah, I feel like Bill has a lot of experience in this area – getting to Super Bowls and winning a bunch of them – and Brady as well. It's pretty awesome to have that veteran leadership through this whole experience."
(on playing wide receivers one-on-one and testing his will against theirs)
"It all starts with just film study and breaking down the receiver or my opponents. There are always tales on film. That's what I always say. There are always tales, tendencies that you can pick up, and I just go off of my notes. I really go off of my notes and my studies of covering receivers."
(on how it feels to be healthy for the Super Bowl this time around)
"It's a lot better. I remember a few years ago being here, every single question about my ankle. Every four seconds somebody asked me about my ankle. It's cool to come here, just chill, just worry about the Seattle Seahawks, just worrying about practice and see what I've got to do, so it's a lot better feeling like that. It's awesome."
(on the Seattle defense)
"They've got a very solid defense. They've got many great players overall throughout their whole defense. They're physical, they're fast, and they always come ready and prepared. We've got to be ready, we've got to practice hard this week, we've got to prepare, and we have to go out with some juice."
(on what the worst injury he played with was)
"I've been through a lot, for sure. They're all the worst. You never want to be injured, no doubt. You always want to be out on the field with your teammates. I really don't have one that I've played with like bad; I just go out there and play. Every time I step out onto the field I'm ready to go. I like talking about the Seattle Seahawks, too. Those are all in the past, injuries and everything, so I'm just really looking forward to today and the present and the Seattle Seahawks on Sunday."
(on what it means to be back to the Super Bowl)
"It's an honor to be back in the Super Bowl. This year we stuck together as a team. We fought all year long. It's an honor, for sure. Just have to keep working hard and keep preparing hard for the Seattle Seahawks. It just shows how much this team has worked all year to get back."
(on if Seattle will be the best defense they have faced all year)
"It's definitely going to be the best team we've faced all year. That's why they're in the Super Bowl. The two best teams face each other at the end of the year in the Super Bowl so this will definitely be the best team that we've seen all year. I would have to say if not the best defense, one of the best defenses we've definitely seen all year."
(on what he has inside the 'Gronk Bus')
"We've got that body armor drink, and we've got a couple seating, good music, all that good stuff. You've got movies, you've got TV. No games, no games actually – movies, though."
(on if he thinks people underestimate how seriously he takes football because he's such a fun guy)
"I would say so. I feel like they underestimate the hard work and dedication behind the scenes for everyone. Just going in the weight room when it's your time to work out, the meetings behind the scenes, the practicing during the week. I mean, I feel like some people just look at it like you go out there on game day and play, but that's not really the case. You always have to be taking care of your body throughout the whole week, in the morning and all the way through nighttime, getting sleep. So, people kind of underestimate the hard work and dedication that goes into the week to get prepared for the games on Sunday."
(on how he reacts to fans writing stories about him)
"It's cool. You can laugh about it, but at the same time you can't really get caught up in it because you're here for a job and it's to win football games. Being on this team, being with the head coach here and the quarterback we have keeps you humble. It keeps you hard working. You can laugh and giggle about stuff, but then at the same time you've got to make sure you're prepared and practicing hard still."
(on if there's still some college kid left in him)
"I mean there's a college kid left in everyone. I bet you, too, if you could go back you would for a night or two, so why not? My brother's still in college, my little brother, so it's always good to go back and get a little glimpse of it and to hang out with him for a weekend or two."
(on a lot of players going out and having a fun time and why it's such a big deal when he parties)
"Because I'm a baller? Is that a good answer?"
(on Head Coach Bill Belichick saying it's clear that he embraces the game since returning from injury last season and if there's been a change for him)
"Oh, yeah, no doubt. When you get the game taken away from you just like that in a snap of a second, you appreciate the game so much more when you're sitting at home watching your teammates play when you're just watching the game on TV. You just wish you were out there with the boys just working hard, grinding hard, so you appreciate the game a lot more and you don't take it for granted when I'm out there on the field, practice field, game field, you just don't take it for granted. You go hard every day and you enjoy it."
(on if he embraces the image of the Seahawks as a tough, rough football team)
"Oh, they've got a good image. They definitely have an image of being physical. They've got an image of coming out and being ready to dominate. We have to set the tone, too. We have to go out there as a team, we have to work together, we have to make plays. We have to go out there and be physical, too. You can't just be laid back and let them push us around. We have to go out there and be ready to dominate, also. That's what makes the game so great. It's two opponents on offense and defense who just want to go at each other full speed and make yards and make plays."
(on if people underestimate how physical New England is)
"I'm not really sure. I've never really heard anyone say that we're not physical, and I've never really heard anyone say that we're super physical. So I don't feel like people underestimate us or else I would've probably heard about that. At the same time, no one's like, 'They're a super physical team,' so we just have to keep doing what we're doing and make sure we are physical out there and bring it to them."
(on the closeness of his family growing up)
"Just growing up with my brothers definitely helped shaped who I am to this day. Every little thing I did growing up as a kid, I was always playing with my brothers and their friends and they were always older than me, and I'd be competing versus them. They were always bigger, faster, stronger, and I would have to find a way to get better and compete with them growing up. My parents were both there. My mom got us to every event, got us to every sporting event. My dad was there to support us, coach us, go to everyone. Just growing up in a supportive family atmosphere definitely helped me get to where I need to be."
(on what his initial reaction when confronted about a photo shoot with the kitten)
"I know they always make it look good, so I really didn't mind it."
(on if he was open to the idea of using a kitten as a prop even though it's odd)
"Yeah, but it was all good. Kittens are cool."
(on if his perspective changed at all after going through his first Super Bowl to now)
"I've just got to come in here and keep it all business and just focus on the Seattle Seahawks. All the little things, all the noise around, just block it off and just focus. Focus like it's any other week, just practice like it's any other week, go to meetings like it's any other week, and let all the distractions do their own thing outside."
(on the constant he sees from Seattle)
"The constant I see from that team is they are bringing it every single play. There's not just a play where they're all taking off and no one's going hard. They're bringing it. They're trying to hit someone, they're trying to be physical, they're trying to basically bully you on a tackle every single play and get to the ball and just grind it out. You see that and you have to be ready. You have to be ready for every play versus these guys."
(on if he or Kam Chancellor runs a faster 40-yard dash)
"I would have to give it to him. He's a safety."
(on if he or Kam Chancellor likes cats most)
"I'm not sure. I mean, I like kittens. Kittens are cool."