Greetings from the U.K. Have all the 2019 draft picks now signed contracts with the Patriots, and if not, why not? I am not familiar as to how the draft works, but could it be that a number of draft picks do not make the roster and get cut, and would they still receive a rookies' salary? John Delaney
Yes, all 10 members of the 2019 Patriots draft class have inked deals with the team and have been so since June 5. That's when the last of them put pen to paper. Seven of the rookies were signed on May 10, with first-rounder N'Keal Harry agreeing just a few days later. In early June, DE Chase Winovich and RB Damien Harris became the final two to sign their deals.
Since the current collective bargaining agreement went into effect in 2011, there's been a salary structure in place for rookies, to prevent the long, drawn-out holdouts of high draft picks that were hallmarks of the pre-2011 era. So, it's essentially a formality nowadays for draft choices to negotiate their rookie contracts.
Draft picks are not guaranteed to make the roster, although the high-round selections generally are safe. Any draft choice who doesn't make the 53-man roster typically does not receive anything other than his signing bonus and must sign a new contract if he is brought back to the practice squad or joins another team. Erik Scalavino
When do you expect the Patriots to issue the jersey numbers for their 2019 draft choices? I am looking for the expected date. Kent Pandolph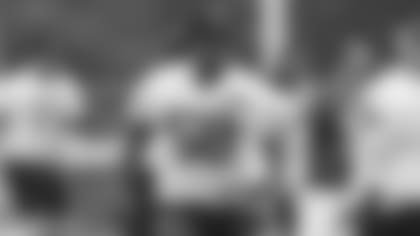 Last year was the first time we saw rookies receive jersey numbers that didn't necessarily correspond to their respective positions, but that was rectified just before kickoff of the preseason opener. I'd love to see training camp begin with every player given a suitable jersey number. However, Iif history is to be our guide this summer, I'd expect the rookies – who were assigned numbers 50 and higher, starting with the aforementioned Harry – to be given proper digits before the team takes on the Lions in this year's preseason opener at Detroit. Erik Scalavino
Are there any injury updates on Yodny Cajuste? Will he be ready/healthy for training camp, etc.? We need the help at OT. Charles Divita
No definitive updates at the moment, Charles. We should have a better idea just before training camp opens, when teams are required to put injured players on PUP (physically unable to perform) or NFI (non-football injury) lists. Cajuste didn't take part in spring sessions because of offseason surgery to repair an injured quadriceps muscle, so, he's a potential candidate to begin camp on one of those lists, but he could also be recovered and fit enough to take part from the get-go. We'll have to wait a little longer to find out for sure. Erik Scalavino
How much of a role do you see Damian Harris having this year? Will he get more short-yardage carries? Will he just be a depth piece? Jarrett Ochsner
Do you think the Patriots drafted Damien Harris, who by all accounts could be a key player, because of injury insurance for Michel? Or do you think that they view the two of them as a time-share and keeping both of them fresh. Matt Botelho
Assuming Harris makes the team, which is not a guarantee, I envision him providing quality depth at the position, perhaps to spell Sony Michel at times. But we need to see him and all the other newcomers in uniform, in full pads, before we're able to make any declarative statements about what they're capable of doing on the field. Come back to use after a few weeks of camp and we'll have a better sense of Harris' (and everyone else's) potential. My guess is the Patriots drafted Harris because they liked what they saw from him at Alabama and believe he can help somehow in this offensive system. Erik Scalavino
Will we see Josh Gordon this season? I think having him back with rookie N'Keal Harry and [Julian] Edelman would help alleviate the offseason losses and bolster the position. Brendan Grooms
I agree that Gordon would be a welcome addition to the offense, but at this point, there's no update on his indefinite suspension from the NFL. He has a serious personal issue that needs to be addressed before he can contribute reliably on the field for this team. I have no idea where he is in that regard, other than the recent images of his catching passes from Tom Brady. The team obviously hopes he'll be reinstated this season, as evidenced by their tendering him a restricted free agent contract this offseason.
My guess – and it's only that – is that Gordon will eventually get one more chance, but when exactly that will come is impossible to predict. Erik Scalavino
Did Gronk truly retire for the reasons he stated, or because he was unwilling to restructure his contract or accept a diminished role in the offensive scheme? Tony Celata
The latter certainly could have been factors in Rob Gronkowski's decision, but my sense is the all-world tight end was already contemplating retirement anyway, as he openly stated a year ago after the Patriots lost Super Bowl LII. He didn't have a diminished role that year, yet he was already thinking about the future beyond football.
In my estimation, his body was telling him it was time, and this year, after the Patriots won their sixth title, he made the decision, and I applaud it. He's made enough money to set himself up for life, he's at the height of his public popularity, and he left the game going out a winner – something most professional athletes have a hard time doing. I hope he enjoys his life after football. Erik Scalavino
Since the Patriots have basically no talent at TE and potentially a nice stable of big WRs, do you think the offense essentially abandons the TE position and mostly runs out of 10 or 20 (FB) personnel groupings? Anthony Salerno
I, like I assume the Patriots coaches will, am going to allow the players to compete in training camp and the preseason before I abandon any hopes for any of them as individuals or collective groups. But even if the tight end position proves to be less talented than in recent years, I don't expect OC Josh McDaniels to give up on that group entirely. They'll still have a role in this offense. Erik Scalavino
Hello. I really enjoy Patriots Unfiltered. My question is about the Patriots in their Super Bowl appearances in the Brady era. It seems every game has been a close one. Why haven't we seen any games where the Patriots have really blown out the opposition? I'm not complaining by any means, but I was wondering what your thoughts were. Thanks. Francis Friel
Quite simply, when you reach the Super Bowl, the two teams are both pretty good. And good teams don't tend to get blown out very often. New England has faced some solid competition in every Super Bowl appearance – those won and lost – and they haven't always played their best in those games. So, it's not altogether surprising that they've not yet put a complete game together in the Super Bowl. Yet, they've managed to win six of them, which is what matters most. Erik Scalavino