Foxborough, Mass. – While the Patriots spent Sunday evening undoing the previously unbeaten Cowboys 48-27, the Patriots alumni players won big by setting a precedent with the fans.
In the first-ever Game With the Greats event, held at Gillette Stadium's Fidelity Investments Clubhouse, the New England Patriots Alumni Club (NEPAC) hosted well-over 800 die-hard fans for an evening of reminiscing, autograph-signing and charity.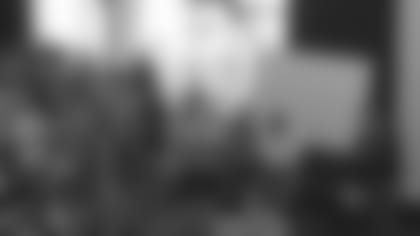 NEPAC, an official 501-(c)3 non-profit organization, raised tons of money for New England's youth. Final tabulations are yet to be made, but the live auction alone raised over $13,000. That figure doesn't even include revenues from ticket sales and a raffle, in which fans won items like a Vince Wilfork signed photo, a fully autographed 2008 Patriots Cheerleader Calendar and a year's subscription to Patriots Football Weekly.
The Patriots alums gave a pre-game "Chalk Talk," complete with predictions, and fielded questions from the audience before re-joining the crowd to mingle. The electricity of the contest kept everyone in good spirits and by the fourth quarter, fans and alumni alike were glued to their seats watching the game on the clubhouse televisions. Some even braved the chilly (but dry) Fall air to watch on the stadium's ProVision screens from inside the bowl.
"We couldn't have been happier with fan-turnout," said NEPAC Coordinator Donna Spigarolo. "This money will help keep youth football alive in New England and that's so important to the former players."
"I don't see how we can go without this event next year," said NEPAC President and former Patriots first-round draft pickPete Brock. "It was great for the alumni. It was great for the fans. The team won, and the whole thing raised tons of money for New England youth sports. It was all we had hoped for and then some."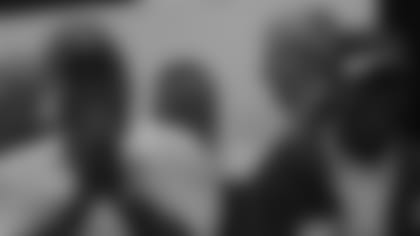 Wrote one fan on the Patriots.com bulletin boards: "Watching the game was great. It was almost like being at a home game with the crowd all cheering and high-fiving each other. … All in all, a pretty spectacular day. Kudos to (Robert) Kraft and the Alumni [Club] and all the staff at Gillette. A job well done! … I definitely hope this becomes an annual event because I'll go every year."
Keep your browser locked on Patriots.com for more photos of the inaugural Game With the Greats, and look for the event to happen again next season.