Quick turnarounds in the NFL are becoming commonplace as the effects of the salary cap have hit full force after seven seasons in place and players bounce from team to team. NFL executives learn more every year on how to operate efficiently in a system that will reward smart shoppers over time. While those who go for a quick fix may get one, they eventually pay for their sins. And if the quick fix didn't work out, they pay dearly. Just ask recently fired Redskins personnel chief Vinny Cerrato.
The salary cap system in place promotes true competitiveness, but it hardly preaches patience as fans and owners call for the heads of team leaders when success isn't achieved quickly. Rapid turnarounds like those recently witnessed in St. Louis and Indianapolis bring a new meaning to "rebuilding" and also less job security to those assigned with the task of turning around a loser.
That leads us to examining the 5-11 Patriots approach for this 2001 offseason as they look to improve while trimming around $3 million in cap space in the process. There are clear needs that Bill Belichick must address that cannot be met through the draft if he wants his team to contend in 2001. But first off, know that the line between winning and losing in the league has grown so thin that it may not take as much as we, who believe the sky is falling, think it will.
Every year, some team that believes it is a player or two away from wearing a big, gaudy ring will "go for it" in free agency and overpay a handful of players to get over the hump, believing that one Super Bowl is worth the up-front money doled out and the cap pains to come later as a result. Some team decision-makers never learn from the mistakes of the past and inevitably, someone will overpay for a free agent that will then come in and not produce the desired results. In making such a move, the team will set a new higher market price for other players at that position.
Hopefully, someday these personnel people (and more importantly, their bosses) will understand that this hurts every team from trying to maintain any sort of consistency. Football being a true "team" sport, there are many instances where a player's success is due to the sum of the parts on the unit for which he played. Once out of that element and asked to do different things in a different system with different personnel, the result is ... well ... different. And not necessarily better or as good. When that happens, it's good-bye coach and good-bye general manager.
So how should Belichick approach his first true offseason as the Patriots decision-maker?
First, he needs to get the Drew Bledsoe situation resolved. There is no way Bledsoe can be allowed to play in 2001 with a $9.8 million cap number and it is not simply a financial issue. If Bledsoe's deal isn't restructured, it will serve as a distraction throughout the year whether or not the coach and the quarterback choose to answer the constant questions.
If Belichick has his way, a new Bledsoe deal would feature more consistent annual cap figures rather than a low number early on followed by huge cap values late in the contract. The structuring, as much as the signing bonus amount, could end up being a problem in the negotiations.
But this is where Belichick is a renegade of sorts. Trying to negotiate such a deal is trying to regain control of a system currently dominated by agents. If more teams operated under this premise, consistency from year to year would likely be more commonplace.
But while Belichick can't go wrong addressing any specific position in this offseason, he needs to examine the "person" he signs perhaps as much as the "player." Quantifying the value of such intangibles can be tough, especially when a team is not totally familiar with the player. But in the Patriots situation, the chemistry and leadership a player can provide may be worth more than his overall talent.
Patriots linebacker Ted Johnson has said that one or two character players can have a great impact by making those around them better. Not the same way a good point guard in basketball makes other players better, but better nonetheless. Belichick and personnel assistant Scott Pioli must unearth these players.
At the completion of the 2000 NFL Draft, Belichick talked about toughness and his team still lacks that ingredient. Topping his wish list should be at least one experienced starting offensive lineman, perhaps two, who in addition to bringing an adequate skill level, also insert an attitude into the lineup — not the highest-priced linemen out there, but tough, solid veterans. You won't find names here because PFW has not sat down with any free agents to perform a job interview.
There are players who must draw consideration for the big pay day based purely on playmaking ability if they do reach the free market on March 2, when free agency begins, and those names are generally obvious. Buffalo wide receiver Eric Moulds would certainly make a nice target for Drew Bledsoe. Of course, if Robert Kraft doles out a massive bonus to Bledsoe, will he want to do it for another player in the same year?
Anyway, to a lesser extent (and less money), running backs like Tiki Barber or perhaps Priest Holmes would fit in as well. Holmes is an interesting prospect because, as a backup in Baltimore, he wouldn't be overly expensive, but could be the inside runner the Patriots seem to lack. Maybe J.R. Redmond can be that guy, but injuries prevented us from finding out. A cheaper option like Holmes would still give Belichick the flexibility to find out if Redmond can be a productive every-down back without taking a big financial hit. Of course, the sixth pick in the draft could conceivably be used on a runner. Oh to have Curtis Martin back ...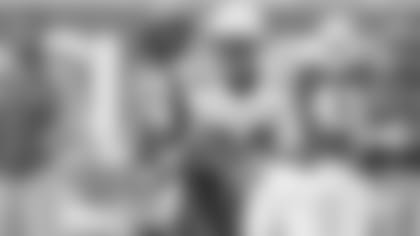 Defensively, the team spent gobs of money to retain the core of its Super Bowl unit and hasn't been rewarded for the investments. Players like Willie McGinest, Ty Law, Johnson and Lawyer Milloy are supposed to be top-notch playmakers, but the Patriots defense made very few plays in 2000.
Belichick needs a field general. He needs a locker room lieutenant. He needs some glue to keep his defense stuck together as one rather than as individuals simply trying to shine. He needs that type of player before he needs a pass rusher. Following Super Bowl XXV, Giants linebacker Harry Carson said the defense (guided by Belichick) was a total team defense and it required veteran players to execute it. The Patriots have enough veterans, but when those veterans experienced their ultimate success, they were young hot shots with some lower profile veterans keeping them together — players like (dare I say) Willie Clay, Mike Jones and even Todd Collins. Otis Smith is a guy on the roster who falls into that category, but doesn't have the clout or the take-no-garbage approach needed here. That is why a name like Bryan Cox is bantered around. Is Cox past his playing prime? Maybe, but if he grabs a couple of face masks on the field or puts his boot in someone's rear end in the locker room, the whole defense will be better off for it.
Milloy provides some of that fire and leadership in the secondary, but it clearly isn't enough. It's time to put away the glitz and glitter, to leave the choreographed dances in the Boston night clubs, to forget about being Deion Sanders and bring the lunch pails to work.
Belichick can preach, but the message doesn't always get through when it comes from the coach. When it comes from a respected peer, the meaning can be driven home quicker. Belichick can only find these players through diligent study of the free agent market.
So much to the dismay of Patriots fans starving for Robert Smith or Corey Dillon, this may not be the year to "go for it." This may be the time to improve chemistry through moderately priced veterans who provide leadership, and to improve the overall depth of the roster.
If that approach is taken and proves successful, perhaps next year Belichick can make a necessary big splash for a skill position playmaker when he has better control of the Patriots cap situation.