Since the Patriots went to Super Bowl XXXI, they've been remarkably efficient retaining their own key free agents to the extent that they have arguably overpaid for some — at least in hindsight. Names like Bruce Armstrong, Ben Coates, Ted Johnson, Willie McGinest, Ty Law, Terry Glenn, Lawyer Milloy, Tedy Bruschi and Chris Slade all signed new contracts in the years following the 1996 AFC Championship season.
This year, the Patriots have very few essential players who figure to be free agents come March 2. But Bill Belichick does have another problem. He must trim some fat off the roster before March 2 because the team will be around $3 million over the cap under its current salary structure. 
Theories abound on how to do this and one way is to simply release some higher-priced veterans. But keep in mind that before a team cuts a player, it must have some kind of plan to replace the player or risk lower production with a similar salary cap hit. That's because the released player will still count against the salary cap along with the replacement. 
Veteran quarterback John Friesz carries a $2.7 cap figure into 2001, and the team will either restructure that contract or release him outright. His release would save the team $2.5 million while only costing $200,000 against the cap. That moved alone would bring the Patriots nearly into cap compliance, but that's assuming no other moves are made, which is a virtual impossibility.
Veteran defensive lineman Henry Thomas may be a prime candidate for financial savings. He is on the books for $2.7 million next year, which is far too much for a reserve. If he were cut before Feb. 28, the team would save $1.6 million while taking a 2001 hit of $1.1 million.
Of course, a major restructuring of quarterback Drew Bledsoe's contract should free up space as well, but how much will depend on how the team and Bledsoe agree to structure the contract. Other than Bledsoe, the only key figure the Patriots must make a run at re-signing is defensive tackle Chad Eaton, who is among 15 players who can become some sort of free agent on March 2. However, only five of those 15 will be unrestricted free agents, making this a light year in that category. In fact, even after the 2001 season the only key names set to go free are Tedy Bruschi and Adam Vinatieri. That could set the Patriots up to make a run in the market next year.
Here is an alphabetical look at current Patriots who can become free agents: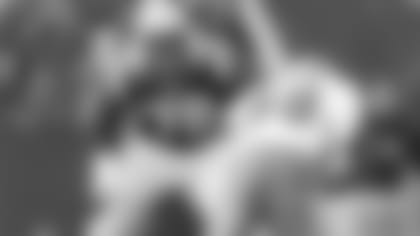 Bruce Armstrong (UFA)
After being cut last February, Armstrong tested the market, but found nothing because of an ailing knee. The team's left tackle returned to New England for a minimum salary last summer but was a shell of his former self. It seems unlikely the team would make much effort to retain Armstrong, who is an unrestricted free agent. But that was also the case last year until offensive linemen started falling to the injury list like flies. If the 14-year veteran is still available come summertime, he could be signed in an emergency if he still wants to play. If Armstrong calls it a career, he goes down in history as one of the franchise's greatest offensive linemen.
Tony Carter (UFA)
The Patriots starting fullback the last three seasons, Carter should be affordable if the Patriots want to retain him. He is a serviceable lead blocker, who was given a chance to carry the ball in short-yardage situations where he had mixed results. He made an $815,000 base salary last year and won't likely be back unless he's willing to settle for less money. A cheaper alternative could be found in the draft.
Chad Eaton (UFA)
The Patriots have made their intentions clear to Eaton that they would like him back, especially coming off the season he just had in 2000 when he piled up 78 tackles and 2.5 sacks in his role clogging up the middle of the line. It was clearly his best season as a pro and now he will look for some back pay after making a $400,000 base salary last year. Eaton will look for a deal averaging around $3 million per year, which may be overestimating his value somewhat. The fact that Eaton had a down year in 1999 could lead some to question his motivation. Did he give a greater effort in 2000 knowing he was set to hit free agency? That's a question teams will have to answer. He is likely to get a signing bonus in the $3 million-$4 million range and an overall deal that could average just below $3 million.
Last year, Eaton proved to be a stout presence in the middle of the line, tying up offensive linemen and even showing an ability to shed blocks and make the tackles. His 78 stops were fifth best on the team. Unlike some of the game's top nose tackles, Eaton doesn't generate tremendous push to collapse the pocket and consequently, the team's edge rushers often end up behind a quarterback who has stepped up. He certainly is the type of player Belichick likes in the middle of his line and his age (he'll be 29 for the start of the season) still works in his favor. If the Patriots, or any other team, deem 2000 as the year Eaton started to emerge on a consistent basis and see an even bigger upside ahead, then he will get paid as he reaches his peak performance level. But can the Patriots afford to pay him while trying to regain control of the cap? Does Eaton want to return? He is from the Seattle area and would not balk at returning home to play for the Seahawks where former Patriots defensive coordinator Steve Sidwell runs the defense. The team's initial offer was on the low side and Eaton will likely test the market.
Brandon Mitchell (UFA)
Mitchell's injury-plagued career in New England is probably over. After being selected in the second round of the 1997 draft, Mitchell never emerged as a consistent threat. He is more suited to playing in a gap defense where he can utilize his quickness if he can stay healthy. In Belichick's two-gap style, Mitchell may not be the best fit. The Patriots retained him last year with a minimum tender when he was a restricted free agent and he certainly won't garner big money elsewhere. He is there for the taking, but will likely look for a defense that better suits his strengths as a player. If he leaves, the Patriots won't have any players remaining from the 1997 draft when those are the very players who should be in the primes of their careers. That is one reason Belichick is faced with cap difficulties.
Matt Stevens (UFA)
The Patriots picked up Stevens, a safety, off waivers from the Redskins heading into Week 17 and he will be available on the free market come March after appearing in just one game for New England.
Harold Shaw (RFA)
Shaw is a solid, if unspectacular special teamer and should receive a minimum tender that will amount to $472,000. Making such a tender before March 2 will allow the Patriots to match any offers Shaw receives. Under that scenario, if he signs elsewhere, the Patriots would receive a sixth-round pick as compensation. He saw very little offensive action as a fullback.
Greg Spires (RFA)
Spires is a situational pass rusher and reserve defensive end who also should receive a minimum tender. He would be more likely to receive an offer elsewhere than Shaw based on his defensive impact. He led the Patriots with six sacks last year, but a team might be hesitant to surrender a third-round pick for Spires, which is what it would cost in compensation if the Patriots do in fact tender him at the minimum level. For the Patriots, he is worth keeping at that price with the option to match any offer he receives. A longer-term deal at this point is doubtful.
The following players are exclusive rights free agents, which means they have two years or less accrued experience. As long as the team tenders them an offer before March 2, it retains exclusive negotiating rights with the player until renouncing that right at which time the player would be free to shop his services. The exclusive rights free agents are: Linebacker Antico Dalton, wide receiver Shockmain Davis, linebacker John Eskridge, defensive end Reggie Grimes, defensive tackle Garrett Johnson, long snapper Lonie Paxton, cornerback Kato Serwanga and tight end Jermaine Wiggins.