1st Quarter
…I was impressed with Cincinnati's early attempt to out-Patriot the Patriots by deploying an unorthodox formation with its offensive line. On its very first play from scrimmage, with the ball on the left hash mark, Cincy put QB Andy Dalton in the shotgun with a  running back to his right. Nothing unusual there.
Dalton's center had his two guards flanking him, but both tackles lined up on the numbers, a good 10 to 12 yards away from the guards, with their hands on their knees. The Bengals put a pair of receivers on either side, just next to and behind the tackles. So, it was a balanced look, but a quirky one with the gigantic splits between the guards and tackles.
New England however, didn't appear fooled. DEs Chris Long and Jabaal Sheard lined up in a standing position in those large vacancies, splitting the difference between the guards and tackles. There was no panic in anyone on defense.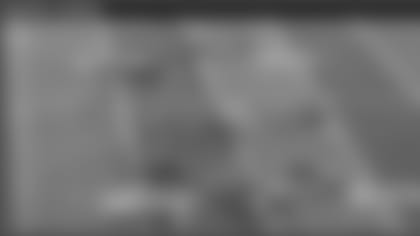 Dalton took the snap and threw a quick pass to his left to WR A.J. Green. Cincy's left tackle engaged Long, while TE C.J. Uzomah, the other receiver to that side, tried to level CB Malcolm Butler with a block. Uzomah had a significant height advantage, but Butler did a fantastic job of shedding Uzomah and wrapping up Green for only a modest gain of four yards. The recognition by everyone on defense and the effort by Butler were magnificent.  
…Three plays later, the Bengals tried something similar. Dalton again was in the gun with a back to his right. Only three o-linemen were directly in front of him, like the previous time. Two receivers were to the left, but there was no lineman out there on the left numbers. Instead, the Bengals sent both tackles to the right numbers, with a receiver at the far end and another a few steps behind on the numbers.
New England again had players in position, but this time, the Bengals executed their blocks better. The usual right tackle, Cedric Ogbuehi, took Sheard out of the play with a shove to the back as Dalton delivered an outlet pass to rookie WR Tyler Boyd. LT Andrew Whitworth swallowed up safety Patrick Chung, and Green neutralized CB Logan Ryan with a textbook block. Boyd slipped between Green and Whitworth for an 8-yard gain, double what they got earlier.
Interestingly, this was the last time the Bengals used any trick formations in the game.
…It's no mystery that the Patriots are a game-plan team. Week to week, you never know exactly what you'll get from New England, either personnel- or play-call-wise on either side of the ball. It was curious that the game plan on defense called for cornerbacks Butler and Ryan to switch sides. Butler manned the right side, with Logan on the left virtually the entire game.
Normally, this wouldn't be so strange is the opposing team's top receiver was lined up on the left and Butler would have to shadow him, but the Bengals varied their receivers and their locations, meaning at times Butler was on the top guy, Green, and other times not.
Butler had a solid first quarter, though, coming up with that first trick play tackle, then bringing down former teammate Brandon LaFell on third down to force Cincy into a punting situation.
…When the Bengals lined up to punt on that first series, the Patriots sent Danny Amendola back to field the kick, but most of the other players on the field for New England were regular defenders. Because Cincy had the ball 4th-and a long 1 from right around midfield, the Patriots were in position to defend against a potential fake punt. Good example of the coaching staff preparing the Patriots for situational football.
…Give the Bengals defense credit for covering New England's many receiving options very well during the first quarter. That was one of the reasons QB Tom Brady had to scramble so much to try to salvage plays. He just couldn't find open receivers consistently downfield. Cincy couldn't keep that up all game, but in the early going, they did a decent job of it.
…Rookie Elandon Roberts might be undersized for an NFL linebacker, but in the past two games, he's shown that he can play the position at the highest level. After leading the team in tackles against Cleveland, Roberts equaled his total of seven this week, tied for second on the team to Dont'a Hightower's 13. Roberts left the game for a spell when he underwent concussion tests, but managed to return in the second half and continued where he left off in the first half, making plays all over the field.
One of Roberts' biggest plays was a knock-down of a Dalton pass on 3rd-and-2 that would have forced Cincy to punt, but an inopportune penalty of Ryan kept the Bengals' drive alive.
…That penalty, by the way, was an incorrect one by Ron Torbert's officiating crew. Ryan shoved Green by the shoulder pad, not the facemask, although Green sold it by jerking his head backward when Ryan made contact. That fooled the refs into throwing the flag on Ryan.
2nd Quarter
…Let's look at that goal-line stand that New England had in the early part of this quarter. RB Giovani Bernard very nearly got into the end zone from 6 yards out on the first goal-to-go play, but safety/co-captain Devin McCourty other Patriots defenders came in to support him. McCourty had to shed a block even to get in position to stuff Bernard, who got inside the 1-yard line.
Next play was the one on which Roberts was shaken up. Playing deep in the end zone, Roberts read the play, a handoff to Bernard to the offensive left side. Cincy brought in DT Domata Peko as a fullback, and Peko was supposed to block Roberts, but he whiffed completely. This allowed Roberts a free shot on Bernard, and it was such a violent collision that Roberts had to leave the game briefly. But by slowing down Bernard, he allowed several teammates to come and pile on to keep the Bengal out of the end zone again.
On 3rd-and-goal, Dalton threw a jump-ball fade to Green, and the ball went through his hands, hitting his helmet and deflecting out of bounds. Watching it live, it appeared that Butler knocked the ball away, but in fact, the corner was lucky that Green didn't make the catch. However, the pass was so far wide that Green might not have landed with both feet in bounds anyway.
Fourth down began with a great effort by DE Chris Long. With Peko again at fullback, Bernard got the handoff and went left. Long was engaged with Uzomah and Long managed to tilt his own left shoulder into the narrowest of spaces where Bernard was attempting to run. Hightower raced in for the assist by knocking Uzomah off of Long. DE Rob Ninkovich and DT Anthony Johnson slid over to help Long bring Bernard down short of the goal line.
…Brady was under some pressure for a good amount of this game. It wasn't his o-line's finest day, for sure. His first sack came from his own 20-yard line, from a shotgun formation. RG Shaq Mason just got tossed aside by DT Pat Sims, who then was unabated to Brady. The QB had nowhere to run and was easily taken down. Just a bad one-on-one effort by Mason.
…Dalton's touchdown run came out of a shotgun, with RB Jeremy Hill behind him. The play, from goal-to-go at the NE2, was a pitch option to the offensive left. Ninkovich was playing contain on that side and was really the only Patriot defender in the area. So, he was in a 2-on-1 against Dalton and Hill. Dalton faked a pitch to Hill, which made Ninko bite to the outside. Dalton then cut underneath and scampered untouched over the goal line. Green, who was lined up on that same side, did a great job of selling his pass route into the end zone to draw Butler away from the play, thus leaving Ninko on an island to defend the two Bengals in the backfield. It was well designed and well executed.
…Brady was sacked a second time on the ensuing possession. LB Vontaze Burfict blitzed up the middle, and RB James White stepped up from his shotgun stance next to Brady to pick him up. White simply dove at Burfict's legs, however, and the linebacker leapt over him, kept his feet, and chased down Brady. Poor technique by White there.
…White atoned for that mistake by catching Brady's first touchdown of the day. From the gun, White flared out to the right flat and no one covered him. LB Karlos Dansby was late reacting once Brady threw to White, who was able to turn upfield and run the final 10 yards or so untouched to the end zone. Very simple pitch-and-catch because the Bengals failed to react quickly enough to it.
3rd Quarter
…As well as Butler played overall, the touchdown he surrendered to LaFell was just a lost 1-on-1 battle. LaFell ran a brilliant route – a dig route in the back of the end zone – and made a tremendous catch, extending his arms fully and managing to keep both feet in bounds.
…Clear movement before the snap by WR Julian Edelman, which earned him a false start penalty.
…Bengals DE Michael Johnson knifed between LT Nate Solder and rookie LG Joe Thuney to reach Brady in the backfield for the third and final Cincy sack of the afternoon. Johnson expertly beat the double-team using his speed and nothing more.
…The play of the day was Hightower's safety. From the Bengals' 8, Hightower came up the middle on a delayed blitz and was unmarked by Cincinnati. Very similar to the play a week earlier when he caused a Browns safety in Cleveland. Nothing fancy, just a great individual effort by the co-captain.
…TE Rob Gronkowski looked very much like his old self in the second half. It was a combination of great route-running and excellent throws by Brady. One big completion in particular, with 4:33 left in the third, was Brady's 5,000th of his career and gave Gronk his 22nd 100-yard receiving game, tying Jackie Smith for 3rd all-time by a tight end. It was a simple up-the-seam pattern, but what made it work so effectively was Brady's slight head turn to the left before the throw. This froze Burfict as Gronk raced past him on the right side. It appeared that Brady was going to the other side of the field, so, Burfict allowed Gronk to go by him untouched. Brady whipped back to the right and lofted a precise throw over Burfict's head, hitting Gronk in stride for a 38-yard gain. Small details in the NFL make enormous differences in the outcomes of games.
…White's second TD was virtually the same call as the other one, only with much less ground to cover. But again, the Bengals failed to bring anyone over in time to defend White. Too easy.
…Kicker Stephen Gostkowski hooked the ensuing extra point wide left. Yes, he's struggling with placekicks this season, but an area where he's having considerable success is on kickoffs. With the new touchback rule placing the ball at the 25 instead of the historic 20, the Patriots are asking him to kick off high and short of the goal line so that his coverage unit can attempt to tackle the returners inside the 25. For the most part, this has been effective for New England this season, and much of that credit goes to Gostkowski for doing something that's not as easy as it looks. 
4th Quarter
…In his Patriots debut, veteran CB Eric Rowe made a positive first impression. He didn't see a ton of action, but early in the fourth, he made a nice play to break up a Dalton pass to Green in the end zone on third down. Cincinnati kicked a field goal on the next play.
…I completely understand Gronkowski's gripe with the Bengals for seemingly trying to hit him low on a couple of his late-game catches. However, the taunting penalty he earned was warranted. The play was long over and the refs had stepped in to break up a potential incident between Gronk and some of the Bengals defenders. There was no need for the extra head-bobbing in the direction of Cincinnati's bench.
Under the new NFL rules regarding player conduct, a taunting penalty is considered part of the two unsportsmanlike conduct penalties that can get a player ejected automatically from a game.  Sure, it was the heat of the moment, but as an experienced veteran and co-captain now, Gronk needs to be smarter than this on the field or he could cost his team dearly.
…The defensive play that sealed the game was a terrific sack of Dalton shared by Sheard and Hightower on 3rd down in Bengals territory. Sheard, coming from the right (offensive left) was double teamed and split it much the same way Johnson did earlier against Thuney and Solder. Hightower, meanwhile, was originally lined up to Sheard's left and stunted around his teammate as the two Bengal linemen were preoccupied with Sheard. The latter got to the QB first and Hightower came in to finish off the play.