1st Quarter
…On the opening kickoff, rookie CB/returner Cyrus Jones gave us a taste of what this day was going to hold for New England. He took the ball about three yards deep in the end zone and immediately decided to take it out. However, up-man/co-captain Matthew Slater turned and held up a hand, signaling for Jones to take a knee. Jones' momentum, though, brought him out to the 1-yard line when he realized what Slater wanted him to do. Jones began taking a knee before realizing what a mistake that would have been and continued running. Buffalo's coverage unit was already well downfield by this point and dropped Jones at the 9. It was rough day overall for New England, but Jones struggled once again with ball security and decisions in the return game, as he had during the preseason. A troubling sign for a player whose strength was believed to have been as a return specialist.
…Oh, how differently this game could have turned out had the first play from scrimmage stood. It was a brilliant play design and call by OC Josh McDaniels. He put rookie QB Jacoby Brissett in a shotgun with RB LeGarrette Blount to his immediate right. Two receivers – Chris Hogan and Danny Amendola – were to the right and Julian Edelman was the left flanker. TE Martellus Bennett was in a three-point stance next to LT Nate Solder along the line of scrimmage.
Pre-snap, Edelman came in motion right, toward the middle of the formation. At the snap, Brissett faked a handoff to Blount, which drew the Bills defense inward. Edelman was allowed to skirt free to the right flat and Brissett dumped a short pass off to him. As the ball was in the air, Hogan began blocking the Buffalo player defending him, which, of course, is a pass interference penalty. Then, as Edelman turned up-field, Hogan lost his blocking leverage and was forced to grab hold of the player from the side. The side judge saw both of these infractions and immediately threw the flag. Edelman's 90-yard run was all for naught.
Had Hogan simply run, say, a fly pattern, he'd have drawn his defender with him further downfield and Edelman might still have had a long gain, maybe even a score, and the entire complexion of the game would have been altered in an instant. Alas, wasn't to be.
…When Buffalo got the ball, the Patriots continued with their sloppy, penalty ways (15 illegal acts committed by New England on the afternoon, nine of which were accepted). LB Dont'a Hightower, in his first action back from a right knee injury, was clearly lined up in the neutral zone on a 2nd-and-10 play from midfield. And he was in that illegal position for several moments before the snap. Clearly a mental error on Hightower's part. He was deserving of the flag he earned on the play. Luckily for him, it was offset by a Bills penalty and didn't count.
…Nevertheless, Buffalo continued methodically moving the ball down the field, thanks in part to an anemic pass rush by New England which allowed QB Tyrod Taylor plenty of time to find open receivers, usually Robert Woods. The Bills were also effective picking up large chunks of real estate on the ground. This led them to a 3rd-and-goal situation from the NE 7-yard line.
Buffalo set up with Taylor in the gun and RB LeSean McCoy to his right, three receivers left, and a tight end along the line of scrimmage to the right. Pre-snap, Woods motioned to the right with CB Malcolm Butler giving chase in somewhat deep man coverage. Woods, however, was there as a blocker, not a pass option. He did well to cut off Hightower from making a play on McCoy, who took Taylor's swing pass out of the backfield. Butler was six yards away from McCoy and hesitated for a split-second when McCoy feinted like he was going to take the pass to the inside. This gave McCoy just enough space to race past the diving Butler and sneak inside the pylon for the touchdown.
…New England wasn't the only team having a bad Sunday in Foxborough. Referee Pete Morelli's crew did as well. They missed a number of Buffalo penalties that were seemingly obvious. One that was a close call was the potential horse collar by LB Zach Brown, who grabbed Edelman from behind by the nameplate on his jersey. This is supposed to be a penalty beginning this season, if the defender pulls the player toward the ground. Brown did not do so. He slowed Edelman down, for sure, but did not drag Edelman to the ground with this move. He swung his other arm around Edelman to drive him out of bounds. Had Brown pulled Edelman down by the nameplate, a flag should have been thrown. But he didn't, and that's why no flag was thrown.
2nd Quarter
…Similar to the Hightower penalty earlier, DE Trey Flowers was clearly infringing on the neutral zone at the start of the second quarter. Morelli's officiating team was right in flagging Flowers. Players just have to be smarter than that in order to avoid senseless penalties.
…On the other side of the ball, rookie LG Joe Thuney clearly rocked backward before the snap on 3rd-and-10 from the NE 35. That, however, was one of the few mistakes Thuney made Sunday. He's been solid at that spot through the first quarter of the regular season schedule.
…Hightower did a nice job coming on a blitz on 3rd-and-7 from the NE 24. He didn't get to Taylor in time for a sack, but drilled the QB just as he delivered a pass that wound up being just off the mark. Hightower's play likely caused that, forcing a Bills field goal rather than keeping the drive going.
…One of the few Patriots who had a decent day was Bennett. Half of his 109 receiving yards came on one play in this quarter. He and fellow TE Rob Gronkowski, whose hamstring is still not at full strength, were in standup positions in the slot on either side of the o-line – Gronk to the left, Bennett to the right. Edelman and Hogan were flankers on either side, respectively. Both TEs ran patterns down the numbers, and in these situations, Gronk is normally double-teamed. Because he's less than healthy, though, the Bills elected to single-cover him, and Gronk, in fact, had beaten his man by a step. Bennett was the one double-covered, but Brissett still looked his way with his throw. Bennett wonderfully adjusted to the slightly underthrown ball in between two Bills defenders, then a third that came over to help. Bennett kicked free of the first two Bills and picked up another 18 yards before being hauled down. The play went for 58 yards, the longest reception of Bennett's pro career.
…Hate to say it, but C David Andrews deserved the holding penalty he incurred a few plays later.
…Brissett's fumble on the very next play was a textbook tackle by Brown, the linebacker, who was Buffalo's best defender by far in this game. Not only did Brown lead all tacklers with 18 (13 solo), he chased down Edelman on that first play of the game and was seemingly all over the field making plays.
Meanwhile, that fumble he caused shouldn't have happened because Brissett should have thrown a potential touchdown pass to Bennett. As Brissett scrambled up the middle out of the pocket, Bennett had broken free of two defenders down the left sideline. Brissett pump-faked like he was going to throw to Bennett, but decided to keep the ball himself. Perhaps Brissett thought he was over the line of scrimmage, but it looked like he would have been OK to throw.
…Brissett's sack on the first play of the next possession was a case of no one bothering to block LB Jerry Hughes. The closest Patriot who could or should have done so was RT Marcus Cannon, but he elected to pursue other defenders on the play, which was designed to be a fake end-around and Brissett rollout.
3rd Quarter
…One of those missed Morelli calls that I mentioned earlier came on 1st-and-10 from the BUF 46. Brissett threw a deep ball to Edelman down the left sideline, and before the ball got there, CB Stephon Gilmore grabbed Edelman by the right arm and shoved him to the ground. The officials could have called holding, illegal contact, or pass interference – take. They chose a fourth option: nothing at all. Terrible decision. It was clearly a violation of some sort and New England should have  been awarded extra yardage and a fresh set of downs.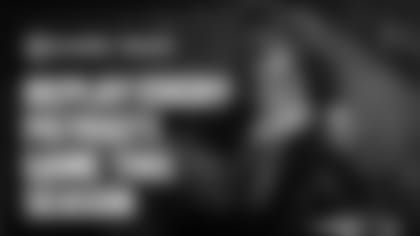 …The drive continued anyway, and another controversial non-call was when Brissett gave himself up by sliding forward on a carry. LB Lorenzo Alexander dove at Brissett and made contact with the QBs helmet as the two men collided. There appeared to be some sort of infraction there as well, the way the rules are currently written, but again, no flag.
…At the end of the drive, K Stephen Gostkowski hit a knuckleball of a 48-yarder that looked good on the way there, but hooked out wide right – by inches – at the last second. Nothing appeared off on the snap by Joe Cardona or hold by Ryan Allen. Just a poor strike by the normally reliable veteran.
…Solder's so-called chop block, for which he was flagged, was unintentional. It appeared he was trying to help Thuney double-team DE Leger Douzable, but wound up whiffing and falling on his hands and knees. Gronkowski, meantime, was engaged in what should have been a 1-on-1 with Alexander, but because Solder was on the ground, Alexander tripped over him. It looked like a chop block, and technically was, but that wasn't Solder's intention.
…Morelli's crew missed another call two plays later when Brissett scrambled to his left and clearly was going out of bounds when Brown shoved him to the turf. Should've been an easy unsportsmanlike conduct foul, but again, nothing from the officials.
4th Quarter
…Brissett's sack in the early fourth was a direct result of his having to step up in the pocket. Bennett was handling Brown 1-on-1 on the right side, but Brissett felt pressure coming from both sides behind him. So, he stepped so far up that he wound up being in line with Brown, who ditched Bennett and took off after the QB.
…RB Brandon Bolden appeared to injure either his left knee or ankle as he tried to spin out of the grasp of a Bills defender late in this quarter.
…Aside from Bennett's day as a receiver, one of the only other positives for the Patriots was the punting of Ryan Allen. The reigning AFC Special Teams of the Week was fantastic again averaging more than 52 yards each on six boots, netting just below 50 yards, and dropping two of those punts inside the Buffalo 20. Not that you ever want to see Allen in his primary role, but if you have to, it's comforting to know he can deliver these types of performances.
…Too many missed tackles and soft pass coverage by New England's defense against Buffalo. It was just a bad day in all three phases of the game by the Patriots.
…Brissett took a ton of hard hits all over his body in this game. Kudos to him for being able to survive the entire contest, but I'd be stunned if he doesn't today have more than just the sprained right thumb with which he started the game.