1st Quarter
…New England's opening drive, with Tom Brady back under center, was absolutely surgical. Kudos, to start off with, to the offensive line, which gave Brady good protection and sufficient time (mostly) to throw the football. It was on the ground, though, where New England scored first, and credit must be given to FB James Develin.
First, on 1st-and-10 from about midfield, Develin, in a broken I-formation with RB LeGarrette Blount behind him, threw an excellent block on penetrating NT Danny Shelton to open up the first hole for Blount, who gained 13 on the play up the middle.
A few plays later, Develin saved Blount again from being taken down in the backfield when he stonewalled DB Ibraheim Campbell on Blount's touchdown run. Develin and TE Rob Gronkowski teamed up to set the edge perfectly for Blount, who easily trotted around the corner and untouched into the end zone.
…Cleveland's response was immediate. Despite applying some pressure on rookie QB Cody Kessler, the defense allowed him and the Browns to march down to their 11-yard line. There, Kessler targeted rookie CB Cyrus Jones in the slot against veteran WR Andrew Hawkins. Jones was caught flat-footed by Hawkins' slight feint to the inside. When the receiver turned his route to the corner of the end zone, Jones was too far behind to catch up. Kessler lofted a nice pass to Hawkins for the easy score. This was just the start of a forgettable day for Jones.
…Next possession for NE, loved seeing WR Julian Edelman's effort blocking downfield on a screen pass to RB James White. Edelman's diving at the legs of one Browns defender essentially took two other Cleveland men out of the play, giving White room to scoot down the sideline for a 36-yard gain.
…How did TE Martellus Bennett get so wide open on Brady's first TD toss of the season? It started with the formation: Develin and Blount in an I behind Brady and Bennett in a tight stance next to substitute RT Cameron Fleming. The Patriots were selling run to Cleveland, and at the snap, Brady play-faked to Blount as WR Chris Hogan, from the right side, ran a pattern into the middle of the field to draw the secondary to him there. Meanwhile, Bennett shuffled on his heels to pass protect against blitzing DB Derrick Kindred. Bennett allowed Kindred to get by him, knowing Blount didn't have the ball and was staying in the backfield to block for Brady. Kindred advanced into the waiting arms of Blount, allowing Bennett to skirt free to the right flat. Brady looked over the middle to Hogan, then quickly to the left for Edelman, before whipping back around to his right to unload the pass to Bennett. The three nearest Cleveland defenders had no chance of making up the necessary ground to tackle Bennett, so he calmly walked into the end zone. Fantastic execution.
…New England's third score came from the defense. Deep in Browns territory, LB Dont'a Hightower timed his up-the-middle blitz just right, and as the ball was snapped, C John Greco, could easily have thrown a block on Hightower, but he apparently didn't think it necessary. Big mistake, because no other Browns were there to stop Hightower from drilling Kessler into the ground as he dumped the ball backwards into his end zone. The ball bounced out of bounds for a safety and Kessler was bounced from the game with rib and chest injuries from the hit by Hightower.
2nd Quarter
…The first of Hogan's two long receptions went for 43 yards and came from success with play-action. Hogan was in the slot right, one of two receivers in that area, with Edelman the lone receiver left of formation. From under center, Brady took the snap and play-faked to Blount to Edelman's side. The o-line sold it perfectly, too, drawing seven Browns defenders up toward the line of scrimmage in that direction.
Edelman ran a shallow crowing pattern to the now-empty right side of the field. He was well-covered, so Brady looked deep to Hogan. The safety was positioned toward the cornerback covering Hogan to the right, leaving a massive empty field to the deep left corner. That's where Hogan went, causing the safety to spin around and be beaten. Brady's throw was a tad long, but Hogan made a great diving catch.
…Bennett's second TD catch was something he revealed afterward to the media that he and Brady had been working on during the week. Brady emphasized to him to get his head turned around quickly on this particular route in order to beat the defense.
The route was nothing complicated, just a simple slant pattern from Bennett's stand-up position at the end of the o-line. But Bennett got a step on his man, just enough of an opening for Brady to thread a pass to him. Had Bennett waited any longer to turn his head back toward Brady, the defender might've had a chance to knock down or intercept the pass. Instead, touchdown Patriots.
…Nice work by safety Devin McCourty to drop RB Isaiah Crowell for a 6-yard loss early in this quarter. The co-captain read the play and shot through the line of blockers to make the diving stop. He never should have had a chance, though, as LT Joe Thomas was in perfect position to wall off McCourty. Thomas took a laissez-faire approach on the play, however, allowing McCourty to knife through him and another Browns blocker to drop Crowell in the backfield. Little details like this can make a huge difference in a game of field position battles.
…Now let's look at Hogan's second long catch, the 63-yarder. Again, nothing too complex, just a simple fly pattern. Hogan easily beat CB Joe Haden down the sideline and again, Brady, with great protection from his o-line, had time to throw a precise bomb.
…With a goal-to-go set of fresh downs following Hogan's grab, the Patriots wasted a great opportunity for another touchdown. Having advanced inside the 1-yard line, this looked like a classic spot for a Brady QB sneak, and the Browns gave them a defensive look that appeared favorable for this, but OC Josh McDaniels called for a Blount run up the middle that was stuffed.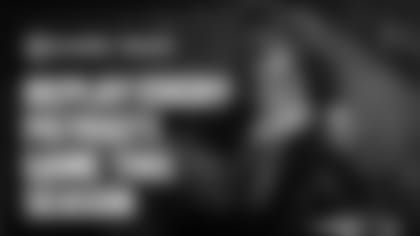 On 4th down, Cleveland was prepared for the Brady sneak, and again, McDaniels called Blount's number, this time to the outside, which the Browns read perfectly to stuff him for a loss. The time for the sneak would've been on 3rd down. Nit-picking, for sure, but that's why players and coaches watch the film, to find these teaching moments.
…Kicker Stephen Gostkowski's wide-right miss from 50 yards was a bizarre one. The snap and hold were right on target, and Gostkowski's kick looked good as it initially left his foot. The ball was actually traveling straight down the pike, but suddenly jerked to the outside. There was a solid breeze blowing in Cleveland Sunday, so, perhaps that had something to do with it. The hook was so dramatic that it looked unnatural.
3rd & 4th Quarters
…TD No. 3 to Bennett came, again, out of what looked like an obvious run formation. New England, in fact, had every player except Brady and rookie RB D.J. Foster (both of whom were in the backfield) lined up tight, seemingly as one single offensive line unit. Bennett and Gronk were at the far right end, and at the snap, Brady play-faked while his two tight ends shot out of their stances into pass patterns downfield.
Both men were open, but Gronk's pattern was a short one, while Bennett continued down the sideline, past a lone Browns defender who was caught between the two tight ends and was unsure whom to pursue. Brady floated the pass over the defender's head and Bennett did the rest, outracing safety Jordan Poyer to the pylon and diving just inside it.
…Jones' rookie season struggles, which we mentioned earlier, came to a head when he was ejected in the early third quarter. Hawkins, who beat him for the touchdown earlier, dove at Jones' legs on a play that didn't need to be blocked so aggressively, as the ball was on the opposite side of the field. Jones took exception and retaliated by swinging and apparently landing a punch. It's an emotional game, but Jones needs to be smarter than this in the future.
…On the other hand, rookie LB Elandon Roberts saw considerable action against Cleveland and wound up leading the team in tackles Sunday. He subbed at times for Hightower and other times for Jamie Collins. Roberts exhibited some potential that we hadn't seen much of prior to this game.
…Great job by New England's defensive front, including newly promoted rookie DL Woodrow Hamilton, which held the NFL's No. 1 rushing offense to a mere 27 total yards on the ground. If there was a possible area for Cleveland to exploit Sunday, it was the interior of the Patriots d-line, but that group played exceptionally well in thwarting almost every Browns rushing attempt.