1st Quarter
…One of the most consequential plays of the game was an incomplete pass. On 3rd-and-7 from the NE 38, QB/co-captain Tom Brady launched a bomb to TE/co-captain Rob Gronkowski, who ran a fly pattern down the hash marks. Gronk easily beat two Jets defenders and was open, but Brady's pass was about a yard too long. As Gronk stretched out and dove for the ball, he fell to the MetLife Stadium turf and landed on his left side. Safety Marcus Gilchrist then landed on Gronk, and that, it appears, is when the big guy injured his back.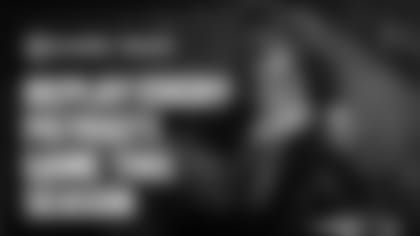 He stayed in the game for the next possession, but after another deep incompletion down the Patriots' sideline, it became evident that Gronkowski couldn't continue. He was taken to the locker room a short time later and never resurfaced. The extent of his injury and how long he might be out of commission remain unclear as of Monday morning.
…Incidentally, on that second long incompletion, there should have been a flag thrown by referee Brad Allen's crew. Gronkowski was having his left arm held egregiously by Jets corner (and former Patriot) Darryl Roberts. It was plain as day, except to the officiating crew, apparently.
…CB Malcolm Butler sure has some tough luck sometimes. He's almost always in position to defend passes, but often, as was the case a number of times against the Jets, he's just not tall enough to make the play. His surrendered completion of 40 yards to WR Quincy Enunwa was a perfect example. Butler played as close a coverage as you can expect a defender to have without being penalized, and he still gave up the pass because the arching ball by QB Ryan Fitzpatrick was just a bit out of his reach. We'll see more of this again later in the game, but Butler makes up for these plays with a big one of his own in crucial spot.
 …Overall, I was encouraged by the way the Patriots handled New York's rushing attack in the first quarter.
…In addition to those deep misfires to Gronk, Brady was off-target on several other throws, even when he wasn't under pressure from the Jets' front. Slow start to the game for him, but he found his touch eventually.
2nd Quarter                                                                                                     
…Butler, as we mentioned already, had excellent coverage against WR Brandon Marshall on the first play of the second quarter, but the bigger Marshall outjumped and outmuscled him for the touchdown pass that Fitzpatrick threw. It's hard to fault Butler for giving this up.
…Rookie Malcolm Mitchell made a number of important catches for New England yesterday, but an underrated one, perhaps, was his first one of the evening – a 6-yard grab on 3rd-and-5 in which he outfought Roberts for position on his curl route and made a difficult catch with Roberts draped over him.
…WR Chris Hogan also made some clutch catches yesterday, but one of his best plays was the one where he threw the ball. It was a designed play that saw him motion into the shotgun backfield and then motion out, but behind Brady so he could receive Brady's backward pass. Hogan did a tremendous job of securing the ball, then getting it in his left hand to throw, while CB Buster Skrine was bearing down on him. Hogan got off a great spiral that was on target to Mitchell, and Roberts finally got flagged for interfering. Great concentration by Hogan to execute this trick play.
…A few plays later, after Stephen Gostkowski kicked a short field goal for New England, Butler made sure the Jets' ensuing drive was a short one when he made his biggest play of the game. On a scramble away from pressure, Fitzpatrick completed a pass downfield to rookie WR Robby Anderson, who dodged Butler's coverage at first. As Anderson continued upfield, safety/co-captain Devin McCourty approached and tried to wrap him up by the midsection, but wound up falling to the ground.
However, in the process, he slowed Anderson down, allowing Butler to catch up to the play. As Anderson sought to stiff-arm McCourty with his left arm, Butler swiped at Anderson's right arm, which toted the football. It came loose, and Butler fell on it at midfield to give possession back to Brady and the offense.
…At the end of that ensuing Patriots drive, it looked like Brady was trying to fake an end-around to WR Julian Edelman, but as he did, he put the ball too close to Edelman's body and it got knocked from Brady's hands. Luckily for him, it didn't roll too far away, and he was able to pick it back up, maintain his composure in the face of a Jets rush, and find Mitchell streaking across the back of the end zone.
…Nice job by DT Alan Branch, serving on the field goal block team, to get a good push up the middle and his left hand up to block Nick Folk's 54-yard field goal attempt at the two-minute warning.
…I'm a little surprised the Patriots let so much time tick off the clock after Brady completed a 14-yard pass to Hogan down to the Jets' 21. They had a timeout to use, which would have allowed them to take a couple of shots at the end zone from there before trying a field goal. Instead, they only got one play off, and Roberts defended well a pass in the end zone to Mitchell. Gostkowski then pulled a 39-yard field goal wide left to end the half. 
3rd & 4th Quarters
…When the Patriots elected to go for it on 4th-and-1 from the NYJ 18, rather than kick a field goal, Brady executed a clever trick – intentionally or not – to draw the Jets offside and pick up the easy first down by penalty. During his cadence, he put his entire body into it, bobbing his head and shoulders and flexing his knees slightly. Perhaps this is what DT Muhammad Wilkerson was reacting to, or maybe he was just overzealous in trying to make a big play. Either way, the gamble paid off for New England.
…Watching Butler play full-time these past two seasons, it seems that he frequently jumps a split-second too early when trying to defend passes that are above his head. This appeared to be the case when he tried to knock down what turned out to be the Jets' final TD of the game. Enunwa wound up making a dramatic catch in the back corner of the end zone, just over the fingertips of Butler, and I'm still not convinced that he had enough of his body in bounds to secure the score, but in Allen's judgment after further review, he did. I just wonder if Butler had waited a moment longer to jump, he might have made the play.
…In the middle of the final quarter, Mitchell ran a great route to get open on the right side of the end zone against Roberts, and Brady threw him a ball that was just a little too far, causing the rookie to have dive for it. Mitchell misplaced his hands and the ball just slipped through them to fall incomplete. Would have been a fantastic touchdown catch had he held on.
…Wonderful job by DT Malcom Brown to win his individual matchup with backup center Wesley Johnson on the next Jets series. Brown used a power rush before tossing Johnson aside to get to Fitzpatrick and wrap him by the waist. This forced Fitz to panic and throw the ball away to an area in the middle of the field where he had no receivers. Allen's crew made the proper call to penalize the Jets for intentional grounding, which comes with a loss of down. Huge play with the Patriots trailing. It helped get the ball back into the hands of Brady and the offense.
…Mitchell more than made up for his earlier mistake by making a clutch catch on another precisely-run route for the game-winning score. It was just a simple out-route and a great throw by Brady, who wasn't his sharpest on the day, by and large.
…One of the reasons RB James White didn't get cleanly into the end zone on the ensuing two-point conversion attempt was that LT Nate Solder was just a bit too late getting out in front of White to occupy the Jet defender who forced White to go wide. Had Solder bene able to get a clean block on Gilchrist there, White would have waltzed into the end zone. White's shallow angle, though, forced him to sneak inside the pylon, and in so doing, the toes of his left foot touched out of bounds and the ball, which was in his left arm, didn't seem to go over the goal line until White was out of bounds.
…The game was sealed for New England when DE Chris Long beat LT Ben Ijalana and strip-sacked Fitzpatrick (Trey Flowers recovered the loose ball). Long did a great job of fighting off Ijalana's stiff-arm to the facemask and then tossing the bigger blocker to the side. Excellent individual effort by Long, who was now behind Fitzpatrick and timed his swat of the QB's arm during its throwing motion. Long hasn't had many big plays this season, and this was by far his most important.
…Interesting to note that when Brady took a knee to end the game on three consecutive plays, he did so on his left knee. He normally does on his right knee, but that's the one that's injured, and as we saw in San Francisco last week, when he took a knee on his right side, he was in obvious pain getting up from it.