1st Quarter
…Great start for New England's defense against Pittsburgh. While getting held, it seemed, DT Alan Branch still managed to rip the ball free from RB Le'Veon Bell. Steelers recovered, but nice effort by Branch, who may have had a chance to fall on the ball had he not been draped by a Steeler lineman.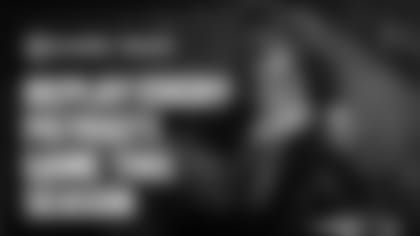 …Safety Patrick Chung had a great game against Pittsburgh. He led the team in tackles with 10 (six solo), and set the tone for his evening when he wrapped up TE Xavier Grimble on the third play of the game and dropped him short of the first-down marker. Chung made several nice plays like this throughout the contest and may have been New England's best overall defender Sunday at Heinz Field.
…I thought it at the time, watching it live from the press box, and it was confirmed for me when I watched all the replays. WR Chris Hogan's fumble on the first Patriots play from scrimmage should have been overturned. Referee Craig Wrolstad looked it over but didn't see what I saw, which was Hogan's knee touching the grass just before the ball was ripped loose from his hands. We even have a great still photo from one of our team photographers who captured the moment when Hogan's knee is on the turf and the ball is still in his grasp. Nevertheless, Hogan admitted afterward that he has to do a better job of securing the football in the future.
…Not the best of throws by backup Steelers QB Landry Jones on his INT to Malcolm Butler. WR Antonio Brown actually got a great release off Butler at the line of scrimmage. Butler, playing tight coverage, didn't even get a jam on Brown, who had Butler beaten by a step to the outside. Had Jones thrown more to the back corner of the end zone, he'd have had a shot of connecting with Brown. Instead, Jones threw short and inside. Butler now had the advantage, and used his body to box out Brown from making a play on the ball.
…Tom Brady's first touchdown pass of the day came as a direct result of Butler's INT. Down at the other end of the field, offensive coordinator Josh McDaniels called for a screen pass to RB James White, who caught two Brady TD passes a week earlier. This play was different from those two, both in terms of design and the side of the field. Last week's plays were flares out of the backfield by White to the right. This time, McDaniels called a screen to the left, and the Patriots executed it to perfection.
White drifted out of the shotgun and faked like he was going to turn inside to the middle of the field before stepping back to receive Brady's pass. Center David Andrews and rookie left guard Joe Thuney served as White's screen. Thuney delivered the first shot, a diving block on LB Lawrence Timmons to spring White initially. Then Andrews traveled downfield to eradicate safety Robert Golden from the picture. White was able to continue through a giant alley untouched to the end zone. Magnificent job by those two o-line members on this play.
2nd Quarter
…New England's offensive line, along with TEs Rob Gronkowski and Martellus Bennett, blocked superbly for RB LeGarrette Blount throughout the game. Blount's first touchdown illustrated this, with Gronk and Bennett throwing the decisive blocks, along with WR Julian Edelman, to open a lane on the left side for Blount to barrel through.
…The kind of throw Jones should have made to Brown earlier, he made on Brown's 51-yard reception that beat Butler, this time on a deep crossing pattern.
…Pittsburgh's first touchdown was another fantastic throw by Jones. CB Eric Rowe was matched up tight with WR Darrius Heyward-Bey in the left slot, with Brown a step to the side and behind of him to the outside. At the snap, Brown ran a short out, which drew not only Butler, but safety/co-captain Devin McCourty as well. McCourty had been playing a bit dep on that side before deciding to come up and assist with Brown. In hindsight, he'd have been better off staying put.
By inching forward, McCourty left open the far left corner of the end zone, and that's where Heyward-Bey was heading, free and clear. The receiver head-faked to the inside just before making his cut to the corner. This gave him a step or two on Rowe. Jones' throw was a little late and high, but Heyward-Bey made a nice adjustment and kept both feet in bounds after securing the ball in the air. 
3rd Quarter
…LT Nate Solder earned back-to-back holding penalties at the start of the second half. Both clear violations. The first time, Solder yanked LB Jarvis Jones to the ground with both arms; the second time, Solder wrapped his right arm around Jones' waist to slow him down on his way to Brady.  
…Edelman is asked to do more than just catch the football for the Patriots. Yes, he returns punts frequently, but he doesn't always get noticed for the work he does as a blocker. On Blount's 25-yard jaunt in this quarter, Edelman took out two Steelers downfield to give Blount room to pick up his extra yards. This isn't the first time this season that an Edelman block has occupied more than one defender. He's very tenacious in this department, but doesn't always get credit for his ability.
…Brady's second TD pass was a gorgeous throw down the seam to Gronk. It helped that not a single Steeler got a hand on the big tight end at the line of scrimmage to throw off his timing. Gronk was the third receiver, closest to the o-line in the slot, in a trips left package – Danny Amendola and Edelman were the other two, with Amendola in the middle of them. At the snap, Gronk just ran a fly pattern down the hash marks.
Amendola faked a post-route before turning it into a corner, while Edelman ran a short dig. Amendola was a corner on him, but for some reason, the Steeler safety to that side elected to follow him instead of Gronkowski, leaving the deep middle of the field wide open. Brady laced one down that seam over the head of Golden and hit Gronk in stride. No stopping him at that point. Just brilliant football to watch unfold.
…On the ensuing extra point, Stephen Gostkowski seemed to step too far forward with his plant foot and pushed the kick wide right. 
4th Quarter
…Gronk, Bennett, and Edelman combined again to make the crucial blocks on Blount's second touchdown run, sealing off the left side of the formation to allow Blount to waltz into the end zone. Tremendous job by that trio of blockers.
…Edelman's lost fumble appeared to be caused by no one. Seemed the ball just slipped out of his hand as he was maneuvering his arm to avoid a Steeler cover man. 
…LB Jamie Collins was back after missing the Cincy game with a hip injury. He didn't look any worse for the wear. In fact, he was back to his old self, it seemed, making eight tackles, all of which were solo efforts and good for second-best on the day for New England.
…Now that he's at full strength, veteran CB Eric Rowe appears to be challenging Logan Ryan for playing time. Rowe saw considerable action against the Steelers and while he wasn't perfect, he was competitive. It will be interesting to see how this continues to play out in the remaining half of the season as Rowe and Ryan jockey for position as the No. 2 corner behind Butler.  
…Gostkowski's PAT miss and Edelman's fumbled punt aside, it was not a great day for New England's special teams. The kickoff coverage unit experienced its worst game of the season by far. Give Pittsburgh credit for solid blocking on Gostkowski's intentionally short kickoffs to allow the Steelers returners to gain better-than-average yardage against the Patriots' coverage units, which were second in the NFL heading into this game. Punter Ryan Allen also wasn't at his best yesterday. It was a great win on the road, but there's plenty to work on in all three phases as the midpoint of the season approaches.