1st Quarter
…New England rushed the ball extremely well against Los Angeles in the first quarter. In fact, OC Josh McDaniels set the tone with the first three plays of the game from scrimmage being runs to different backs. Of course, 43 of the Patriots' 81 yards in the opening stanza came on one play (we'll get to that in a moment), but overall, all three ball carriers – Dion Lewis, James White, and LeGarrette Blount – found daylight most often by starting up the middle, then bouncing to the outside, where the Rams left them huge chunks of green real estate.
…First points of the afternoon came from Blount's aforementioned 43-yard run on 4th-and-1. OL Cam Fleming entered the game as an eligible extra blocker. He lined up in a three-point stance next to LT Nate Solder. FB James Develin was also in a three-point behind Tom Brady, who was under center. Blount was behind Develin in an I-formation. TE Martellus Bennett was in a three-point next to RT Marcus Cannon. WR Chris Hogan flanked out to the left. It was an obvious run package, so, the Rams put nine men in the box.
At the snap, Cannon fired out about three yards downfield and leveled safety T.J. McDonald, while Bennett engaged a Rams defender at the line of scrimmage. Bennett's man, CB Trumaine Johnson, had good inside position on Bennett, but Develin swooped in to assist with a double-team. There was a big lane opened up by Cannon, but another Ram defender, LB Cory Littleton, was racing into it to meet Blount, so the ball carrier bounced to the outside behind Bennett.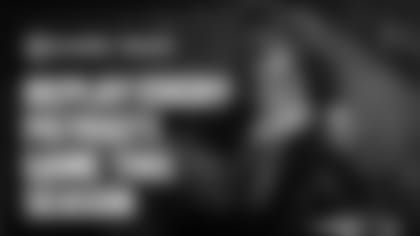 By this time, the nearest Ram, safety Maurice Alexander, was 10 yards away and Blount had a full head of steam. Alexander was approaching at a poor angle as well, so Blount had the upper hand completely. Blount head-faked to the inside, which spun Alexander around, and Blount cut back to the sideline, which spun the defender around again. Alexander fell to the ground trying in vain to arm-tackle Blount, who just raced right past him. DE Eugene Sims caught up to Blount at the 2-yard line, but Blount's momentum was enough to carry him into the end zone along with the defender. Good awareness and vision by Blount at the line of scrimmage, and nice blocking in the middle of the field by the o-line and others to occupy the Rams in a tight space and give Blount the room to run along the sideline.
…Rookie LG Joe Thuney has had a solid year, by and large. One area where he needs to improve is in penalties, where he's tied for the team lead with seven (4 holding, 3 false start) after 12 games. He incurred his seventh on the second possession versus the Rams, when he pushed a defender from behind and fell on top of him as the player was headed for Brady. A panic move, for sure, but it may have saved Brady from having to absorb a hard hit.
…Last week, I mentioned CB Malcolm Butler sometimes mistiming his jumps to defend passes and how that frequently seems to be the reason for passes his gives up. On the Rams' second drive, Butler timed a jump perfectly to bat down a deep ball to WR Kenny Britt down the right sideline.
…Later, Butler was in the right place at the right time to pick off a Jared Goff pass that really should have been caught by TE Lance Kendricks. The ball hit off his hands and fell right into the waiting arms of Butler, who was covering WR Pharaoh Cooper nearby.
…It's really disconcerting that rookie Cyrus Jones is still having ball security issues on kick/punt returns. The problem has plagued him since the first day of training camp and just doesn't seem to be resolving itself. His muffed punt in the first quarter led to the coaches taking the role away from him and inserting veteran Danny Amendola. That move proved to be potentially disastrous for Amendola later on in the game.
2nd Quarter                                                                                                     
…The throw by Brady on New England's second touchdown was a perfect one – to the outside of the defender where only Hogan could get it – but even more impressive was the receiver's body control, adjustment, and catch. Hogan spun 225 degrees clockwise to make the phenomenal grab and keep both feet inbounds to score.
…The first of four Patriots sacks of Goff came from a 2nd-and-8 play on the Rams' 27-yard line. New England showed man coverage against LA's three-wide set. CB Logan Ryan was in the slot to the offense's left and had two safeties deep behind him. Ryan, therefore, let his man go and he raced directly for Goff. The lone running back in the shotgun with Goff went up the middle to help pass protect, leaving Ryan all alone and unabated to Goff. Ryan nearly let Goff slip from his grasp, but recovered wonderfully to bring the rookie QB down. New England has been dialing up more aggressive schemes the past couple of weeks and the results have been mostly positive, like in this case.
…Bennett definitely deserved his holding penalty that wiped out a 6-yard Lewis run. In fact, it was because of that hold that Lewis was able to turn the corner and gain the yards that ultimately were rescinded.
…Ryan nearly had a second sack, this time on a slot corner blitz from Goff's right, but the QB unloaded the football just as Ryan got him in his grasp down near the LA goal line. Once again, Ryan wasn't picked up by any Rams.
…Not sure how Johnson, the Rams CB, didn't get a facemask or unsportsmanlike conduct penalty for grabbing and yanking Blount's facemask after tackling him on the sideline. It happened right in front of the Head Linesman, Ed Camp. Yet, no flag was thrown.
…Brady nearly had a second touchdown throw, almost identical to the one to Hogan, at the end of the first half. This time, he had Bennett isolated on the left side, 1-on-1 with McDonald, the safety. Brady's throw wasn't as precise this time, though. It was too much to the inside, between the two players, as opposed to the back shoulder, like Hogan's pass was. Bennett got his hands on the ball, but so did McDonald, who got just enough to knock it away from Bennett. Such small details are often the difference between success and failure in the NFL. Had the throw been a foot or two further to the outside, Bennett might've scored.
3rd Quarter
…It seems DE Jabaal Sheard got the message after his exclusion from the travel party to San Francisco a couple of weeks ago. He's been a lot more involved in the past couple of games, and the game plan against LA called for him to do a significant amount of dropping deep into pass coverage – something we haven't really seen from him before. He even got his hands on a couple of Goff's passes in so doing, and nearly picked one off in this quarter. The Patriots are a better defense with Sheard active and playing a role.
…DE Rob Ninkovich got in the sack act when he beat Rams RT Rob Havenstein using a combination of his speed and a nice rip move. Excellent individual effort by Ninkovich.
…Sheard beat a double-team to get to Goff just in time to swat the QB's arm as he unloaded a pass downfield. The fluttering ball never had a chance to get to a Rams receiver, and LB Kyle Van Noy made a great athletic play, jumping and falling backwards to make the interception.
…The disaster I mentioned earlier, regarding Amendola, came when he fielded a Rams punt at the end of the third quarter. He didn't call for a fair catch, so, he was fair game gunner Michael Thomas to tackle. Thomas wrapped up Amendola as soon as he caught the ball, then spun him around as he brought Amendola to the ground. In the process, Amendola's right ankle got caught awkwardly under Thomas's body. He limped to the sideline, went straight to the locker room, and wasn't seen again until after the game, when he emerged from the locker room wearing a medical boot on his right foot. It's unclear how long he'll be out of commission.
4th Quarter
…DE Chris Long got New England's third sack of the afternoon with a fantastic spin move against LT Greg Williams. The move took the o-lineman completely by surprise and gave Long a free shot at Goff. DE Trey Flowers, playing inside, actually got to Goff before Long by simply powering his way through a double-team. Flower's pressure kept Goff in the pocket just long enough for Long to get there to clean up.
…Later, DE Shea McClellin earned a sack by executing a textbook stunt. Ninkovich did the dirty work of occupying two Rams o-linemen on the inside, while McClellin dipped underneath them through the open lane created by the tactic. McClellin had a clean shot at Goff.
…Screens and quick horizontal passes to flankers were called about a half-dozen times against LA, but weren't all that effective (averaged roughly 3 yards per play).
…It's been a pleasure to watch the progress of rookie WR Malcolm Mitchell right before our very eyes. New England has had mostly misfortune when it comes to drafting and developing young receiver talent in the Belichick era. Mitchell is quickly becoming an exception. You can truly see him maturing each week with the way he runs routes with confidence and makes difficult catches. And the best part is, he's still maturing as a player.