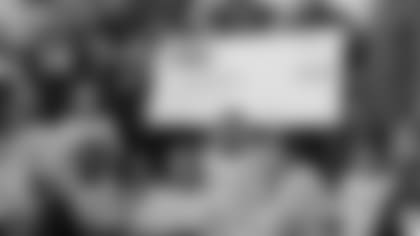 ]()Parents of Henry Grew Elementary School students didn't have any trouble getting their children ready for school on Tuesday, Nov. 9.
After arming themselves in Patriots gear from head to toe, warming their vocal cords for a lot of screaming and eating healthy breakfasts to ready for fun physical activity -60 minutes to be exact, the students were ready to go. They hopped on their bus to catch a ride to school like any other day, but this day was different. High-fiving Patriots Chairman and CEO Robert Kraft, and grabbing a seat with Patriots players including WR Deion Branch, S Brandon Meriweather and P Zoltan Mesko, they joined QB Tom Brady and Pro Football and Patriots Hall of Famer Andre Tippett as they rolled into school for a day celebrating their Patriots spirit and commitment to leading active and healthy lifestyles for the PLAY 60 Super School Event.
"I want to tell you, the Patriots are so happy to be at the Henry Grew School, I think we could use you down at the stadium," said Kraft as he greeted the 250 students waiting in the Henry Grew Elementary gym for the school assembly who were chanting "Let's go Patriots, let's go!" Kraft introduced the players in attendance, intentionally forgetting Brady and joking with students, "Did I leave anyone out?"
"I was like one of you," Kraft continued. "I sat in school dreaming and learned that I could achieve anything if I work hard. Our players work hard every day to stay healthy, and on their day off, they decided they wanted to come here and meet you."
Earlier this year, the Henry Grew Elementary School submitted an entry to showcase their team spirit for their hometown NFL team and committed to exercising at least 60 minutes a day as part of the NFL PLAY 60 program. They were one of 34 schools nation-wide selected to receive a $10,000 NFL PLAY 60 grant for a health and wellness program, a visit to the school by their local NFL team and the opportunity to exercise with the players.
During the school assembly Brady noticed the teachers holding up a peace sign to quiet the excited students, and when he approached the podium, he too signaled a peace sign, saying, "I should try this on my teammates." Telling the students about his love for being active, he said, "When I grew up, I loved all sports, I expected to be active, I didn't start football until high school, and until then I always played other sports."
Mesko urged the students to continue their chanting while Pat Patriot and Patriots Cheerleaders led the crowd. Mayor of Boston Thomas Menino also addressed the students followed by Henry Grew Elementary Principal Ronald Jackson beamed as he spoke. "Are we excited?!" His question was answered with stomping and cheers. "We are honored to be a PLAY 60 Super School and we are committed to helping our children exercise 60 minutes a day. The Patriots organization and Mr. Kraft have been such a great representative in our community of being healthy and active."
In conjunction with the PLAY 60 campaign, 60 lucky students flooded the school's outdoor area to participate in the Ultimate NFL Physical Education Class with the Patriots. Students split into five stations of jumping & pumping, cone course, football relay race, toning training and hula hooping, all led by Patriots players. Meriweather coached youth through the cone course, while Mesko laughed with students at the hula hooping station, asking if anyone could do two hula hoops at once.
Tippett felt right at home motivating children through the football relay race until the 60-minute class came to a close. Branch and Pat Patriot called the students into a large circle for a cool down complete with jumping jacks and knee highs, and ended the day in a huddle with a group chant.
It was a great display of how to make exercise fun, both for the students and players. The school's winning focus is Academic Athletics = Achievement and when a student asked Mr. Kraft what he thought about their theme he answered, "You are a very smart young woman. This question is why we are here today, to develop your mind and body to do all that you can do."