On the Ravens' locker room staying loose: "We're just enjoying what we do. We have a group of guys who have a great rapport, great relationship with one another. When we're out on the field, when we're in the classroom, we're focusing on being able to execute at the highest level. We just want to keep stacking days, good days of preparation leading up to Saturday's game."
On what the Ravens' "faith and guts" theme means to him: "I think that's the story of the men in this locker room throughout the course of the whole season here – the adversity that we faced and continue to overcome. [I am] just proud of the group of guys here. They continue to show up. We continue to show up as a football team. That's kind of a way to define the 2014 Baltimore Ravens."
On how he would define the 2014 New England Patriots: "They're a smart, tough, physical football team. They've been very good for a long time, and the 2014 version of the Patriots is no different. They're very good at what they do, so we have our work cut out for us. We've tried to put them under a microscope throughout the course of the preparation – tried to put ourselves in the best situations where we can be successful on Saturday."
On the key to getting to QB Tom Brady: "I think one of the keys to our successful pass rush is making sure that all four guys are tied together up front, making sure that we understand how we're going to attack the pocket, how we're going to try to affect the source of the passing game, which is the quarterback. Our ability to do that will determine the outcome or the result, so to speak, as far as rushing the quarterback. It's just something that you constantly have to study, something that you constantly have to try to get on the same page with the guys that you're working with so that you can have that rapport, so you can kind of understand how to best work with the guys in order to get the result that we want."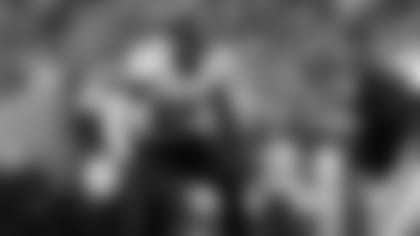 On what he expects to see from TE Rob Gronkowski: "I really don't know what to expect, but if I'm on him, I'm going to do my best to cover him, and whoever else is on him is going to do their best. We just have to try our best to execute and win each play."
On how much facing TE Jimmy Graham prepared him for matching up with TE Rob Gronkowski: "They have a lot of similarities, but at the end of the day, you can't compare those two, because they're two different types of players that have their own type of style. But they're both very elite tight ends, and they know how to make plays. So for us, we just have to try to keep our eyes on them and try to eliminate the big plays they're going to make."
On the difference between regular season and playoff weeks: "Everybody knows if you don't win this one, there's no tomorrow. We're all playing for that next day, so we know what to expect. Everybody is coming in prepared to work."
On if he can sense any differences at this point in the year: "You can definitely [sense it]. The days aren't longer, but you can definitely see guys more focused. We're trying to make it to the next day, so we're going to do whatever we can."
On what comes to mind when he thinks about the Patriots: "[They are] a team that knows how to execute and make plays. So, the team that's going to execute the most, make the least mistakes and the least mental errors, that's who's going to win the game."
On how the veteran defensive players have helped him prepare for this week: "A lot of guys on this defense, on this team, have been in a situation like this, been in games like this and been at the Patriots for these types of games. They're going to set the tone to kind of give you that mindset of what you're about to get into. But for me and the players that haven't been there, we just have to execute."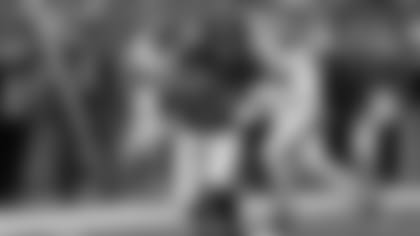 On what his experience has been like playing the Patriots in New England: "I've only actually played them in the regular season, so I'm not sure what to expect. I've only seen [the Patriots'] playoff games, because I was in the NFC a few years, so I've never been in that atmosphere. So, I'm not sure what to expect."
On why he signed with Baltimore as a free agent and did not visit New England: "No. 1, I think flights were kind of ... They had a little bad weather. And also, No. 2, this was my first time being a free agent, so everything was new to me being a free agent. So, I went in everywhere not thinking about what was lined up, but taking one trip at a time and going with my gut and experiencing being a free agent for the first time."
On CB Darrelle Revis' toughness and whether he is still "Revis": "Is Revis still Revis? I think his ID and his Social Security number would say he's still Revis." (laughter) (Reporter: "Is he still one of the best shutdown corners?") "I think he's a great corner. I don't think you get a one-year deal for, I think, $10 million dollars for being a slouch. I mean, Revis can play. He's a great corner. He's a corner that you have to prepare for, you have to watch film. You can't just walk in there thinking, 'Ohh.' He's a professional, and, you have to approach it with a professional mindset and watch film."
On whether he enjoys the best players going up against each other: "I'm not sure if I'm the best, but it beats getting the third-string guy. (laughter) I anticipate it's going to be ... I have to be patient and understand he's going to make his plays. And really, that's it – be patient. It's a long game, 68 plays. A lot of things happen."
On CB Darrelle Revis saying Smith Sr. is an electrifying player: "Oh, he did? That's awesome." (Reporter: "They're all being very nice to you this week.") "Thanks, Revis. Appreciate it."
On whether he has a response to when other standout players compliment him: "I think I said a great compliment. I'll take that. I respect the heck out of [Darrell Revis], and he's a guy that ... I don't anticipate any nonsense. He doesn't anticipate any with me. So, it'll be a great veteran game, you know? I think on the run plays, I'll look out for him and he'll look out for me."
On whether there is a mutual respect between veteran players: "Yes. There's a number of guys ... Before the first play, you walk out, tap hands or whatever like, 'Hey.' You don't play this game this long trying to be something you're not. You play this game and understand it and people watch film. They see it and they respect it, and I respect him."
On whether it's fair when quarterbacks are defined by how they play in the postseason: "I think that's what defines a quarterback, yes. I think that helps and hurts you. I think that's why Tom Brady is one of the best [is because of] what he has done in the postseason. I think Joe [Flacco] ... I heard a stat after [the] Pittsburgh game – all those touchdowns, no interceptions... Wow. Those numbers don't happen very often, don't happen a lot. So, what it is ... You have to go, 'Wow.'"
On whether he saw QB Joe Flacco have an increased focus prior to the Pittsburgh game: "Let me think. No." (laughter)
On whether QB Joe Flacco has more confidence on game day because of his playoff experience: "I have not been here long enough to say that." (Reporter: "But just in that playoff game against Pittsburgh, is that sort of, you know...") "I was too busy focusing on myself and trying to keep things on edge and focusing in on everything and understand, because the last time we were [in Pittsburgh] we got thumped in the crowd. So, I was just trying to rein things in on myself. But I'll pay attention this game and let you know. (laughter) Oh, I'm being honest. It's true."