Q: Just looking back to last year, and I know it's a whole new year so you try to establish a new identity and you try not to look back to last year, but maybe you can use it as a way to improve on some area, like third down defense?
RN: You look at last year, and you definitely put that to bed as far as like what we did last year. But you want to take some of the good things that you did out there and improve on those and then you see the things that you need to improve on. As a whole defense, you want to be better this year, this season. I think that, definitely as a defense, we're going to be a better defense, but we've got to put the work in. So that starts today. Again, I think the things that we did last year well, you want to continue to do those and then also improve in some areas.
Q: What gives you that confidence to feel at this point, as you start this process, that you will be better?**
RN: We've got some of our guys back. Last year it was tough when we lost [Jerod] Mayo and Vince [Wilfork] and Tommy [Kelly]. Those were big blows. So, having those guys next to you definitely gives you more confidence.
Q: Specifically on third down, I don't know how much you researched it, but if you did in the offseason, what stood out to you?
RN: We've got to get off the field. That's huge. Some of the third-and-long situations, we weren't able to get off the field. I know third-and-long screens hurt us last year, too, so specifically that play and the third-and-long situation as a whole, we've got to do a better job. Obviously, everything is working together, so coverage-rush, rush-coverage all works together. That's just one area that we definitely need to work on this year.
Q: I know you talked about it in the spring, but what kind of impact has Darrelle Revis had on this defense at this point, and what impact do you anticipate him having on this defense going forward?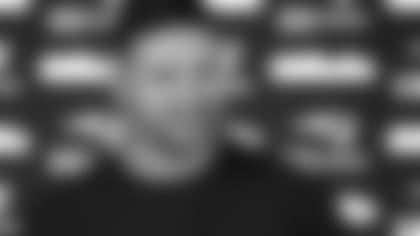 RN:** Like I said with the guys that were injured last year, we have new people coming in as well that give you some confidence. Definitely when you've got a guy like Revis on your team, you're going to have confidence that he's going to go out there and shut down any receiver that he's on. It's definitely an exciting time for everybody, and we're all excited to go out there and put the sweat in together and get better as a whole unit.
Q: What is it like to see Rob Gronkowski personality wise? He wasn't there for a lot of the [spring] and now he's back.
RN: Gronk is Gronk. Yo soy fiesta, right? Again, I think he's a tremendous player. Personality wise, he's one of the best guys you could ever meet. He's a great guy off the field. He'll say hi to anybody; he'll do anything for you. I'm happy to see his progress and see him coming into the season and staying healthy. Obviously, that's what everybody is talking about. And I don't want to speak on his behalf, but I think he is one of the hardest working guys I've ever seen as well. All of that together just makes for one heck of a football player, so I'm excited to see him as well.
Q: Did your wife finally put her foot down? You're a lot less shaggy.**
RN: Well I cleaned up a little bit. It's a new year, right? I'm just going to let this roll, so we'll see what I look like at the end.
Q: Is there a mindset that you personally adopt as you get ready for camp? When it's hot and you're rolling around in the grass, do you say, 'I'm going to embrace it and get into it?'
RN: You know you have to go through it to get to the ultimate goal, and that's having a winning season. This is the time that you put in the hard work. It all pays off. Being an older guy, I've been through the doubles and all the hard days before. I know what they're like, so I know what to expect. This is where you set the tone for the season.
Q: Do you consider yourself an older guy now?
RN: I'm 30. I still feel young, but when they put the nine next to you at experience, that kind of puts you up there.
Q: Logan Mankins said that coming in this time of year in this organization, expectations are very high. In how many years you've been here, has that changed at this point in the season, where we expect more and more?
RN: You guys are the media. I know what the expectations are, but every year there are always high expectations just because we're on one of the best teams in the NFL. For me personally, there is always an expectation to do better [than] what I did the previous season. So I'm always trying to improve and be a better football player. Every year of experience you get, you want to maximize your abilities and continue to improve as you get older. Everyone knows when you get older, they say your speed and talent and all of that stuff fades away, but your experience grows. I'd say that my experiences here have helped me become a better football player and more productive on the field. Goals for this year for me are just for me to be a better football player than I was last year.
Q: You were on the field for upwards of 90 percent of the defensive snaps. I'm curious from your perspective, do you embrace that workload?
RN: Yeah, whatever it is, I'm going to be out there, and I'm going to be playing hard. If it's 90, if it's 100, if it's 80, I'm going to be out there playing just as hard as I would if I was playing 100 percent or 80 percent. It's just going to be me doing the same thing that I do every year.
Q: From your perspective, could 80 almost be better because it keeps you fresher for the got-to-have-it pass rush situations?
RN: I'm not a guy to make any excuses, so whatever amount of plays I'm out on the field for, I've got to be out there, and I've got to play well. Whatever it is, it is, and I'll go out there and I'll make plays.
READ: Rob Ninkovich Bio & Stats