FOXBOROUGH, Mass. (AP) - Sealver Siliga knows about trying to stand out in a crowd.
The youngest of 11 siblings finally found steady work with the New England Patriots after being let go by three NFL teams.
Now he's part of a large group of defensive tackles trying to stay with the club.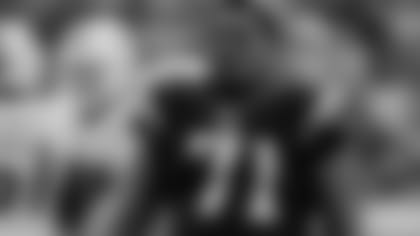 Siliga played well after being signed late last season. Now he's taking nothing for granted.
''The time I felt comfortable, I got (traded),'' he said Tuesday. ''I've been around. So I don't ever let myself feel comfortable because the time I just start feeling comfortable is the time I see the blackout.''
That happened after he spent the entire 2012 season with the Denver Broncos. He played in just one game, made one tackle and was traded to Seattle the following training camp.
The Seahawks cut him at the end of camp and he went on their practice squad before being released again.
He joined the Patriots practice squad Oct. 23. He was activated a month later and played the last seven games with them. He started the last six, including two in the playoffs.
''It was big just because last season coming where I came (from) nobody really expected me to do what I did,'' Siliga said.
Now comes another challenge.
Starting defensive tackles Vince Wilfork and Tommy Kelly are healthy after missing most of last season with injuries. Their absence gave backups Chris Jones and Joe Vellano extra playing time before Siliga was signed.
All are back at that position along with first-round draft pick Dominique Easley. The Patriots also added veteran defensive end Will Smith
''As a defensive line as a whole, you've got to be able to work together,'' Jones said. ''So, whoever's in there we've got to be able to come together and work together as a team, build that camaraderie, and I thought we did well with that last year.''
Siliga had one sack in each of his last three regular-season games, but there's no guarantee he'll be on the active roster when the season starts.
Still, he's at the high point of an NFL career that began in San Francisco's 2011 training camp after he signed as a rookie free agent from Utah. He was cut less than six weeks later.
''It never feels good to get tossed around like that,'' he said. ''I can't control that. All I can control is how hard I work and what I do.''
Siliga was tested as a youngster with five brothers and five sisters.
''It was cool,'' he said with a smile. ''I've got a lot of big brothers to beat me up, to toughen me up, so it turned out pretty well.''
They also played football, but didn't make it nearly as far as Siliga.
''They got caught up in the gang life so that didn't turn out too well for them,'' he said. ''My brothers grew up in California. I grew up in Salt Lake City so it was a whole different scene. I grew up in a whole different way.''
He learned from their mistakes.
''They did this and I did the opposite,'' Siliga said.
Kelly has much more experience - nine seasons with the Oakland Raiders before starting the first five games last year with the Patriots. A right knee injury ended his season and now he's gradually increasing his activities in practices.
''I love competition,'' Kelly said. ''You don't ever worry about what's behind you. You worry about what's in front of you. I've always been very confident in myself.''
Siliga's confidence grew as his performance improved.
''I got lucky enough to be put in the situation I was put in,'' he said. ''It was just listening to the teachings that my coaches gave me my whole career and especially over here. Coach (Bill) Belichick's really helped me out and helped me to excel to getting my technique to where it's supposed to be.''
He's also picked up tips from players he's competing with.
''I can learn from older guys, guys that have been through the league,'' Siliga said. ''I watch Vince. I watch TK (Kelly). I watch Will. I watch those guys and I just take pieces from them and I try to do it every day.''