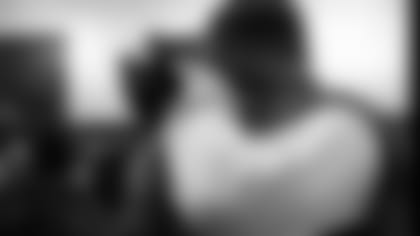 ]()
             At 6 foot 6 inches tall, Richard Seymour literally has a different view of life. Patriots.com gave Seymour a camera to document a day in the life of a Super Bowl champion. Add 1.25 million crazed fans on a frigid February day and you'll see something you've never seen before.  

In this Patriots Video News production, Big Richard shows you his camera work during the Patriots championship parade on the streets of Boston.
Step into the pre-party at the Hynes Convention Center and hear his teammates get real candid. Pro Bowler Troy Brown even has fun at the rookie's expense. Richard will give you his "testimonial" and tell you what is next for the rookie defensive star.
Seymour jokes with everyone, from Bruschi to Big Dig workers, while riding along the parade route atop one of Boston's famed Duck Boats.
Seymour and his teammates then took to the stage at City Hall Plaza. It does not take much baiting from Ty Law to get the "300-pounder" to show his dance moves in front of the massive crowd. Dance moves are symptomatic of Super Bowl fever. Perhaps that's what struck the team's owner. Richard's HI-8 camera has the best angle of Mr. Kraft's Super Bowl Shimmy.
You watch every Sunday, but check Seymour's camera to see if he was watching you that day. Click on Richard Seymour's photo to the right and go to the video play back page. Do it now!