For many Patriots fans, the McCourty twins are among their favorite players, but for a group of fans at training camp on Sunday, Devin and Jason McCourty are more than that. They are role models, advocates and friends.
When practice ended for the day, Devin and Jason walked straight over to the Patriots Foundation tent on the far end of the field where sickle cell disease patients, as well as Boston Medical Center doctors, staff and fundraisers and representatives from Next Step, waited.
They greeted every person in the tent as an old friend, and if it was a new face, they took the time to introduce themselves before signing autographs down the line.
With their foundation, Tackle Sickle Cell, Devin and Jason have been shining a light on a disease that is underfunded and not talked about nearly enough, according to Justin Williams, who works in Boston Medical Center's development office. For them, the fight for awareness is personal, inspired by their aunt who has sickle cell disease.
Tackle Sickle Cell has been working Next Step, a local non-profit that helps teens and young adults with life-threatening diseases transition into adulthood, for five years, and the group brought those in their sickle cell disease program to Gillette Stadium, including Khadijh White.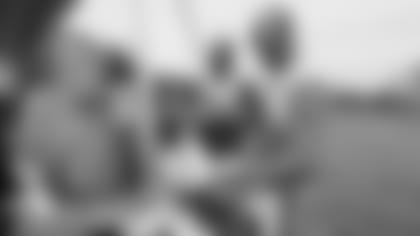 She said it's been amazing having Devin and Jason use their platform to raise awareness for sickle cell disease.
"It means a lot. A lot of people don't know about sickle cell and aren't educated about it. To have influential people such as Devin and Jason support people who are diagnosed and have sickle cell, it means a lot to people that have it," Khadijh said.
Though she has met Devin through his work with this community, as he signed her jersey Khadijh said she is nervous every time she sees him. He was playful in response, reassuring there was nothing to be nervous about. From advocates to patients, those working to raise awareness about sickle cell disease in the greater Boston community said the same thing: the McCourtys have done more than lend their name to a cause. They've built relationships, according to Next Step's Director of Development Nancy Hayes.
"For our youth and young adults, it's about being seen in this world and having a community that gets it because that's what anybody needs. Sometimes when you have an illness like this, you're isolated," Nancy said. "This idea of having someone saying you don't have to be alone, you don't have to be isolated, someone like Devin and Jason who can get someone's attention."
"Our young folks consider Devin like a personal friend," Nancy said. "One of them can get in touch with Devin in a way that I can't. It feels like a friend who gets it."
And Khadijh echoed that idea.
"It's always nice to talk to or look up to someone when you're down and not feeling your best," she said. "And when I see them on screen on Sundays, I'm like 'Oh my god! I met him.' It's great."