Patriots great Tedy Bruschi was back at Gillette Stadium on Wednesday, November 3, for a special visit with more than 260 students from Holbrook Junior-Senior High School who had all read his book, "Never Give Up: My Stroke, My Recovery & My Return to the NFL."
Bruschi spoke about his book - reading his favorite passages and explaining the messages - and answered dozens of questions from the students ranging from what it was like to step back on the field for the first time after his stroke, to his advice for high school athletes, to his relationship with his family.
"To see that kids are reading it now and to see the effect it can have three, four years later is an honor and it's flattering," said Bruschi after the event. "They all knew the book pretty well and they all asked questions that were very intuitive into the book, so it seemed like they knew what I was trying to talk about and the message that I was trying to get across."
"The whole experience was awesome," said Maggie Gallagher, an English teacher at Holbrook whose idea it was for the whole school read Bruschi's book. "We've kind of embraced the title, 'Never give up,' as the theme for the year. The theme goes along with what we're trying to do in keeping the students working hard and focused on what they need to accomplish."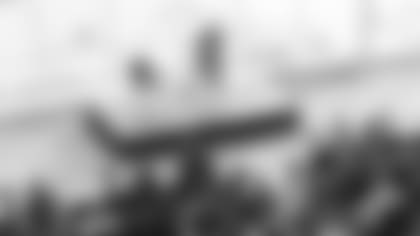 ]()And while it might seem unlikely that an entire junior-senior high school would be able read and truly enjoy the same book, the Holbrook students say that that is exactly what happened.
"At first I thought it was a little weird that all seventh through twelfth graders wer going to be reading it," said twelfth-grader Tom Harless, a football captain and treasurer of the student council at Holbrook. "But after reading it I thought it was amazing. I feel like it's a good description of Holbrook High School. Being a small school and lacking funds and other things that big schools have around us, we have to overcome a lot of obstacles like Tedy did. I feel like the whole book has been a big part of the school; everybody's been talking about it."
Gallagher said the book extended well beyond English class, as the school tried to incorporate it into all aspects of the school, discussing the science of strokes, doing football-related math problems, and even working it into the school's student council program. Because the students were so motivated by Bruschi's message, the student council led a walk-athon fundraiser benefitting the American Heart Association, for which Bruschi is a spokesman. The students surprised Bruschi with the donation of $1,054 - in honor of his 54 jersey number - at the event on Wednesday.
Harless and ninth-grader Marisa Clougher, freshman president of student council and highest fundraiser in walk-athon, presented the check to a surprised Bruschi before he spoke to the students.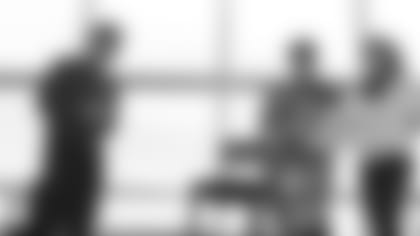 ]()"My hands were shaking," laughed Clougher about the presentation. "I thought it was really cool talking to someone like that...I feel like everyone, no matter how famous they are, goes through struggles, but everyone can make it through it."
"As a stroke survivor and a pro athlete, he is a wonderful role model especially for our youth by demonstrating how powerful perseverance and a positive attitude can be,' said Anne McCarthy Jacobson, a physical therapist in the Spaulding Rehabilitation Hospital stroke program who worked closely with Bruschi during his recovery. Jacobson and other representative from Spaulding were at the event on Wednesday, as donations from Spaulding Hospital helped defray the cost of the trip to Gillette for Holbrook High School.
After the presentation, the students had lunch at CBS Scene at Patriot Place, followed by a special visit to the Hall at Patriot Place presented by Raytheon, where they were able to see videos and artifacts from Bruschi's illustrious career, marking many of the moments he discussed in his book.
"It's heartwarming because it's my story," said Bruschi. "It's something I really put everything into, so to know that teachers read it and principals read it and they recommend it to their students - that was my goal. I'm glad to see that kids are getting something out of it.
"Days like this make me really proud to have written this book."