NOTE: This article originally appeared in the 2016 edition of the Patriots Gameday magazine.
On any given weekday, you can find Bryon Bausk monitoring sewage pumps, supervising lab work, or regulating the waste disposal process at the Town of Hudson Public Works Department, where he serves as the Assistant Chief Operator of the Wastewater Division.
The Marlborough, Mass. native oversees the treatment of up to two million gallons of water per day and can usually be spotted sporting jeans, a t-shirt and work boots around the plant. But on Sundays during the football season, Bausk dons a much different ensemble to the tune of a woolen coat, breeches, shirtsleeves, a vest and a colonial tricorn hat.
He trades in his test tubes for a flint lock black gun powder musket and stands alongside 19 others in the north end zone at Gillette Stadium, ready to cheer on the New England Patriots as the secondary officer of the team's End Zone Militia.
Call it a double life, he'll tell you it's just a hobby. But there's no arguing that Bausk and his fellow rallying revolutionaries have become a mainstay and one of the staring attractions at football games in Foxboro.
"It's the best seat in the house," said Bausk, who has been a member of the iconic group for 18 years this season.
The Militia was started in 1996 by Captain Geoff Campbell, a member of the reenactment unit for the 9th Massachusetts Regiment. After the New England Revolution soccer team was founded and named in accordance with the deep history surrounding their home region (much like their fellow Foxboro patrons the New England Patriots), Campbell reached out to the team's game presentation staff and asked if they'd like to have him, as well as some of the other colonial reenactors he worked with, come out to a game.
Campbell and his peers were initially invited to accompany the color guard onto the field before Revolution games, but as they quickly became fan favorites, the End Zone Militia secured a regular spot on the turf at all Patriots and Revolution contests.
Comprised of over 30 members in total, the End Zone Militia brings 20 to the field during each Patriots home game. Decked in authentic 18th century clothing, the team of reenactors interacts with players and fans, takes pictures, signs autographs and fires off a celebratory musket shot after each Patriots touchdown – perhaps the thing they're best known for.
It's the Militia's representation of New England's rich historical background and culture that makes them so unique among other NFL support squads.
"When Billy Sullivan started the team all those years ago and he picked, 'The Patriots' as the name, obviously with the nod to the Concord-Lexington, the Minutemen, Sam Adams, Paul Revere, John Hancock, and all of that here in the area, it stuck," Campbell said. "That's a source of pride for a lot of people in New England. This is a part of where the United States started, so there is a certain amount of pride around it and we represent that."
Jane Ritchie is another Massachusetts native who spends her autumn Sundays firing muskets in the end zone, although the 68-year-old faces an additional challenge – blending in as one of the guys.
"The women weren't allowed to fight back then, so I try extremely hard to appear to be a male," the North Andover native explained, noting her heavy wool overcoat as her greatest piece of disguise.
Ritchie, a retired office manager, has been part of the militia since 2005. She used to spend her days shuffling papers and organizing files while doubling as a mom to three boys, but now devotes her days to her colonial comrades.
Since her retirement, Ritchie has become a full-time grandmother who enjoys gardening, housework, and of course, reenacting. She said she loves when her family, all avid football fans, come out to Patriots games to see her in action. The feeling is mutual.
"My oldest son had season tickets when I first got involved," said Ritchie. "The Patriots were important to them way before mom came on board, but now my grandsons just think I am the coolest nana who ever lived."
While leading the celebrations after a Patriots score and scribing a signature for young fans are certainly exciting parts of the job, the group also takes part in various charity events across the New England community, like the annual Kevin Faulk Celebrity Softball Game and the One Mission Buzz Off that raises money for kids with cancer. Ritchie noted the ability to spread smiles across the faces of the people she interacts with as the most rewarding experience of them all.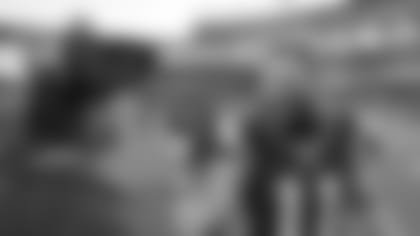 "There's a woman I usually see around at games, and one day she came up to me and said, 'You made my friend Nate's day,' Ritchie recalled. "Nate has cerebral palsy and he is also blind. He wanted a picture with me one day, and so I put my hat on his head. The woman said he shows everybody this picture. It's his favorite picture and he's got it hung some place special. Every time I see that woman she mentions that to me. It's such a small thing that goes such a long way."
The Militia doesn't just share a special bond with fans. Campbell said the group's pregame ritual with the New England players has become an essential part of the warmup routine, especially for the tight ends group.
"Ben Coates started it in the late 90's," Campbell said. "He decided it was a good idea to come down and see us and slap our hands, so the rest of the tight ends started doing it and it carried over. When the new Optum Lounge went in last year, we weren't able to stand in the exact same spot we typically did [in the south end zone]. The first game we had to move from that spot, you should have seen the panicked look on Rob Gronkowski's face when he couldn't find us to give us high-fives."
Other members of the Patriots offense have also joined in on the fun, including running back LeGarrette Blount who coined his signature arm-cross stunt while posting up in front of the Militia after a touchdown.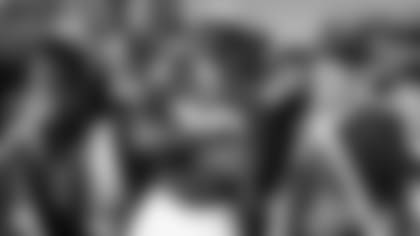 "One of the first times Blount scored in the end zone, he came out and stood in front of our guys with his arms crossed," Campbell explained. "Then at the Super Bowl parade in 2015, he came over and did it with us on the duck boat and said, 'You like this, don't you? This is fun.'"
In being a part of such a celebrated organization, the End Zone Militia has seen it all. From the dropping of the franchise's very first Super Bowl banner to numerous and thrilling playoff victories, the Militia members have all become instantly recognizable figures of the New England organization. Bausk said sometimes they even face some of the same hype and attention as the players.
"We can't go anywhere without getting our picture taken," he said. "We tailgate in the parking lots before the games, and we're supposed to be in the stadium two hours before kickoff. It will take us a good 45 minutes to an hour just to walk from the parking lot to the stadium, and we're only going 150 to 200 yards."
"People think that we're these celebrities and that we're a part of the Patriots, and maybe we are," added Ritchie.  "To me, we're just reenactors who have the gig of a lifetime."
Dressing the Part
Each Militia member is garbed in over a dozen items of clothing when dressed in full costume for a game. All costume pieces are owned by each member and must be considered proper 18th century attire, or at least reasonable enough to pass visually.
The clothing is all made entirely of linen, wool, leather or steel with no polyester or artificial fabric, and the equipment can also rack up a pretty significant price tag.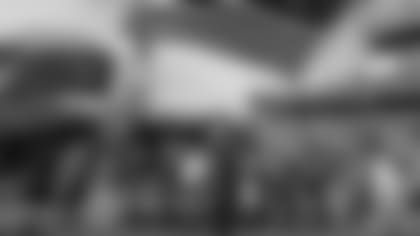 "When I'm fully kitted out, when I'm carrying my officer sword and everything, I'm probably carrying around about $2,500-$3,000 worth of stuff," Campbell said.
Robed in a Rush
With so many layers and items of clothing, getting dressed before a game day is an act in itself. After years of experience, Campbell said that in a pinch, he can be ready in just about 10 minutes, but fellow Militia member Jane Ritchie said the process feels much longer than that.
"Sometimes it feels like forever," Ritchie laughed. "There are just buttons everywhere, but finally after a while, you get a system going and figure out a quick way to do this, or a faster way to do that."
Wearing the Weather
Rooting for the red, white and blue in notorious New England weather, the Militia has fought through it all. During cold, late-season playoff games, the men and women attribute the warm wool material that comprises their clothing to their ability to stay warm.
"You have a couple layers of wool and you should be good to go," said Byron Bausk. "It worked back then, it still works now."
Similarly, the costumes keep the Militia just as warm during some of the Patriots hot-weather preseason and early fall matchups, but Captain Campbell says they're used to the feeling.
"Drink water, keep hydrated, and you're fine," he said.