If every day of training camp resembles the first, fans should enjoy their treks to Foxborough this summer.
After a physical morning practice that featured an emphasis on the running game, the Patriots maintained their intensity an afternoon session geared more toward passing. As was the case earlier, both offense and defense enjoyed their share of success.
The clouds and rains of the morning gave way to bright sunshine and humid conditions, somethingBill Belichickno doubt enjoyed as he gave the public its first view of his team. Early on during some drill work, Brandon Tatemade a fantastic one-handed catch of a deep ball just inside the pylon in the end zone. Fans greeted the effort with a rousing ovation, perhaps looking forward to the second-year wideout's contributions after a mostly lost rookie season.
The aforementioned intensity was perhaps at its peak during a period of one-on-one drills that always raise the individual level of competition. Running backs went against linebackers on pass routes, wideouts took on defensive backs while offensive and defensive linemen went at it on the opposite field.
The highlight of the drill came when Kevin Faulktook on Jerod Mayoin a battle of frontline performers. Mayo was able to hold up Faulk effectively, using his strength to put a quick end to the veteran's route before it could even get started.
But Faulk was not about to let the linebacker have the final word. He requested a "rematch" and this time used his 12 years of NFL experience to his advantage. Faulk quickly got into his route, made a jab step to the outside and easily wormed past Mayo with a swim move before heading into the clear down the seam.
For Patriots fans it represented a win-win scenario. Both players will no doubt be in those positions when the regular season unfolds, and each enjoyed success in their roles against quality competition.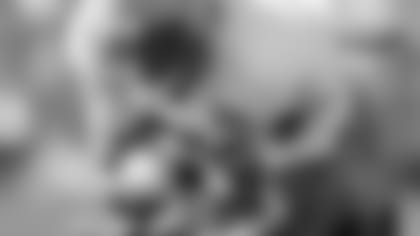 ]()Who's hot: Tight ends – After a morning of mostly running game work for the rookies,Rob Gronkowski andAaron Hernandez got a chance to showcase their pass catching skills in the afternoon. They each grabbed touchdown passes fromTom Brady on consecutive plays, and each beat Patrick Chung **in the end zone with tough, athletic catches during a goal line drill.
Who's not: Fred Taylor –The veteran running back did not get off to a great start in his 13th training camp. He fumbled in the open field after a run in the morning practice and had trouble securing a couple of passes in the second session.
Play of the day (PM): Gary Guyton came up with a terrific athletic play during a red area drill late in practice. Brady tried to force one through traffic in the end zone but Guyton leaped and snared the pass. With nothing but green grass ahead him, Guyton then raced upfield for a potential 100-yard touchdown.
A pair of players left practice early with apparent injuries. Safety Bret Lockettstood between the fields with members of the training staff before leaving for the locker room while Matthew Slaterwas forced out of action early as well. It is unclear what caused either player to miss time. Slater worked as a kickoff returner with Tate during the morning session but Faulk replaced him in the afternoon with the third-year wideout evidently unavailable.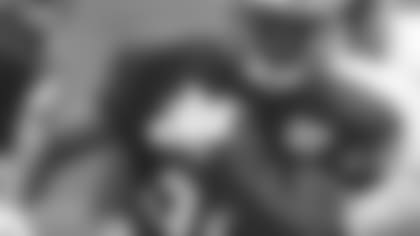 Rookie first-round pick Devin McCourtyis getting plenty of looks early on in his first camp. He rotated in for Darius Butlerat left corner frequently during the morning practice and then joined Butler after the second-year man replaced right corner Leigh Bodden for several reps in the afternoon. He appears to have the early lead on the third corner job and perhaps is in the mix for even bigger role as a starter. He did not look out of place, either, showing his physical side with some tight coverage throughout the day. He did lose a battle with Randy Moss on a goal line drill after a terrific play action fake from Brady, but what Patriots corner hasn't been victimized by Moss over the past three-plus seasons?
The attendance list remained unchanged from the morning practice with Sam Aiken, Derrick Burgess, Ron Brace, Wes Welker(PUP),Darnell Jenkins (NFI) out of uniform. Logan Mankinswas also not on the fields. Various reports indicated that Burgess was considering retirement and he was not on the field for either workout. After working with the trainers on the fields throughout the morning, Welker left after stretching. … The team serenaded defensive line coach Pepper Johnsonwith a rendition of "Happy Birthday" and Ty Warren doused him with a bucket of Gatorade after practice. … Zac Robinsonand Ryan Wendellhad trouble on a quarterback-center exchange and the pair had to run a lap as a result. … Brady appeared to get stepped on by one of his offensive linemen and hobbled around briefly. It did not appear to be serious and he did not miss any reps. … The Patriots are back it Friday with two more sessions in Foxborough. The schedule remains the same with the morning practice running from 9:30 a.m.-11:15 a.m. and the afternoon slated for 3:45 p.m.-5:30 p.m. As always, check Patriots.com for the latest schedule changes.