PATRIOTS QUARTERBACK TOM BRADY PRESS CONFERENCE TRANSCRIPT
Q: What are your initial thoughts on Greg Hardy?
TB:He's a great player. We played against him a few years ago, and he's a really dynamic player. So they've got a couple of them back this week – [Rolando] McClain and Hardy. It's a good defense anyway, so I'm sure having those two guys back will help a lot.
Q: How do you go about playing a team that's lost so many starters?
TB:Well, I don't think, you know, there's no let down for us. We're trying to establish a certain level of play, and we got off to a decent start this year. So we've got to keep it going. You know, we've got to sustain good practices, good games, good weeks, and see if we can just keep building. This team could easily be 4-0. They're playing at home. They've got a lot of good players, very talented team. Last year they were one of the best teams in football. They could've beaten the Saints easily last week in overtime, so they're a very good football team. I know it's going to be a big test for our team.
Q: Do you change your routine on the field to get used to a new stadium in pregame?
TB:You try to study what you can on tape and see how the other quarterbacks kind of adjust some of their rhythms and mannerisms. It is a little different for me not playing in a place where I've played before. [In] a lot of environments I kind of know what I'm getting myself into. I know where the clocks are. So this will be, you know, it will take a little time, get out there a little earlier and kind of get a feel for things. But I'm excited. I've heard a lot of great things about this stadium, so it will be fun to play in it.
Q: Did it tick you off when Greg Hardy when he said he hopes your wife comes to the game?
TB:No, I'm just getting ready to play, man. I've got to focus on my job. He's a great player. We've got to ... It takes a lot of different things to handle a guy like that. But he's been a great player since he's been in the league, so we're going to have to prepare for him and be ready for all different types of moves that he's got. But they've got a good D-line anyway. They count on getting pressure from their front four getting to the quarterback, so I don't really care about his personal feelings.
Q: This will be the second time in your career you've made 100 consecutive regular season starts. What would that mean to you?
TB:Well, I'm happy I'm available to my team. I think that's something I've always taken a lot of pride in, so trying to be out there and be a consistent, dependable player and certainly being available to those guys is what my job is. It's pretty fun. It's great to go out there and play a lot of football, and I've been very fortunate to be protected so well by the offensive line. So a lot of good luck, it all helps.
Q: Does the first game after a bye week affect the team at all?
TB:I'm not sure. I think the execution is ultimately what's most important. It's kind of different now with a lot of different schedules that we have and Thursday night games and Saturday night games and Sunday night games and Monday night games, so I think you've just got to be able to adjust and have enough mental toughness to try to make it as regular a week as possible. We're really in a regular season mode now, so Wednesday you kind of have your Wednesday routine. And you just gear up for that one game a week, so you try to put everything you can into it. You know, we haven't had many normal weeks yet. I think after this week it really starts getting into a normal feel because we've had a lot of long weeks. And then when you throw the preseason in there – a lot of night games and a lot of weird kind of weeks for those. So much is just kind of getting into a normal flow. It's football season, and I think it's good to kind of be in that.
Q: Is it hard to find that normal flow?
TB:It can be. I think it definitely can be as you, you know like I said, have some of those Monday night games, or we just had that Thursday night game, the early bye. So I just think we've got to, you know, regardless of what it is or how the schedule shakes out, you've just got to be ready to go when they tell you to play. So we'll be ready to go at four o'clock on Sunday.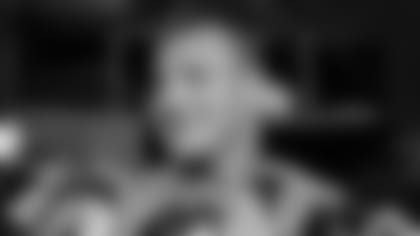 PATRIOTS TIGHT END ROB GRONKOWSKI CONFERENCE CALL TO DALLAS MEDIA
Q: What is it about Tom Brady that makes him one of the best quarterbacks of all time?
RG: He always has a competitive edge to him. Every day he shows up to work, if it's in the film room or it's on the field, he's ready to compete and he's ready to roll.
Q: How much of Jason Witten have you watched over the years and is there anything from his game that you've tried to incorporate into your own?
RG: Oh yeah, definitely. I've been watching him ever since I've been in high school, college. Definitely always watched him and always tried to take notes from his game and develop it into my game. He's a great tight end and one of the best to ever play, so the way he plays to see how he gets open in the field and try to take it to my game. I loved watching him growing up.
Q: Have you had a chance to meet him?
RG: Just real quick at an NFL event a while back, but it was just quick.
Q: Do you wish Tony Romo and Dez Bryant were healthy so it would be a bigger matchup?
RG: It is what it is. Everyone has to deal with injuries throughout the season and whoever is out there is going to be competitive. The Cowboys are a great team no matter what and you've just got to be prepared for whoever is out there on the field at that time.
Q: What stands out to you about the Cowboys' defense?
RG: Yes, they play hard. They're big, they're fast and they play hard. They come at you and they're prepared.
Q: What have you seen from Byron Jones on film?
RG: He's a great player, especially for his first four games of his NFL career. Just got to be prepared for him, as well as being prepared for everyone else, too. You never know who you're going to face. You've got to study the whole defense, study every player because you never know who is going to be matched up on you at any time. Along with Byron Jones, just got to study all the other players and be prepared for any matchup because they're all good players.
Q: Where have you improved the most in your Patriots career?
RG: Throughout my career, just knowing the game of football, being around Coach Belichick, being around Tom, just developing my knowledge of the game of football and the understanding of defenses, how to get open, along those lines.
Q: How much effort have you put into your run blocking and being a complete tight end?
RG:Yeah, that's a part of being a tight end is being able to block. I love doing both. Like I said, I don't want to be down the field running a route every time, but I also don't want to be blocking every single play. I like the balance of both at the tight end position. I think it's fun to block, I think it's fun to go out for catches, and also being able to block helps out the pass game. I've just got to work in all areas of being a tight end.
Q: How does your personality fit in with the culture of the Patriots?
RG:I just come out here and do my job. Whenever I show up to work, every time I come out here to practice, I go out there, work hard, try and get better every single play and then I can just be who I am.
Q: How fun is it to be you?
RG:It's fun. I don't know. That's a hard question to answer. Just got to be yourself, as long as you're coming in, working hard every single day and doing the right thigs to get better. It's a blast.
Q: Do you think this is the best Patriots team you've been on?
RG:Every year is a whole different situation and this year I just feel like we just take one game at a time and one team at a time.
Q: What is it about this team that you've been able to take that mentality of one game at a time, and it seems like you're on a mission?
RG:Yea, you just put what's happened in the past behind you and you've just got to focus on what's coming up in the future and that's this week and that's the Dallas Cowboys, and that's all we're concentrated on is the Dallas Cowboys. That's all we're focused on – nothing else at the moment – because Dallas is a great team, going on the road at that stadium with those fans, we've got to be prepared and we've got to be focused.