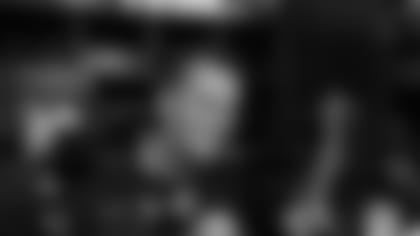 TOM BRADY CONFERENCE CALL WITH BUFFALO MEDIA
Q: Rex Ryan has done as well against you as a coordinator as any coach in the league. Why do you think that's the case?
TB:He's a great coach. He gets his guys prepared to play every week. He's had some really good players. He's got a great scheme. I think he just does a good job keeping offenses off balance. He's obviously got a good blitz package. I think what you saw last week against the Colts was kind of vintage Rex Ryan, and along with those great players that he's got, I think they just, they take such an offensive mentality to their defense. And they put a lot of pressure on opposing offenses, and wherever they feel like they've got you stressed, I think they smell blood in the water and they keep going after it. You know, it took the Colts a long time to get going. Hopefully, we can get out to a good, fast start and play well and try to get those guys on their heels a little bit. But it's tough to do because, like I said, they're really well prepared. They've got some really talented players, and they always play well at home. I think every time that we play them there, it feels like it's always down to the minute.
Q: Have you contemplated the crowd noise situation?
TB:Well, we prepared for it today. We couldn't hear anything on the practice field, so you're right, it's definitely a loud stadium. I think the fans, it's amazing the fans, the support that they have on a year-by-year basis for their football team. It feels like they're always into it. They love their team. They love supporting them. You know, that's NFL football at its best. It's fun for us players coming from the other side, too, because you know you're going to get the other team's best. You're going to get the most energy. For a one o'clock game on Sunday, it's going to feel like it's a primetime game.
Q: What are your thoughts on the Bills and Rex Ryan really letting it be known that they don't like you guys?
TB:As a player, you relish the opportunity to go out there and play and to do your job and to do it well and you get to compete every week. I know those guys, they'll be ready to play, and we'll be ready to play, too. I try to focus my energy on what I can control, and that's my preparation and being at my best, and I expect that of my teammates also. We're going to go out there and we're going to try to have a great week of practice to prepare ourselves, and we're going to want to go out there and play our best. We're going to need it. Obviously, by the way they play at home and the way they played last week, we're going to need to play certainly a lot better than we played against Pittsburgh.
Q: So you don't think it matters?
TB:About another team's personal feelings toward our team? I think what determines the outcome of the game is how well you play and your level of execution. You know, the fundamentals of football will never change. I think that's blocking, tackling, running, catching. I think that's what determines the outcome of the games.
Q: Was your performance last week in any way related to you wanting to prove a point to the NFL and to your doubters? What is it like now coming into a hostile environment after the events of the offseason?
TB:I've always, I've tried to be a consistent player for my team. I've tried to help us win the best I could, and that's what I tried to do last week. That's what I'll try to do this week. I know it's probably easier for people certainly to talk about things other than that. But that's really my focus is just trying to be the best I can be. I just love going out there and competing, and I put a lot into it. I put a lot into it this offseason. My teammates put a lot into it. Just to get the opportunity to come out and play is, you know, that's what I look [forward to]. Sixteen of these a year, so I think I just relish the opportunity to go out there and play quarterback for the Patriots.
Q: Did you get a kick out of Bills fans chanting "We want Brady" on the radio?
TB:Well, I'll be there. I'll be there Sunday afternoon, so they'll get their wish.
Q: There were concerns that maybe you wouldn't be there a few months ago.
TB:I'm excited to get out there. I think, look, we had a good practice today, and we're going to need two more of them. I think this is a pretty tough team to prepare for. Certainly, they got off to a good start last week. But we'll show up. We know the game kicks off at one o'clock, so we'll have 46 guys out there at one o'clock on Sunday ready to go.
Q: Do you feel like Rob Gronkowski can make his plays no matter what they throw at him?
TB:He's obviously a big part of our offense, but from a quarterback standpoint, you try to throw the ball to the guys who are open. To force it to one player if he's double-teamed or triple-teamed, you've got to find other guys to get the ball to. So I just think being a smart quarterback and distributing the ball to the guys who are open, and if they cover Gronk, then the other guys, they've got to be ready to go. When I throw the ball to them, they've got to take advantage of that opportunity. If they double-team him all game, we still have to figure out a way to win. If they triple-team him or if they quadruple-team him or if they put 11 guys on him, other people have to make plays. So, if they don't cover him, you're going to figure out ways to get him the ball, so I just think it's important to have … You distribute your guys out there. If they're playing the pass, you've got to run it. If they're playing the run, you've got to throw it. If they're guarding Gronk, you've got to throw it to other guys. It's just the chess match in football, so that's why you've got to build a solid team. And the best thing for Gronk is to have other guys make plays, too, and vice versa. It's great for those guys to get opportunities when the attention goes to other players. And we game plan each week, too, so we know, we've played a lot of great defensive teams, and you know, OK, this guy is kind of their key-in. We've got to make sure that we take care of this guy. I'm sure teams feel that way about Gronk.
Q: What sort of things do you guys do to overcome a loud stadium on the road?
TB:Buffalo is obviously an environment that, unless you've been there, you don't realize how challenging it is to play there. And I think some teams, when they go in there they don't realize the kind of crowd it is. That was an electric atmosphere last week. They beat, obviously, a great Colts football team, so I just think that's knowing the situation, understanding what we're getting ourselves into, practicing all week, as we did in the offseason with crowd noise and dealing with communication when it's challenging. I think those are all important things that you try to practice and end up on the same page.
Q: How tough is the combination of Rex Ryan and the crowd?
TB:Yeah, not to mention Jerry Hughes and Mario Williams and Kyle Williams and [Marcell] Dareus and [Nigel] Bradham and [Manny] Lawson and Preston Brown and [Aaron] Williams and [Stephon] Gilmore. They've got good players, too, so I think that's what makes a good defense – good players, a good scheme and certainly communication. That troubles offense. That can be a problem if the offense doesn't handle it well. So, there are a lot of things that go into being a good defense, and obviously the Bills are one of the best in the league, and we're going to need to play really well in order to go out and score points.
Q: Any concerns about having a rookie center in front of you?
TB:I think Dave [Andrews] has done a great job. He's got an opportunity, and he's really taken advantage of it. I'm really impressed by the way that he's come to work and the challenge that he...He played at a big time college, so he's been in front of a lot of crowds in a good conference. So, he's just stepped in, and to start undrafted and to be a starting center last week, and then moving forward in the season we'll see what happens, but he's done a great job, and I think he's obviously gained the trust of his coaches and teammates, which is ultimately what you're trying to do as a pro athlete.