The Patriots wrapped up practice preparations for the Miami Dolphins on Friday and once again the big topic on everyone's mind was new receiver Antonio Brown. With three practices under his belt the new receiver appears poised to make his debut on Sunday.
Patriots players have welcomed him into the locker room and noted the hard work he's already put in.
"I think he's doing well," said Julian Edelman. "The dude's an absolute stud. He's a really good football player and he raises the level for everyone out there because of how good of a player he is and how hard he works."
Josh Gordon, no stranger to joining the team later in the season while being in the media spotlight, agreed and liked what he's seen from Brown so far.
"Dedicated player, one of the hardest working players in the league," noted Gordon. "He's come in here every day and done the same thing. He's lived up to the great Antonio Brown name, he's one of the best in the league. We expect that of him to continue and he expects it of himself. He's a great addition, we're glad to have him."
Gordon noted that the transition could be a difficult one, requiring players to unlearn so much football they had already filed away.
"It can be tough. It can definitely be tough. I know it was for me. Everybody else can get it differently, sometimes faster, sometimes slower. Kinda just depends on how fast you can get rid of what you once knew, to adopt a new everything."
Bill Belichick acknowledged that Brown's task of joining the Patriots offense is significantly more difficult because he was coming from a different offensive system.
"Obviously, he's not familiar with our offense," Belichick said in his morning press conference. "The systems that he's been in have been quite different. Jon [Gruden] does the West Coast offense, which there's very little carryover from their system to our system.
"I mean, the systems aren't built from the same tree that branches,' Belichick continued. "There's just formations, play calling, protections, routes. So, it's associating one word with a word that you know, and now a new word and trying to associate those two. But, they might be the same, they might not quite be the same. There could be subtle differences based on different coverages or leverage that the defender plays, how we would run those routes. So, I mean, there's a lot of variation there."
Was three practices enough to install a group of effective packages or plays for Brown to contribute? Belichick said that's the very question the coaches are pondering themselves.
"So, you go through the week like we've done. We've done different things. Now as we get to Friday, Saturday, we'll decide what things we feel comfortable with. We may eliminate some of the things that we've done and concentrate on a certain group. Whether that's five plays, 20 plays, I don't know. We'll have to decide that. But, yeah, certainly you don't want any new player, whether it be a tackle, a receiver, whatever the guy is, making a mistake, missing a block, making a route adjustment that's not the right one and then turning the ball over or having a big play against you."
New team. New playbook. It's a lot of change for a receiver to process in just a few short practices. What helped Gordon get through it and have success last season?
"Support," said the receiver. "The support of everybody here. Making mistakes, not necessarily getting down on me, just kinda encouraging me and supporting, help tutor me. Taking extra time out of their day to bring me up to speed."
Despite the fanfare surrounding Brown, Edelman reminded reporters what it's really about this weekend.
"It's tough playing in Miami," Edelman said. "I don't know why. They always seem to have our number there. We put together a solid week of practice and we're looking forward to going there and competing against a team that knows us very well. I know Coach Flo's gonna have them ready and waiting. We're gonna try and go out there and play our best game."
Roster Notes
Mike Reiss of ESPN reported that Obi Melifonwu, who was just shuttled from the 53-man roster to the practice squad, received a team-high salary to return to the 10-man practice squad. Melifonwu had a quiet preseason while dealing with an injury but the team continues to show that they like him as a player and could have plans for him down the line, especially with three safeties all over 30-years-old.
Practice & Injury Report
The Patriots welcomed full attendance for the third-straight practice this week. The team is off to a healthy start, though Marcus Cannon's status remains up in the air. Cannon attended all practices this week, but is still expected to miss some time with a shoulder injury.
The Patriots injury report included:
·      Brandon Bolden – Hamstring – Limited
·      Marcus Cannon – Shoulder – Limited
·      Matt LaCosse – Ankle – Limited
Reshad Jones - Ankle - DNP
Albert Wilson - Hip/Calf - DNP
Trent Harris - Foot - Limited
Charles Harris - Wrist - Full
Bobby McCain - Shoulder - Limited
Daniel Kilgore - Shoulder - Full Practice
Miami's starting right tackle Julien Davenport was placed on injured reserve. He was acquired from Houston over Labor Day weekend and this is another blow to a team that struggled to protect their quarterback last weekend. It should only get tougher against the Patriots vaunted defensive front.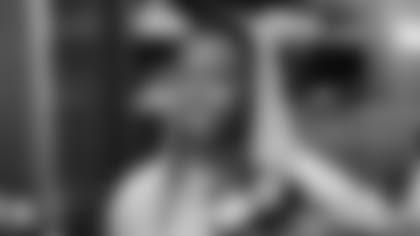 Locker Room Sound Bites
Josh Gordon on if he's in the best shape of his time with the Patriots:
"By far. I don't have any injuries this year fortunately. I'm getting after it. I'm excited, I think we're all excited to see what happens halfway and towards the end of the season. I think it's going to be a huge upside."