After significant turnover on the edges of the defense, veterans Derek Rivers and John Simon are suddenly the most-veteran faces in the position group. Both vets have had different roads to this point -- Simon spent time with three different teams before landing with the Pats early in the 2018 season, while Rivers has battled injuries, seeing two of his first three season ending with knee injuries.
Now, both players will be counted on play the biggest roles of their careers, while also helping to fill a second-level leadership void. Rivers was grateful for what Simon has brought to the team.
"John's a great dude, a great vet" said Rivers after practice via Webex. "Straightforward is the best way to describe John, but he also has so much knowledge of how to play the game and how to play the position.
"I've learned so much from him, just having him come over here the last couple years, he's been such an asset to me and everybody in that locker room he's awesome."
Healthy and ready to go, Rivers was taking it all in, spurred on by a comment made by Devin McCourty during today's up-tempo practice.
"D-Mac said it today after practice, 'don't take it for granted, every day that you get to be here' and that's true," said Rivers. "So, it's just a blessing to still be around these guys playing football."
Rivers has played just six regular season games in his career, all coming in 2018 with a career-high of 24 snaps against the Bears. He'd also add 19 playoff snaps against the Chargers before being inactive for the final two post-season games.
But this season the opportunity to live up to the promise that made him a third-round pick will be there for the taking. Rivers could already see the intensity rising at practice.
"Whenever we go down to that [lower] field every day, even in camp, it's like a regular season practice," said Rivers. "I definitely feel the time crunch being a week away, so it was definitely heightened urgency and it was fun."
For Simon it still felt like training camp.
"I said it felt like preseason, not yet at least," said Simon on if the mood had shifted. "We're still working hard trying to stack these days together right now. Do everything we can to make sure we're prepared fully by next Sunday."
"I know B-Flo is getting them guys ready," said Rivers. "We got to be ready to play the best football that we can play."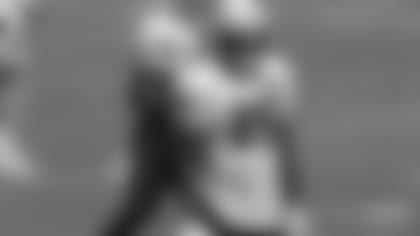 Harry ready to go
N'Keal Harry is the most intriguing member of the Patriots receiving corps this season. The 2019 first-rounder battled injuries last season but found a role in the offense as the season progressed. He'll be looking to make a year-two jump and the offense badly needs him to.
"I think we're all pretty excited to get the season started," said Harry. "It was a good feeling today, can't wait to go out and practice this week and then going into the game."
Harry could have a nice complement this season in Damiere Byrd, a veteran with good outside speed who could pull some coverage away from him.
"It's been real great for me," said Harry of the veteran Byrd. "Guys like that, I like to soak in as much as I can. He's been helping me out a lot, giving me different perspectives, trying to help me out and think differently with a bunch of different stuff. He's been really helpful."
For new-arrival Byrd, he was most taken by the locker room culture in New England.
"Just how close knit the locker room is," said Byrd of what has stood out most. "There's a bunch of high-character guys in here. You hear that coming in but when you get here it really shows. Just the leadership and how close knit everybody is."
For now, Harry's not getting ahead of himself, focusing on stacking success daily.
"Just going out there every day, making sure I do something to get better every day," said Harry. "No matter what it is, I just have discussions with Coach, try to discuss what I need to get better at on that particular day and just stack days."
Practice Report
The Patriots moved down to the lower practice field for Sunday's session. They were in full pads as their attention turns to the Miami Dolphins.
Missing for open portion: Gunner Olszewski, Damien Harris, Beau Allen
Webex Quotes of Note
N'Keal Harry on Cam Newton's work ethic:
"Looking from the outside and you never really know how a player conducts themselves and once I got around him I figured out how hard he works and the amount of time and effort he puts into this. You can tell he really cares about perfecting his craft and he takes all this very seriously."
John Simon on expecting some trash talk from former Patriots and new Dolphin center Ted Karras:
"I'm sure Ted will have something for me but happy for him. He's a great player who did a lot of great things here. It'll be fun to see him again."
Damiere Byrd on preparing for the opener:
"I think during this camp we've tried our hardest to simulate every situation we could be in and will continue to do that this week in preparation for the game. The game is a game and you always sometimes have those butterflies. You won't know until game time, once that first snap hits, it's go time."
Matthew Slater on whether this kind of football will feel normal:
"Ultimately, as we've gotten acclimated to our new normal if you will, once you start to go on the field and compete and now that we're getting ready to prepare for an opponent, it does feel like football again and that's exciting. I know when we go out there on Sunday, the atmosphere is going to be a little different, but it's going to be competition, it's going to be a game that we love playing, a job that we're blessed to do and I'm sure it will be as normal as we can hope for."