Assuming they're all healthy once the regular season starts, New England's three starting linebackers should be no surprise: Jerod Mayo, Jamie Collins, and Dont'a Hightower.
There's opportunity, however, for jobs to be won behind them on the depth chart.
Dane Fletcher might've been as close to a lock as you can get, given his prior experience with the club. Fletcher began his NFL career in 2010 when he made the Patriots roster as an undrafted rookie. He re-signed with New England this past offseason after spending last season with the Tampa Bay Buccaneers. However, Fletcher hasn't seen the field yet this training camp as he recovers from an injury.
That has given more chances on the field for players like veteran free agent Jonathan Freeny and second-year man James Morris. The latter had a strong start to last year's training camp before suffering a knee injury around this time. He wound up spending all of 2014 on injured reserve.
"James, even though he didn't obviously practice last year, he was here for a lot of meetings. He's a smart kid," head coach Bill Belichick remarked, "and he has a very good understanding of our defense. So, he might have been a little bit, even going into his second year, I would say that part of his game was pretty good. He really needed the physical development and the actual playing and so forth. So, he's gotten a lot of reps and he's taken a lot of snaps.
"Jonathan came in in the spring, had a real good offseason, good spring in terms of his physical conditioning and development and also learning our defense and the communication and so forth. I think both players are progressing well. I think both of them can help us defensively and in the kicking game and have some versatility. So, I think it's a good competition, good depth at that position."
"I'm going to come in and whatever my role is, that's what I'm going to do. I'm going to put my head down and just work," Freeny told reporters Monday. "Wherever the chips fall, they do."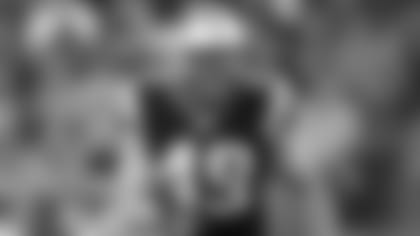 Morris acknowledged that it's always been one of his goals to be an NFL player, and while he collected a paycheck last year, he's hoping to earn it this year by being on the field when the regular season begins.
"I think I have a ways to go," Morris admitted. "I'm not where I want to be yet, but I'm here trying to get there. I don't know when I'll get there, but I know that right now, I'm just focused on getting a little bit better every day. Hopefully someday I'll be where I want to be.
"You come in every day and just try to get better. That's what I did. If you're injured, you just focus on getting healthy, and that's how you get better. Really, you just try to find that role and improve at it. That's what I tried to do and will continue to try to do."
Tyms 'at home' on the field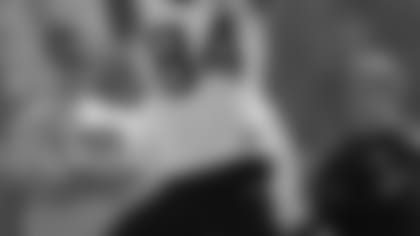 Wide receiver Brian Tyms has finally ditched the red, no-contact jersey he's been forced to wear for recent practices. With Julian Edelman, Brandon LaFell, and Aaron Dobson not taking part in team drills lately, Tyms' recovery from a mid-camp injury couldn't come at a better time for him, or the team, for that matter.
"As an NFL player, you have to take advantage of all opportunities, whether somebody's down or not," Tyms said Monday.
He made the 53-man roster last season as one of the pleasant surprises to come out of training camp. After sitting out a month due to an NFL suspension, Tyms immediately earned a reputation as a deep threat for the Patriots offense, but he believes he's capable of more than just go-routes.
"I don't really look at myself as someone who can only go down the field," he maintained. "I have to work on my game altogether. I want to be great at this, and I put a lot of heart, work, desire into this. When I get my opportunity to run something short, I run as hard as I can.
"I'm always confident," he added. "I put so much work into this, when I'm out here, I feel like I'm at home."
He attributes much of his confidence to the teaching he's received from the Patriots coaching staff.
"It's a great coaching staff," he asserted. "Mentally, they've helped become a better football player. The game has slowed down so much for me. It's just taking the class to the grass, honestly. I have good teachers."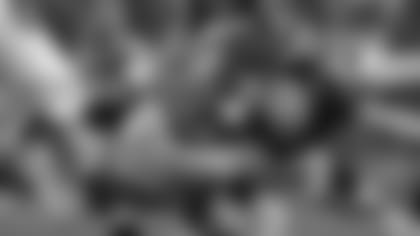 Rookie Trey Flowers had a strong start to his first preseason game as a Patriot, registering an 8-yard sack of Green Bay QB Aaron Rodgers in the first quarter of last Thursday's opener.
Flowers used solid technique to beat his blocker to get to Rodgers on the play.
"He generally plays with good leverage," Belichick observed. "He has longer arms, and he uses his hands well, and he did that on that play; showed some acceleration to the quarterback.
"I think he's an instinctive player," added Belichick. "We've asked him to do a lot of things, and he's played a number of different positions. He's played in the kicking game, which wasn't something that he did a lot of at Arkansas, but he's a tough kid, works really hard, and he seems to have a nose and instinct for the ball."
However, just a few plays after sacking Rodgers, Flowers was injured, helped off the field, and never returned to game action. He wasn't at practice the last two days, either.
Belichick was mum when asked if the injury was a short- or long-term concern.
"You probably know more than I do," he told the reporter who asked.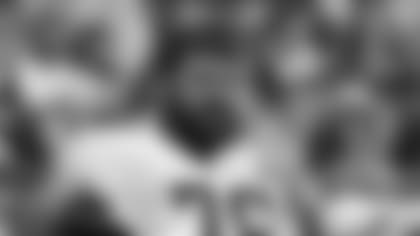 Buy: Sebastian Vollmer – The team's right tackle, who had a slow start to camp while recovering from offseason shoulder surgery, has steadily been getting more and more reps at his normal position. Monday was perhaps his most involved day of the summer.
Sell: Tre' Jackson – Unfortunately, the rookie right guard had to be carted off the field after being treated by the medical staff for an extended period of time during the middle of practice. It's unclear exactly what was wrong with Jackson, but he looked in obvious discomfort.
Play of the Day: During a scripted down-and-distance period, Tom Brady threw a pass to the right sideline intended for Brandon Gibson. Linebacker Jamie Collins, who'd dropped back into pass coverage, jumped high to get a hand on the ball, which he deflected, but Gibson still managed to make the catch as he fell to the ground.