The Patriots made headlines during the free agent signing period earlier this offseason with the acquisitions of cornerbacks Darrelle Revis and Brandon Browner. Less was made of Brandon LaFell's signing, but the former Panthers wide receiver could become just as significant a contributor on the other side of the ball for New England this fall.
But before he can get his hands on the football, he needs to get a better grasp of New England's offense, which is more convoluted than what he was used to in Carolina.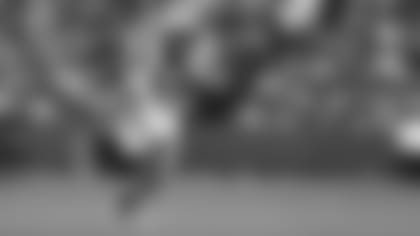 "I'm used to running a numbers system and now I'm back to code words, so, it's a lot [to absorb]," the 6-2, 210-pounder told reporters after Thursday's organized team activity (OTA) practice.
"It's been a grind so far, man, trying to learn this new playbook, my new teammates… it's been a grind. I'm trying to put my best foot forward and get better every day."
LaFell inked a three-year, $9 million deal with New England in March, and ever since, he's been trying to prove that he deserves the money the Patriots invested in him.
"The quicker I can learn this offense, the quicker I can go out there and be reliable and play fast, knowing what I'm doing. Now, I'm kind of playing at half-speed because I'm thinking so much. The quicker I can learn, the better I can help this team. I've learned a lot, but I'm nowhere near where I want to be yet."
Weather conditions made it difficult for any of the quarterbacks and receivers to look their best Thursday, when a steady rain fell on the grass practice fields for the nearly two-hour session. There were several wobbly throws and drops that would normally have been easy catches under normal circumstances. But LaFell has been encouraged by this spring's action so far, with two more weeks of practices to go before summer break – a six-week stretch on the calendar from mid-June to late July when the NFL shuts down before training camp.
"I think we're getting better. I want to continue to build this chemistry so we can jell right now instead of trying to wait till training camp."
And thus far, facing the likes of Revis and Browner in practice has been beneficial to LaFell and the other Patriots receivers.
"Revis… has seen it all. None of your tricks are going to work on him," LaFell observed. "And Browner is a larger guy. Long arms, real physical. Going against those guys every day, they're making us better. If we can face these guys, we can face anybody."
OTAs continue next week, with media access to player interviews happening on Thursday, June 12. Mini-camp will take place the following week.