Walking around Patriots training camp on any given day, you will see a sea of Tom Brady shirts and Gronk jerseys, but on Wednesday, a bright red shirt stood out among the rest.
"Keep calm, we got Matthew Slater," Samantha Duva Ronci's shirt said. It was a birthday gift from her mother, Kara, and a prized possession.
"That's the best shirt I've ever seen," Matthew said as he walked up the stairs to the practice field to meet his biggest fan.
Samantha, 14, idolizes Matthew, and it's not just because he's a New England Patriot. Her respect for him goes far beyond what he does on the field.
"I really look up to Matthew Slater because I know he's a Christian speaker, and that's really important to me. I also know how much work he does for charity outside of the Patriots, and he's a captain," she said. "He's my favorite player."
About two years ago, Samantha and her family watched the Patriots game as Matthew made a play. She wanted to learn more about him, and with some research, it was a sealed deal.
It was around that time that Samantha needed a role model, Kara said. After an ATV accident, Samantha needed multiple surgeries, but knowing Matthew wouldn't give up in her situation, she didn't either.
"It's been a long haul. She had a couple of foot surgeries, and that's her thing about not giving up," Kara said. "I know everyone is a team player, and it's all about the team but I know Matthew Slater would never give up. He would never give up."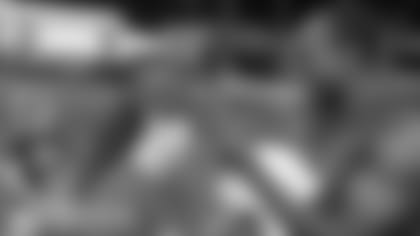 And neither does she -- whether it's recovering from surgery or meeting her idol. Samantha made it her mission to meet Matthew and tell him in person what it meant to her.
"She kept saying, 'Mom, it's not just about the game. His heart is so big.' As a mom that's flipping fabulous to hear," Kara said. "Everyone she's told the story to asks, 'Well, Sam, why Matthew Slater?' He's great on the field, don't get me wrong. He's phenomenal, but what do you have that's so strong? Everything with her is Matthew Slater. It makes me proud."
For Matthew, seeing Samantha become speechless upon meeting him -- and all because of who he is off the field -- it was humbling.
"When I think about what my legacy is here and what people think of me, I hope they remember what type of man I am and the values that I try to stand for and the family that I have," Matthew said. "That's hopefully what my legacy is."
Samantha came prepared with a sign that read "My dream is to meet #18 Slater," and there is no better proof of a dream realized than Matthew walking into the Patriots locker room with that sign in hand.
"It's really, really refreshing to have a positive exchange with a young person like that and to meet her family," he said. "I've always believed in the human connection and relationships. I think something like this is what it's all about."