Faced with challenges on multiple fronts – viewer engagement, player safety and improving the fan experience – the NFL and its partners have chosen to address "all of the above" and more, making 2014 the landmark year for technology deployment for the love of the game.
The league has been stepping up use of technology for some time, but so far this year we as NFL fans have witnessed the introduction of many new products, service and capabilities, Couple that with the evaluation and testing of new approaches to longstanding issues kicked off before this season began.
Tech "Lite" to Tech-Infused
For so long, paying for concessions by credit card, scanning ticket barcodes for entry and improvements with instant replay were the status quo technology-wise. But with the league mandate of Wi-Fi in stadiums a few years ago (the first widespread implementation of technology) has set the foundation for fan experience innovation for years to come.
Those were the dinosaur days for the NFL when you consider the lengthening list of tech-driven initiatives launched this year alone, spanning all aspects of the game. Consider this subset of important initiatives.
That Was Then, This Is Now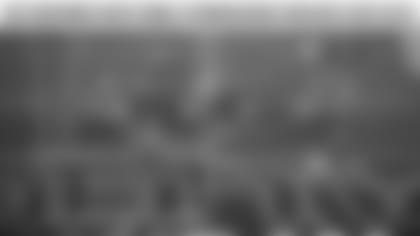 ](http://nflcommunications.com/2014/07/31/national-football-league-and-zebra-technologies-to-provide-next-gen-stats-for-the-2014-season/)-Next-Gen Stats. The NFL partnered with Zebra Technologies, a maker of radio frequency identification (RFID), to place tags in players' pads that transmit info on their movement on the field for the creation of a whole new set of player stats. So how fast did Megatron run to get to the end zone after catching a pass from Matthew Stafford? 
-Athlete analytics. Teams are working with GPSystems to equip players with chips during practices, workouts, drills and conditioning work in an effort to use science to optimize conditioning and avoid over exertion that can lead to injuries, etc. One big goal is to know when players are reaching a point where they are at risk for strains, pulled muscles and general fatigue.
-Protection. The latest helmets from partners Riddell, etc. are equipped with sensors that register hits with staff on the sideline so that coaches and others are aware of impacts before they return to the sidelines.
-Sign Up? The NFL is testing virtual digital signage along the sidelines at league games at London's Wembley Stadium to determine if the ads you can only see on TV (as like the yellow first-down line they aren't really there) are viable for use in the U.S., where they are currently banned.
-Apps-o-lutely. Apps aren't new to the NFL by any means, but consider the deluge of league, team and stadium apps alone that have debuted already this year. NFL Now epitomizes the bigger picture league effort of throwing open the vast video warehouse doors to better engage and entertain fans.
-Streamlined. Concurrently, a new wave of gameday/stadium apps help you with the logistics of getting to the game to getting to your seat, and then, in some cases, finding the shortest restroom line and ordering concessions for priority pickup from your seat.
-Tablets on the sidelines. Where for decades players and coaches relied on black & white photos of past plays to get smart going forward, teams have been equipped with computers that instead run video of the plays to advance the understanding of plays and their results far beyond still images. Not all coaches and players are comfortable with the Microsoft tablets yet, so it's an interesting work-in-progress.
-What about wearables? Though the league prohibits outward-facing devices during games, products like Google Glass and PivotHead's eyewear have been evaluated by several teams, perhaps as a means of creating bonus, non-game content for fans that would likely enjoy a player's-eye view of the inside of the stadium, parts of practice/warmups and out-of-stadium events.
-Booking it? This is the year that many teams issued playbooks on iPad devices to players during training camp and preseason, leading some to believe that the decades-old practice of issuing actual playbooks is coming to an eventual close.
-Seeing Value. While team and league websites have been moving ahead quickly with more engaging content well in advance of the first preseason tilt, use of video to captivate and entertain fans appears to have reached an all-time high. The destinations are replete with video interviews, press conferences, highlights and numerous off-the-field events.
While "purists" may be against anything that actually impacts the game on the field, I'm betting that tech-driven in-stadium, player performance and viewing options for NFL content will be widely embraced by the fan masses. Ongoing rules changes from the league's competition committee are more likely to fire up fans than any technology advancement.
That said, years down the road, and possibly for generations to come, 2014 will likely be looked at as the year when numerous technologies started to come into wide use to drive America's game forward.
Where else can technology help football?
Bob Wallace is a technology journalist with over 30 years of experience explaining how new services, apps, consumer electronic devices and video sources are reshaping the world of communications as we know it. Wallace has specific expertise in explaining how and why advances in technology, media and entertainment redefine the way football fans interact with the league, teams, players and each other. He's the Founder of Fast Forward Thinking LLC.