Adams' history with Bill Belichick goes all the way back to 1970, when Adams said the two met at Phillips Andover Academy and began what would be a 50-year conversation about football. Often known as a genius behind the scenes, Adams was a trusted confidant of Belichick throughout his career, which included stops at the Giants and Browns alongside the head coach. He gained notoriety after an appearance in the 2015 Super Bowl recap "Do Your Job" video where the phrase "pink stripes" appeared on a dry erase board next to him while he broke down the preparation that went into Malcolm Butler's game-sealing interception in Super Bowl 49. That phrase would become synonymous with Adams, as his notoriety began a late surge in his final five seasons with the team.
Adams touched on everything from his early days in the NFL during the 70's to the Patriots' incredible 20-year run of dominance during the podcast, while also choosing Pat Patriot over the Flying Elvis as his favorite Patriots mascot. Here are five key moments that stood out!
"In '76 we were a championship-caliber team, even though we didn't win it, most seasons still end up being two or three teams playing at the end that have a legitimate chance to win and we were one of them."
On the biggest problem opponents in the '70s:
"You could certainly say in our last year, 1978, playing the Houston Oilers with Earl Campbell. He was a game wrecker. My first year in 1975 going out to play the Bengals had Isaac Curtis and wide receiver with Kenny Anderson throwing him the ball. We geared a lot of things to stopping him. The Raiders with Dave Casper was another tight end who was a real problem to play against. The Steelers, we beat them in '76, they had Lynn Swann and John Stallworth at receiver and of course the defense. You've got Jack Ham, Joe Green, Jack Lambert, Andy Russell was the third linebacker, he would be a legitimate Hall of Famer candidate now.
"I must say probably the '78 team because we had instead of Steve Grogan being a rookie quarterback, he was in his third year. We had Stanley Morgan and Harold Jackson at receiver and we were more explosive on offense in 78. In the end though the '76 team was the one that came closest to winning the championship."
On his relationship with Bill Belichick
"We've been having a football conversation for 50 years. At the Giants, we'd go for long runs together. We can do a lot of things very quickly because we have some common reference points. Something that happened in Cleveland in 1993, nobody else on the face of planet earth will remember but "hey Bill remember what we did in Cleveland, this really worked in this situation..." We can make big changes in a hurry because we've spent so much time talking, we know what each other are talking about."
On when he knew Tom Brady was special and how he drove the team:
"I don't know if that it was one specific play but as we started playing in 2001, Tom just got better every week. The team responded well. He was doing well. I think it was more of a process than one play. Being realistic about it we knew after the 2001 season that Tom was going to be our quarterback. We weren't going to have Drew here as our backup. That realistically was not going to happen."
"Tom would jump on a receiver for cutting his route off at nine yards instead of 12 yards because it's doing all the little things, it's all the details every day. You have to do it and get it right.. Because when you get down to those critical situations in the championship game where you got the whole season riding on one play, it's the ability to execute the fundamentals just right that makes the difference."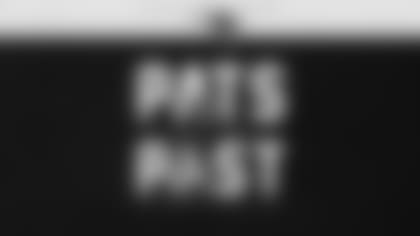 Pats from the Past Podcast
The 'Pats from the Past' podcast features in-depth conversations with some of the greatest Patriots players in franchise history. Hosted by Sr. Executive Producer Matt Smith, and Patriots.com's Paul Perillo, who combined have nearly forty years of experience in the organization to expertly tap into the players and their unique insights.
SUBSCRIBE AND LISTEN ON: