Former Patriots fullback James Develin was the latest guest to join hosts Matt Smith and Paul Perillo on the "Pats from the Past" podcast, sharing some of his favorite memories from his career in the NFL that included three championships after an improbable ascent by the Ivy League product.
Develin joined New England in 2012 on the practice squad and appeared in one game as a special teamer, but in 2013 he seized a role as a fullback in the Patriots offense and the rest is history, with 83 games played, five rushing touchdowns and 31 career receptions. He'd help lead the way to three Super Bowl titles, none more impressive than Super Bowl 53, where Develin and the Pats' ground attack were keys for the offense, especially in the memorable AFC Championship.
Here are five memorable quotes from the 40-minute episode that is jam-packed with gems.
On his impression upon arriving in New England:
"It was everything I was looking for in a football team. The respect, the accountability. You could say strictness but it's more than that, it's that level of respect that you have for your teammates, your coaches, the game itself and your approach to the game. That is what stood out to me because coming through the UFL and then the year and a half with Cincinnati on their practice squad, it wasn't like that."
On the 2018 AFC Championship vs. Kansas City:
"Thinking back on my football career even from the start and when I was seven years old until I retired in 2020, that stands out as my favorite football game I've ever played in. It still gives me chills, if I didn't have a sweatshirt on I would show you my forearms with goosebumps right now. It almost brings a tear to my eye honestly. It was like the perfect team-against-the-world environment. Kansas City is a great place to play football, when we walked in there you could just feel how much no one wanted us to be there. 46 guys on the field plus all the help we have on the sidelines so call it 70 to 80 people... it was us against 90,000."
On the hardest-hitting opponent he faced:
"I tell everybody who asked this Elandon Roberts in practice was the toughest guy for me. I'd say generally speaking for me I'm a tallish fullback like 6'3". So I kind of lose a lot of natural leverage that a six-foot-and-under guy would have. Landon's like maybe 5'11" maybe six-foot. In practice, the first day of pads everybody knew we get to 9-on-7 and the first play would be lead and it'd me versus Elandon and it was just like a car accident every time. It was just wild."
On lessons learned from Bill Belichick:
"While I'm on this journey, this entrepreneurial journey, my life after football. I'm big about this growth mindset, trying to get better every day at what I'm doing. There are days when I know I have no idea what I'm doing. I'm trying to wade through the water but I'll tell you it's like clockwork almost every single day I'm reminded of something that the game of football taught me and I'm particularly reminded of something Bill Belichick did, one of his staples. The wisdom that I took in for my eight years in New England, it was like reading every master class book and everything about self-help. The guy just exudes wisdom, while I was playing I was picking it up but maybe it wasn't registering, maybe I wasn't mature enough to really let it resonate with me but now I realize so much and there are things that were about football but now I translate them to business or things just about life and that's really been standing out to me."
On what he took from his time in the NFL:
"The thing that will always stay with you are the relationships that you build and experiences as you go through the highs and lows of the season, the highs and lows of everyday life outside of the facility. And being able to just wade through those waters with the same guys, that's special. You find that across any corporation in America. You start to establish relationships with people that you go through these experiences with and nothing's different inside a football locker room. But it might be heightened a bit because you're in there all day going through all this stuff. I say it all the time, I'm not ashamed to say I truly love every guy that I've played with and every coach that coached me. I'm just so thankful for the time that I was able to be part of their lives. I definitely miss it."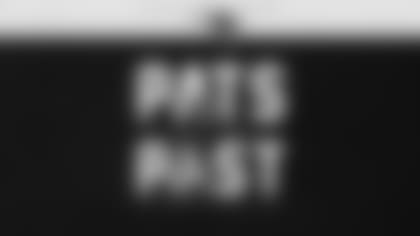 Pats from the Past Podcast
The 'Pats from the Past' podcast features in-depth conversations with some of the greatest Patriots players in franchise history. Hosted by Sr. Executive Producer Matt Smith, and Patriots.com's Paul Perillo, who combined have nearly forty years of experience in the organization to expertly tap into the players and their unique insights.
SUBSCRIBE AND LISTEN ON: