FOXBOROUGH, Mass. –** Spend a day with Sam Berns and you are bound to laugh, smile and be inspired.
It happens frequently to those closest to Sam and it happened on a Saturday morning in September to New England Patriots Chairman and CEO Robert Kraft during a memorable visit with the young Foxborough resident at Gillette Stadium.
"I have the great privilege of meeting a lot of cool people: Presidents of countries, movie stars, great athletes, you-name-it. But it's been a long time since I've run in to someone as cool and inspirational as Sam Berns," Kraft said.
Sam, 16, lives with progeria, an extremely rare disease characterized by accelerated aging that affects just one in four million newborns. Those odds currently make Sam one of only about 250 children diagnosed with progeria in the world. Despite his challenges, Sam remains upbeat and enjoys life as a high school junior in Foxborough, where he excels in the classroom and performs on the drum line of the school's marching band.
Sam's positive outlook on life has touched many, including Kraft, who has been following the teen's story for quite some time in the local media.
"I have followed his story and various accomplishments through the local paper and I was just fascinated by him," Kraft said of Sam.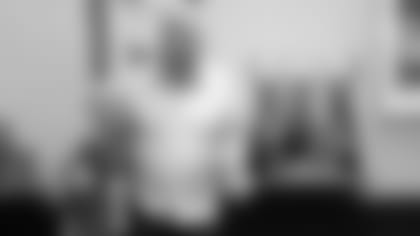 That fascination became inspiration when Kraft viewed a trailer for the HBO documentary, "Life According to Sam," which tells the incredible story of the Foxborough teen and how his parents, Drs. Leslie Gordon and Scott Berns, work tirelessly to find a treatment and cure for the rare disease through the Progeria Research Foundation.
Compelled to meet Sam, Kraft invited the local teen and his family to watch a Patriots practice at Gillette Stadium – less than six miles from their Foxborough home – on the Saturday before the team traveled to Atlanta to face the Falcons. It didn't take long during that Sept. 28 visit for Kraft and Sam to develop a special bond as the two connected in a way that more closely resembled a reunion of old pals than a first meeting.
"It was great to talk to Mr. Kraft about a wide-range of things, including the Patriots and many of their games and the championship legacy in Boston as well as school and player nutrition," Sam said. "It was, really, so rewarding because he presented a lot of amazing points about what characteristics he looks for in people and how he approaches every day and every opportunity to give back as well as his attitude toward winning and teamwork. That was all really inspiring. He said I inspired him, but after meeting him, I was also really inspired."
The two shared stories and laughs as Sam toured the facility, beginning with a stop at Kraft's trophy room, which prominently displays the Patriots' three Super Bowl trophies and houses some of the owner's most prized sports memorabilia, including a photograph of Ted Williams and Babe Ruth autographed by Williams.
Pointing to that photograph, Kraft tested Sam's sports knowledge.
"Do you know who is in this photo?" Kraft asked.
Without hesitation, Sam replied, "Ted Williams and Babe Ruth."
Kraft, with an approving smile, promptly posed a follow-up question.
"Do you know what's wrong with this photo?" He asked.
"There's a Yankee in it," Sam quipped.
The response evoked laughter from Kraft, who replied, "I was going to say, 'it wasn't signed by Babe Ruth,' but I like your answer better."
That rapport continued as Kraft quickly learned what kind of businessman Sam was.
"I was so impressed with Sam that I wanted to try and make an impact and help find a solution to progeria so that Sam and other children around the world wouldn't have this disease," said Kraft. "I told Sam I wanted to donate $1,000 for each year of his life, which I thought was $16,000. He told me while that was correct, his birthday was October 23, and suggested I wait until then and make the donation for $17,000. He's a good businessman."
Later in the day, Sam and Kraft made it down to the practice fields behind Gillette Stadium to watch the Patriots finalize their preparations for Atlanta. As practice drew to a close, Kraft asked his new pal for a favor.
"I asked Sam if he would be kind enough to give the team a little pep talk and tell them what they needed to do to get a win down in Atlanta," Kraft said. "He started telling them what they had to do to move [Falcons quarterback] Matt Ryan off the spot and get him to throw a few interceptions and how we could score."
Sam, who was dressed for the occasion in his customized "Berns No. 1" red Patriots jersey, said he knew if the "team worked hard and kept in the right mindset to overcome the obstacles" they would face in Atlanta, the "outcome would be in their favor."
And it was, as the Patriots defeated the Falcons, 30-23, on NBC's "Sunday Night Football" the next day.
"Sam's pep talk worked and the team was pretty impressed, so we awarded him the game ball for his great inspiration," Kraft said.
It was one of two game balls Sam has received from Kraft for the Patriots' Week 3 win in Atlanta. The other, given to Sam as a birthday present prior to the Foxborough premiere of "Life According to Sam" on Oct. 19 at Showcase Cinemas de Lux at Patriot Place, came courtesy of Patriots quarterback Tom Brady.
"Brady was determined to be the player of the game down in Atlanta for Sam," Kraft said. "NBC gives a ball to the player who was most outstanding in the game and when I told Tom I was seeing Sam again, he pulled that game ball out of his locker, gave it to me and said, 'I think Sam should have it.'"
And Sam already has big plans for the gifts.
"I would really like to mount the footballs in our front hallway, but I don't know if that is going to happen," Sam said with a contagious laugh. "I still have to negotiate with my parents on that, but there are a few places where we can see them."
A New Friendship and Inspiring Pledge
Sam's September visit to Gillette Stadium was the beginning of what has become a special friendship for Kraft as the Patriots owner happily accepted the Foxborough teen's invitation to attend the New York premiere of the HBO documentary, "Life According to Sam" on Oct. 8.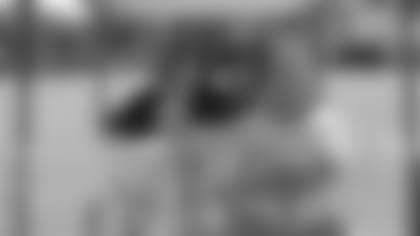 "I have fallen in love with Sam and I am sure that sentiment is shared by anyone who has ever spent time with him," Kraft said following the New York premiere. "'Life According to Sam' is an amazing and powerful film that will introduce Sam, his family and his story to a national audience. Sam is a star and what his parents have achieved in their search to find a cure is incredibly inspirational. Together, they are championing a cause that has already positively impacted the lives of children around the world. This is a must-see film. It will make you laugh. It will make you cry. And, most importantly, I think it will motivate people to want to do more to help."
Motivated by his new friend and deeply moved by the powerful film, Kraft pledged a matching donation of up to $500,000 to the Progeria Research Foundation to fund a clinical trial that could lead to a treatment for the rare and fatal disease.
"When I watched this film, I saw Sam's outlook of life and how he approaches things with the challenges he faces and it's just so inspirational to me," Kraft said. "So I thought, you know what, I'm going to go from $17,000 and give $100,000 to the Progeria Research Foundation. But then I kept watching the film and it's just unbelievable. So, I said, I'm going to go to a quarter-of-a-million dollars."
But when the film ended, Kraft learned the Progeria Research Foundation was embarking on a campaign to raise $4 million for a clinical trial that could lead to a treatment for progeria and was compelled to give more.
"They had a few speakers after the documentary and when they let me say a few words, out of my mouth I found myself saying that I wanted to contribute a half-a-million dollars," Kraft said. "But there was a condition. I would donate up to a half-a-million dollars if the Progeria Research Foundation could raise another half-a-million dollars by Sam's birthday (Oct. 23), so we could get 25 percent of the way, or $1 million, to their fundraising goal. I will be the happiest man in the world if I have to write a check for $500,000."
Audrey Gordon, Sam's aunt and president and executive director of the Progeria Research Foundation, said she is incredibly grateful for Kraft's generosity and kindness as his matching challenge of $500,000 has "changed the face of the Progeria Research Foundation."
"People are coming out of the woodwork for this challenge," Gordon said. "What he's done has already had such a tremendous impact on all of us at the Progeria Research Foundation and that impact is so deep. I'm sure it will last until we find a cure."
The next day, Sam, his parents and Kraft appeared on Katie Couric's show, "Katie," to talk about the documentary and fundraising efforts as well as Sam's inspiring visit to Gillette Stadium and his friendship with the Patriots owner.
A Happy Birthday for Sam
On Saturday, Oct. 19, Kraft invited the Berns family and hundreds of Sam's friends, classmates and neighbors to celebrate his friend's 17th birthday a few days early with a private showing of the HBO documentary, "Life According to Sam," at Showcase Cinemas de Lux at Patriot Place.
"I thought it would be good if we could have Sam's friends and family in the community see the documentary before America saw it on Oct. 21," Kraft said. "It was pretty special."
Kraft, after learning Sam's favorite meal is steak, surprised his friend with a gift card to one of his favorite restaurants, Davio's at Patriot Place.
The local audience watched their friend and neighbor's unique and inspirational story come to life on the big screen as Sam let his community into his world for 90 minutes.
"I'm really glad that I am able to be myself around a lot of you and just be a teenager and just be a kid and not have to worry about progeria," Sam told the Foxborough audience. "This film is not just about progeria. It can be difficult sometimes to have progeria, but I just hope that you all know when I'm not thinking about progeria it's because of you, so thank you."
The audience of 300 gave Sam the perfect ending to his Foxborough premiere at Patriot Place when they sang "Happy Birthday" from their theater seats to the soon-to-be 17-year-old who captivated them for a Saturday afternoon with laughter, smiles and inspiration.
Just another day with Sam.
How to Donate
After seeing "Life According to Sam," Kraft issued a Matching Gift Challenge to help Sam and his friends living with progeria. Your donation will be matched dollar-for-dollar, up to $500,000, through Oct. 23 – Sam's 17th birthday – so the Progeria Research Foundation can put $1 million to work and give every child with progeria access to possibly life-saving drugs. To make a donation, visit http://www.progeriaresearch.org/shop/product/donate-now/.