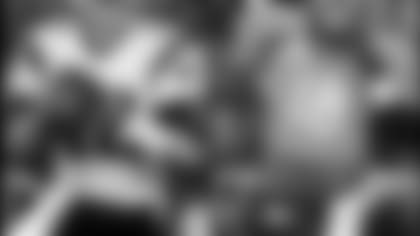 PATRIOTS(12-4) atBRONCOS* (13-3)
*Sun., Jan. 19, 2014 at 3:05 p.m. ET
Sports Authority Field at Mile High (76,125)
The New England Patriots advanced to their 10th AFC Championship Game, and third straight AFC title game, after defeating the Indianapolis Colts 43-22 in an AFC Divisional Playoff Game last Saturday night at Gillette Stadium. Patriots QB Tom Brady will play in his eighth AFC Championship Game in 12 full seasons as a starter (not including 2008 when he was limited to just one game due to injury).
PATRIOTS IN THE AFC CHAMPIONSHIP GAME
The Patriots have compiled a 7-2 record in AFC Championship Games.
MOST APPEARANCES IN CONFERENCE CHAMPIONSHIP GAME
Pittsburgh 15
San Francisco 15
Dallas 14
Oakland 11
New England 10
Denver 9
St. Louis Rams 9
PATRIOTS ADVANCE TO THIRD STRAIGHT CONFERENCE CHAMPIONSHIP GAME
The Patriots join the San Francisco 49ers to become the first teams since Philadelphia (2001-04) to go to at least three straight Conference Championships.
TELEVISION: This week's game will be broadcast to a national audience by CBS and can be seen in Boston on WBZ-TV Channel 4.Jim Nantz will handle playby- play duties with Phil Simms providing color. Tracy Wolfson will report from the sidelines. The game will be produced byLance Barrow and directed by Mike Arnold.
UNIVIION RADIO: The game will be broadcast the in Spanish by Univision radio with Raul Stricker, Jr. and Joaquin Duro calling the game.
NATIONAL RADIO: This week's game will be broadcast to a national audience by Westwood One. Kevin Harlan and Dan Fouts will call the game. Tim Ryan will report from the sidelines.
RADIO: 98.5 FM, The Sports Hub (view affiliates), is the flagship station for the Patriots Radio Network. Play-by-play broadcaster Bob Socci will call the action along with former Patriots quarterback Scott Zolak, who will provide color analysis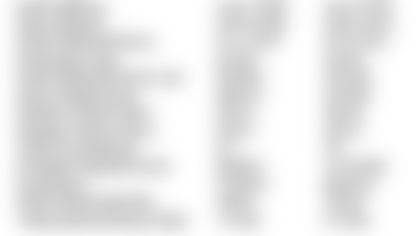 The Patriots and Broncos will meet for the fourth time in the postseason and for the 48th time overall.
The Patriots came back from a 24-point deficit to beat the Broncos, 34-31, in overtime in a Sunday Night Football game in the 2013 regular season meeting on Nov. 24.
The Patriots and Broncos have played three previous times in the postseason, all in the Divisional round, with Denver holding a 2-1 advantage in those games. The Patriots two losses were in Denver in 1986 and 2005 and the one victory was in the 2011 postseason at Gillette Stadium.
Denver leads the all-time regular-season series with a 25-19 advantage.
Of the 47 previous games in the series, 27 have been played in Denver. The Patriots have played more games against the Broncos than any other team that has never been in New England's division. The Patriots are 11-9 all-time against Denver in home games, including 4-2 against Denver at Gillette Stadium.
The history between the teams dates back to the first days of the American Football League in 1960. The Patriots played the Broncos in the inaugural game of each franchise, a 13-10 Denver win on Sept. 9, 1960 at BU Field. The teams squared off twice a year in the decade prior to the AFL-NFL merger, except for 1967 and 1969.
SERIES BREAKDOWN
(Including Playoffs)
Overall Record, 20-27 (Including 1-2 in playoffs)
Record in New England, 11-9
Record in Denver, 9-18 (Including 0-2 in playoffs)
Total Points in the Series, Denver 1,082, Patriots 1,015
Bill Belichick vs. Denver, 7-10 (7-6 with New England)
John Fox vs. New England, 1-6 overall
QUICK HITS
In Belichick's first two wins at Denver (10/1/00 and 11/3/03), he took intentional safeties in the second half to help secure the win.
BRADY VS. DENVER
Tom Brady is 4-5 against the Broncos in the regular season and 1-1 against Denver in the postseason following a 2005 AFC Divisional playoff loss in Denver and the 2011 AFC Divisional victory at Gillette Stadium. Denver is the only team that Brady
BRADY VS. MANNING
Tom Brady and Peyton Manning have had many epic games against each other over the course of their careers. This week's game will be the third Brady-Manning game since Peyton Manning's departure from the Indianapolis Colts and the first in the postseason.
Despite playing in separate divisions following the 2002 NFL division reformatting, the Patriots and the Colts played each other an astounding 15 times since 2001 overall. With the exception of the 2011 regular season matchup—a game which Peyton Manning missed due to a neck injury—and the 2008 regular season game that Tom Brady missed following an ACL tear, Brady and Manning have started at quarterback for their respective teams in every game dating back to Sept. 30, 2001. Sunday's game between the Patriots and the Broncos will mark the 15th time overall that Brady and Manning have started opposite one another.
Although Manning holds a regular season advantage over Brady in touchdowns, yards and completions, the Patriots have won eight of the 11 regular season games in which the two quarterbacks have faced each other.
Brady and Manning have also faced each other three times in the postseason. The Patriots are 2-1 in those three playoff games with Brady posting a better passer rating (81.7) than Manning (61.0).
Broncos Offensive Line Coach Dave Magazu is a native of Taunton, Mass. and attended Taunton High School before graduating from Springfield (Mass.) College, where he was a four-year starter as a defensive tackle on the football team. Magazu also served as the offensive line coach at Boston College from 1999-2002.
Broncos Defensive Backs Coach Corey Undlin worked with the Patriots secondary as a defensive coaching assistant in New England in 2004, earning a Super Bowl ring in his only year with the club.
Broncos Director of Player Personnel Matt Russell served as a pro scout for the Patriots from 2000-01 and an area scout from 2003-2005, winning three Super Bowls during his time in New England in 2001, 2003 and 2004.
Broncos National Scout Adam Peters spent six years (2003-08) in the Patriots personnel department as a scouting assistant, area scout, and pro scout and won two Super Bowls with the club in 2003 and 2004.
Denver Ties
Patriots Head Coach Bill Belichick spent his fourth season in the NFL in Denver as a defensive assistant and assistant special teams coach in 1978.
Patriots Offensive Coordinator Josh McDaniels spent two seasons as head coach of the Broncos from 2009-10. After being hired on Jan. 11, 2009, McDaniels won his first six games in Denver and finished the 2009 campaign with an 8-8 record.
Patriots Special Teams Coach Scott O'Brien spent two years in Denver as Special Teams Coordinator from 2007-2008 before joining the Patriots in 2009.
Patriots Assistant Director of Pro Scouting Dave Ziegler spent the previous three seasons in the Broncos scouting department before joining the Patriots this season.
Patriots T Nate Solder was born in Denver and attended Buena Vista High School in Buena Vista, Colo. before going on to play football at the University of Colorado in Boulder, Colo., about 30 miles northwest of Denver.
Former Patriots
Broncos WR Wes Welker was named to five Pro Bowls during his six seasons in New England from 2007-12. Welker was traded to the Patriots from the Miami Dolphins in the spring of 2007 and put together five seasons of 100-plus catches and 1,000-plus yards. Signed by the Broncos in March 2013, Welker left New England as the Patriots all-time receptions leader with 725.
Broncos CB Tony Carter spent the 2010 season in New England, joining the 53-man roster in Week 15 after spending the first 14 weeks on the practice squad. Carter was active for two of the team's final three games.
Broncos LB Paris Lenon spent the 2009 preseason in New England after being signed by the club on May 27.
Former Broncos
Patriots DT Sealver Siliga was signed to the Broncos practice squad in October 2011 and spent two seasons with the club until August 2013. Siliga was promoted to Denver's active roster for the 2012 season.
Hometown Ties
Broncos S Duke Ihenacho and Patriots QB Tom Brady are both natives of San Mateo, Calif. and both attended Junipero Serra High School in San Mateo. Brady graduated in 1995, while Ihenacho graduated 12 years later in 2007.
Former NFL Teammates
Patriots S Steve Gregory teamed up on defense with Broncos CB Quentin Jammer and Broncos DE Shaun Phillips for six seasons (2006-11) on the San Diego Chargers. Broncos G Louis Vasquez also joined Gregory in San Diego for three seasons (2009-11).
Broncos S Mike Adams was teammates with Patriots DT Isaac Sopoaga for three seasons (2004-06) and DE Andre Carter for two seasons (2004-05) on the San Francisco 49ers.
Former College Teammates
Patriots LB Brandon Spikes was teammates with Broncos WR Andre Caldwell for two seasons (2006-07) at the University of Florida.
Patriots RB Stevan Ridley and Broncos WR Trindon Holliday teamed up on offense for two seasons (2008-2009) at LSU.
Patriots WR Danny Amendola was teammates with Broncos G Manny Ramirez for three seasons (2004-06) at Texas Tech.
Patriots WR Kenbrell Thompkins and Broncos DE Derek Wolfe were teammates during the 2011 season at the University of Cincinnati.
Patriots OL Chris Barker was teammates with Broncos LB Brandon Marshall for three seasons (2009-11) and TE Virgil Green for two seasons (2009-10) at the University of Nevada.
WHAT TO LOOK FOR IN THE 2013 POSTSEASON
With a victory, the Patriots will advance to their eighth Super Bowl, matching Dallas and Pittsburgh for the most Super Bowl appearances.
The Patriots have rushed for 200 yards in their last two games with 267 yards in the regular season-finale vs. Buffalo and 234 yards in the Divisional Playoff win vs. Indianapolis. If they reach 200 yards rushing at Denver it will be the first time they have had a stretch of three straight games with 200 yards rushing since having a stretch of four straight 200-yard games in 1978, the year the Patriots set the NFL record for most rushing yards in a single season with 3,165 yards rushing. It is the Patriots longest standing NFL record.
ROBERT KRAFT
With a win over Denver, Robert Kraft will earn his seventh conference title. Kraft is already the first NFL owner to bring his team to six Super Bowls.
Kraft (21) needs one more postseason win to tie Eddie DeBartalo, Jr. for the fourth-most postseason wins by an ownership group, behind 33 by the Rooney family, 30 by Green Bay and 24 by the Mara family.
BILL BELICHICK
Bill Belichick (19) needs one more postseason victory to move into a first place tie with Tom Landry (20) for most postseason victories.
Belichick needs to earn one more Super Bowl berth to match Don Shula with six.
LEGARRETTE BLOUNT
LeGarrette Blount ran for 166 yards vs. Indianapolis last week, tying Curtis Martin for the most rushing yards in a playoff game in Patriots history. If he runs for 100 yards at Denver, then he will join Laurence Maroney (2007) and Craig James (1985) as the only Patriots with back-to-back 100-yard games in the postseason.
TOM BRADY
Tom Brady will make his 8th start in a Conference Championship game and join Charlie Waters and Jack Reynolds for the most starts in a Conference Championship in NFL history.
Brady (5) needs to play in one more Super Bowl to match DL Mike Lodish, who played in six (four with Buffalo and two with Denver).
Brady needs to start in one more Super Bowl to set the NFL record with six starting assignments. He is tied with Matt Light, Cornelius Bennett, John Elway and Charles Haley with five starts in the Super Bowl.
Brady and John Elway are currently tied with five conference titles and a win over Denver in the Conference Championship will give Brady the most conference championship by a starting quarterback in NFL history.
Brady (42) needs four more postseason touchdowns to move past Joe Montana (45) and Brett Favre (44) for the all-time lead.
STEPHEN GOSTKOWSKI
Stephen Gostkowski (18) needs two more postseason field goals to become just the 11th NFL player to reach 20 field goals in the postseason. He is currently tied for 11th in the NFL with his 18 postseason field goals.
Gostkowski is tied for ninth in NFL history with 95 postseason kicking points and needs five points to become just the seventh NFL player with 100 postseason points.
PATRIOTS IN THE DIVISIONAL ROUND AND CONFERENCE TITLE GAME
The Patriots have compiled a 11-6 all-time record in divisional playoff games, including 8-2 at home and 6-1 at Gillette Stadium. They are 7-2 in the conference title game, including a 4-1 record at home and a 3-1 mark at Gillette Stadium.
ALL-TIME PLAYOFF RESULTS
The Patriots have compiled a 25-17 record in their 42 playoff games and their .595 playoff winning percentage is the fifth best in NFL history among teams that have played at least 15 playoff games. New England has qualified for seven Super Bowls (XX, XXXI, XXXVI, XXXVIII, XXXIX, XLII and XLVI) and one AFL Championship Game in 1963.
PATRIOTS PLAYOFF RECORD BY ROUND
First Round* ............................... 0-1
Wild Card Round ......................... 4-3
Divisional Round ........................ 11-6
AFC Championship ....................... 7-2
AFL Championship ....................... 0-1
Super Bowl ................................. 3-4
Total .................................. 25-17
*-1982 Strike Season
ALL-TIME POSTSEASON WINS BY OWNER
Robert Kraft has 21 career postseasons wins, tied for the fifth most in NFL history.
WINS OWNERSHIP
33 The Rooney Family, Pittsburgh (1933-present)
30 Green Bay Packers, Inc., Green Bay (1919-present)
24 The Mara Family, New York Giants (1925-present)
22 Eddie DeBartalo, Jr., San Francisco (1977-1999)
21 Robert Kraft, New England (1994-present)
21 Al Davis, Oakland/Los Angeles (1972-2011)
BRADY EARNS HIS 11TH DIVISION CHAMPIONSHIP in 2013
Tom Brady added to his NFL record with his 11th division championship in 2013. Peyton Manning has the second most with 10 division titles.
Starting Quarterbacks with the Most Division Titles in NFL History
Quarterback | Career Division Titles
Tom Brady 11
Peyton Manning 10
Joe Montana 9
Brett Favre 8
Terry Bradshaw 7
John Elway 7
20 Clint Murchison, Jr., Dallas (1960-1984)
BELICHICK IN THE POSTSEASON
With the victory over Indianapolis (01/11/14), Bill Belichick collected his 19th playoff win to tie Don Shula for second-most among head coaches in NFL history. Belichick is behind only Tom Landry (20) in career postseason wins.