]()Students at Pleasant View Elementary School in Providence, RI were beaming with pride on April 8 when they were greeted by a special visitor.
They had worked for two weeks on special projects that included decorating the doors of their classrooms, making activity posters and creating a 'wacky' hat to wear on Wacky Hat Day. The activities illustrated the importance of reading and staying active and healthy through the PLAY 60 program.
Students filed into the gym to find Patriots alumnus Patrick Pass waiting to announce the final reading and PLAY 60 contest winners.
Welcomed by teachers Rebecca Kloskars and Julie Brown, Pass greeted the enthusiastic crowd and spoke to students about the importance of reading in his life. He then read the "Let's Go Patriots" children's book to the students, who responded by shouting "Let's Go Patriots" on Pass' cue.
"I want to keep them encouraged to say fit and stay healthy and continue the hard work they," said Pass. "A lot of kids here may want to be football players, doctors or lawyers and being able to read is going to take them a long way toward those goals."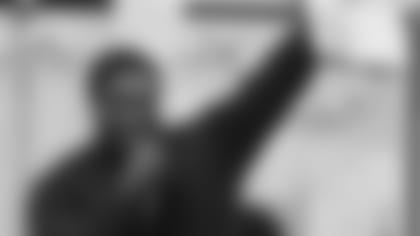 ]()Pass joined interim principal Samuel Greenstein to announce the winners of several contests, including the "Decorate Your Classroom Door" contest. Pass congratulated the winners by awarding them Patriots goodie bags and an autographed "Let's Go Patriots" children's book.
"This has the potential to have a great impact," said Greenstein. "To see a professional athlete come into school and talk about the importance of reading, the importance of staying in school and being physically active, and to do this together is really significant and will leave a lasting impression."
The Patriots sponsor reading initiatives through the team's "Read Between the Lines" program, which features appearances by players who encourage students of all ages to read.