Patriots head coach Bill Belichick's season-ending auditing process typically treats the last game as a final exam.
When competing for or in the playoffs, the final games are high-stakes and often against high-quality opponents, as was the case in Sunday's 35-23 loss to the Bills. This is when the Patriots need to play their best football, but that hasn't been the case in the last two seasons.
"There were other opportunities along the way during the year, not just yesterday, but yesterday was really the – that was our postseason. We weren't able to advance," Belichick told reporters on Monday.
New England lost five of its last seven games and beat one 2022 playoff team without their starting quarterback (Dolphins, Week 17), following a similar script to the 2021 season, where they dropped four of their last five games to sputter out on Wild Card weekend.
The Patriots failed their final exam, but before we head into the 2023 offseason, let's evaluate the 2022 Patriots one last time. Starting with the offense, we are on record stating that Belichick needs to overhaul the coaching staff. However, in his final assessment, Patricia mostly delivered.
For example, this was a genuinely well-scripted recovery from a first-down penalty leading to a touchdown. After a hold on center David Andrews made it first-and-20, Patricia called a well-timed draw that caught the Bills dropping a linebacker out in a coverage rotation (second down). Mac made the correct read against the blitz to set up a fourth-and-one. The Pats actually converted it with an aggressive play-action call. Then, Mac gives DeVante Parker a shot against a man-free blitz, and Parker rewards him. Where has that been all season?
As for the quarterback, Jones did some good things. He continues to make high-level quarterback plays when kept clean in the pocket where he can manipulate coverage, and the offense as a whole produces using play-action. But we'll discuss ceilings with this quarterback all offseason, with the evidence on film of off-platform issues and poor performance under pressure.
After hearing Belichick's comments about his evaluation of Jones in his season-ending press conference on Monday morning, the fear is that the head coach believes the quarterback left too many plays on the field that the coaches schemed up, especially this week. But it's not a one-week season.
The fact that three touchdowns felt like significant progress is telling. If this had happened in Week 13 versus the Bills, maybe we'd sing a different tune about progress. Ultimately, it's too little too late, and we can't ignore the other 16 games because this one had a passing grade for the offensive coaches.
It's also inexplicable that the coaches shied away from dialing up play-action from under center all season long just for Mac to complete all nine of his play-action attempts for 92 yards and a touchdown in Week 18. This season, Jones ranks 30th among 32 qualified quarterbacks in play-action rate (16.7%), a ten percent decrease from his rookie season.
The Patriots need to get on the same page offensively as they head into Mac Jones's third season, where it's paramount that they determine if he's the long-term answer. The preference here is to go all-in on Mac with a new offensive coordinator, but does the head coach agree? It'll be a very telling couple of months in New England.
Here are three more takeaways and quick-hit film notes from the Patriots season-ending loss to the Bills After Further Review:
1. Did the Patriots Defense Gain Any Ground on Bills QB Josh Allen This Season?
The Patriots turned into a zone defense down the stretch and remained in zone against elite quarterbacks, and it's easy to understand their thinking.
According to NextGenStats, the Patriots were in zone 77.8% of the time in their final six games, including two games against the Bills, which is tied for the tenth-highest rate in the NFL.
Seeing a Belichick defense play so many downs in zone is surprising. But with an elite defensive front that got after opposing quarterbacks every week, the disguised zone structures were put in place to let the pass rush eat and limit single coverage exposures for a depleted cornerback room that lacked a shutdown corner in the Gilmore, Revis, Talib, Law mold.
As we turn the page to the offseason, the question is can that be an identity for this defense moving forward, or does Belichick need to target his new Gilmore/Revis/Talib/Law to get back to playing more man-to-man? Maybe use the 14th overall pick on one. Who knows. At the end of the day, defensively, it's all about stopping Josh Allen.
Here are the types of sequences the Patriots want with this formula. In the first play, they ran a disguised cover-two simulated pressures. After starting over the left tackle, Josh Uche drops into the curl window to Allen's left while Kyle Dugger blitzes to the quarterback's right. With the rush closing, Allen has to check the ball down to the back for four yards setting up third down.
On third-and-six, the Pats show cover zero before the snap but fall into cover-two again. By bluffing the all-out blitz, the Pats get one-on-ones for their DTs, and Christian Barmore and Daniel Ekuale go to work to sack Allen before he can step through the pocket to scramble. Buffalo punts.
Although the Pats defense had good reps in zone, the key is marrying the coverage to the pass rush when you face an excellent out-of-structure quarterback like Allen.
The breakdowns for the Pats defense mostly came when Allen extended plays outside the pocket. Above, edge rusher Josh Uche doesn't play the designed rollout well, shooting upfield rather than keeping outside contain. Uche's aggressiveness gives Allen all day to throw, allowing John Brown to break off his initial route to get vertical, and Allen hits him for six. Uche needs to be in position to hurry Allen into a decision so that play doesn't have time to develop, while the defensive backs in the middle of the field need to plaster to Brown when he comes into their zone.
On the 49-yard touchdown to Diggs, Allen finally snuffed out the zero-bluff schemes the Patriots like to run on third down and caught them in a single-high shell rather than split-safety (cover-two). That left Diggs one-on-one with Jon Jones, who played the sticks and got beat on the out-and-up on third-and-ten. There are not many QBs who can make that throw.
To put a percentage on how much closer the Patriots are defensively to winning a game against Allen and the Bills (non-wind impacted), we'd put it at about 60 percent better compared to the 2021 season. They're certainly closer, forcing three takeaways and six punts in the two matchups.
However, Allen's arm talent and big-play ability from out of structure still clearly have the upper hand.
2. Patriots Pass Rush Deserves Credit for a Terrific 2022 Season
The Patriots pass rush had a terrific season with 52 sacks and the second-highest pressure rate in the NFL (40.3%). In Week 18, the Patriots pressured Bills quarterback Josh Allen on 44.4 percent of his drop-backs, and it was nice to see them be more aggressive in how they approached things. Previously, they've sat back and watched Allen throw too often, which was frustrating.
This time, they gave their defensive front opportunities to come after Allen, leading to some big plays for the defense. It led to a few breakdowns, too, as we highlighted above. But against great quarterbacks, you need to go toe-to-toe in the ring.
On Allen's interception before the half, the Pats played a rare down in man coverage with their five-man pressure package, a Belichick staple. Two of their best rushers, Matt Judon and Christian Barmore, team up on a T/E stunt to hit Allen as he throws, leading to the pop fly.
New England had one of its best pass-rushing seasons in franchise history, pressuring opposing quarterbacks every week. They deserve most of the credit for an eight-win campaign.
3. Examining the Breakdowns on Buffalo's Two Kickoff Return Touchdowns
When the Patriots announced their game-day inactives, I wouldn't have guessed that rookie special teamer Brenden Schooler's absence would make such an impact. Well, it did.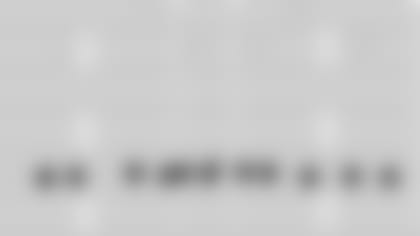 On the opening kickoff that Bills RB Nyheim Hines returned for a touchdown, the Patriots had to shuffle their alignment to Nick Folk's left because Schooler wasn't playing. Above is how they aligned with Schooler in the lineup for the opening kickoff against the Dolphins in Week 17.
Here are the NextGen dots on Hines's first TD. Notice that Schooler, number 41, would typically line up in the exact gap Hines initially hit to take the opening kickoff back to the house.
Along with Schooler's absence, the Pats couldn't get off the initial blocking, especially on the second kickoff return TD. Schooler's replacement, Calvin Munson, also missed a chance at Hines on the opening kickoff, while Myles Bryant bounced off Hines on the second one.
Although you can correlate the poor kickoff coverage to Schooler's injury, the Pats also missed punter and kickoff specialist Jake Bailey throughout his IR stint. Without Bailey, New England managed three touchbacks on 41 kickoff attempts, a brutal touchback rate of 7.3 percent. Bailey's touchback rate was 63.6% before landing on injured reserve.
According to Football Outsiders' Aaron Schatz, the Patriots finished the season with the worst special teams DVOA in the NFL, a Belichick-coached team WORST in special teams. What?
As much as the Patriots need to take a long look at the offense, special teams might've cost them a trip to the playoffs on Sunday.
4. Quick-Hit Film Notes From Patriots-Bills After Further Review
New England might need two OTs heading into next season. Starting at left tackle, it'll be interesting to see how they approach things with Trent Brown. His cap hit is relatively cheap at $7.75M for 2023. But his foot speed is regressing, and there are too many mental errors each week on film. He allowed four hurries vs. the Bills. They need Matt Light redux.
The Pats are fortunate that they found Connor McDermott on the Jets practice squad this late in the year. He filled in admirably, but he's not a starting right tackle. McDermott allowed a QB hit and two hurries. He has issues with body control and getting depth out of his stance to cut off the corner. If he's not cheating outside, he gets beat.
LG Cole Strange finished his rookie season strong, with one hurry allowed in the final two games. His recognition for stunts/twists is improving, he's not off-balance as often in the run game, and he will focus on bulking up in the offseason to improve his anchor. He got better late in the year, which is a good sign. The Pats interior trio is set for 2023, with Kody Russey developing as a potential center of the future.
WR Tyquan Thornton ran a bad route on third down where he should've settled between the zones instead of continuing to run his crosser, which is why he got laid out. But the 13-yard slant he caught looked smooth. The explosiveness is there. Have to figure out a way to get him into space more often next season. It's beyond me why they ask him to crack block at the point of attack. It's not his fault that he's put in that position.
TE Hunter Henry is a pro. His fourth-down route on Edmunds was nice, and he's one of the few guys who seems to go where the QB expects him to be. He struggled in the running game this season but made an excellent reach block on Shaq Lawson to help spring Harris on a long run.
WR DeVante Parker is a useful piece. The only receiver all year long who consistently made plays on the perimeter. Although they can get out of his $6.3M for nothing, I'd keep him around at that number to hopefully supplement an elite receiver coming in.
Some of it might've been on the QB, but the Pats really missed a reliable, heady receiving back. They had more miscommunications than you can count this season where backs were late out of the backfield or not on the same page with their route as the quarterback. Rhamondre Stevenson is great, but it's not his game. With a pocket passer, this team desperately needs to fill that role.
We all love Kendrick Bourne. But these last two games were not helpful for the Bourne Bandwagon after his breakout performance vs. Cincy. Had a bad drop in this one. His future with this team, along with TE Jonnu Smith, is very uncertain.
Pats EDGE Matthew Judon only registered one quarterback pressure, and there's a larger conversation to be had about why he fades down the stretch. But the hurry was a big one, as his wrap on a successful T/E stunt with Christian Barmore produced Devin McCourty's interception before the half.
On the stat sheet, it was a good day for Josh Uche again (six hurries). However, he gave Allen all day on a designed rollout to hit John Brown on the 42-yard TD. Not sure how they were coaching him there, but it happened a few times, and Allen burned him.
Christian Barmore (four hurries) and Daniel Ekuale (sack, two hurries) were a nice interior tandem. Barmore finished strong after an injury-plagued second season with 11 total pressures in his final two games.
The Patriots mainly rely on their defensive line to stop the run in matchups against the Bills, which makes sense, given the threat of the passing attack. They stuffed a QB power run nicely, which is progress. You'll take 4.6 YPC with zero runs over 20 yards when you aren't really playing or game-planning the running game.
If the Pats can't get their hands on a stud corner, they'll need that coveted coverage linebacker to play zone. Bentley and Tavai only gave up a combined 25 yards on four catches in this one, but they need more range and closing speed on check downs.
The Patriots have better slot/safety DBs than Myles Bryant and should upgrade that spot next season. I understand the optics of the John Brown TD with Bryant trailing. Still, that play wasn't on him. It's cover-three. Bryant has curl/flat responsibility, while DMac is the middle hook responsible for taking the weakside crosser. Both players could've shown better awareness, but I put it more on McCourty, who should've plastered to Brown.
Rookie Marcus Jones was their best corner in this game. He showed great awareness in zone multiple times to pick up routes from the other side of the formation and was on top of his verticals. He allowed three catches for 39 yards on five targets. Ideally, he's the starting slot corner next year with Jon Jones back to cover speedy Zs and a true boundary CB guarding top receivers on the perimeter.