...Bills QB Tyrod Taylor's 23-yard scramble on the game's second play nearly didn't happen. Patriots DT Sealver Siliga got great leverage on rookie RG John Miller and drove him into the backfield, forcing Taylor to run to his right. Siliga made a diving effort and just missed Taylor's shoestrings. Had he gotten even a hand on Taylor, DE Rob Ninkovich was bearing down from behind and would have finished the tackle, but Taylor just managed to elude Siliga on the initial tackle attempt and had lots of room to run downfield because his receivers had cleared out a lot of real estate with their deep routes.
...Buffalo's first touchdown also was nearly stuffed by LB Dont'a Hightower. The Bills, from the NE 2 on 1st-and-goal, put Taylor in the shotgun with RB Karlos Williams flanked to his right. They sent receiver Percy Harvin in motion from right to left into the backfield. It's a play that's become very common in the NFL, in which it gives the QB the option of handing off to the motion man, the running back, or to keep it himself and run with the ball or throw it. Hightower read the play correctly as a run and came charging up the middle through the A-gap between the center and right guard. There was a massive hole there, and Hightower filled it nicely. However, he overpursued, seemingly thinking Taylor was going to hand off to the motioning Harvin. Instead, Taylor handed directly to Williams, whom Hightower had just run past. Miller, the right guard, then slid across to seal off Hightower, preventing him from turning and getting his arms on Williams. The area Hightower vacated in the middle of the defense was enormous, and Williams ran to it, into the end zone, untouched for the score. Good recognition of the type of play by Hightower, but he just guessed wrong on which player was going to get the ball.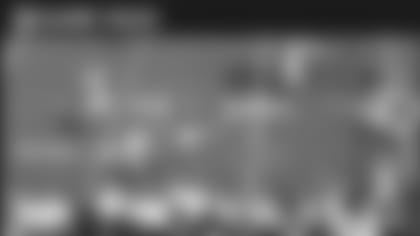 ...On Buffalo's second possession, the Patriots' front seven did a much better job of maintaining their responsibilities up front and closed down running lanes while covering well downfield. The latter actually led to the first of eight sacks by New England on the afternoon. Taylor was flushed out of the pocket to his right by pressure up the middle. A blitzing LB Jamie Collins helped collapse the pocket on Taylor, who scrambled out to the flat. He was given chase by Ninkovich, and the coverage by the Patriots secondary was so tight that Taylor had nowhere to throw. Ninkovich forced him to run out of bounds six yards behind the line of scrimmage, thus getting credit for a sack, even though it wasn't a traditional takedown.
...New England's offensive line continues to work in its rookies on a rotational basis. Sunday in Orchard Park, rookie Shaq Mason started his first NFL game, in his normal left guard position. Veteran Josh Kline, who started there a week earlier, took the right guard spot where rookie Tre' Jackson started in Week 1. Jackson was inserted back at right guard in the second quarter, with Kline moving over to left guard. This is similar to the rotation we saw in Week 1, and it continued back and forth throughout the game. David Andrews, the undrafted rookie from Georgia, again filled in for the injured starter Bryan Stork.
...TE Rob Gronkowski, who once again had a monster day against his hometown team, was flagged for a false start on the Patriots' first touchdown drive. It was a legit call by the officials. Gronk was split wide right and flinched just a half-second before Tom Brady received the shotgun snap. Deserved penalty there on a day when far too many yellow handkerchiefs were being strewn about the field.
...Brady's first of two sacks was not the fault of the o-line. It was rather a result of great coverage in the red zone by the Bills secondary. Brady had plenty of time to throw, and were he a little bit quicker afoot might have been able to get out of the pocket and pick up a few yards on his own. However, when he tried to run, he appeared to give himself up a bit too soon. Brady fell to the ground at the line of scrimmage for a zero-yard sack.
...Brady's first touchdown to Julian Edelman was a beautifully-run pass pattern by the receiver. Edelman was actually double-teamed by LB Nigel Bradham and safety Aaron Williams. From the right slot, Edelman initially fake a slant before darting to Bradham's outside shoulder to run a 10-yard in-cut at the goal line, where Williams was waiting for him. Edelman split the two defenders and spun out of the double-team and turn his in-cut to an out-cut. Brady, flushed out of the pocket to his right, saw Edelman had shed Bradham and was a couple steps in front of Williams. All Brady had to do was toss a soft pass to Edelman and it was an easy score. Well done by Edelman to elude both defenders and get open for his QB.
...Collins got the second sack of Taylor, and it was very nearly a safety. New England was rushing just three d-linemen - Chandler Jones, Ninkovich, and Jabaal Sheard. Collins assisted them as the middle linebacker. Center Eric Wood at first engaged Collins, but then decided to help Miller double-team Jones. Left guard Ritchie Incognito should have stayed put to occupy Collins, but he slid to his left to give LT Cordy Glenn assistance with Sheard. That left Collins free to charge through the gap and take Taylor down just shy of the goal line.
...Second Patriots touchdown of the day was a thing of beauty, not only by RB Dion Lewis and his shifty quickness, but also by Gronkowski and his underrated run-blocking ability. From under center, Brady took the snap and turned to hand off to Lewis, whose original read was to go between the tackles. Gronkowski, lined up in a three-point stance next to RT Sebastian Vollmer, got a nice kickout block on DE Mario Williams. In textbook fashion, Gronk turned Williams' body so that the defender's back was to the sideline. Gronk's back was to Vollmer, creating a nice hole between the two Patriots. Lewis spotted that hole and jump-stepped into it. Meanwhile, TE Scott Chandler, who had also been in a three-point stance to Gronk's right, came shooting across in front of Gronk and Vollmer to take out Aaron Williams, the safety, who was in position to step into the hole and make a play on Lewis. But Lewis had a head of steam and eluded safety Corey Graham before bowling over CB Ronald Darby at the goal line. Fantastic execution by everyone on that side of the football for New England.
2nd Quarter
...On Malcolm Butler's interception, it looked as if Taylor originally wanted to throw the ball to RB LeSean McCoy coming out of the backfield to the left. However, Collins, again in the middle linebacker position, shadowed McCoy, so Taylor elected to check to his right. TE Charles Clay was his intended target, but the pass was high and ricocheted off Clay's hands. Butler was about 10 yards further upfield covering another receiver, but he made an alert and athletic play to dive for the ball just before it hit the turf. Give credit to Collins, though, for forcing Taylor to look to his alternate read, or the INT might never have occurred.
...Gronk's lone TD of the day was brilliantly designed and executed. It came out of a "heavy" package on 2nd-and-goal from the Buffalo 2. New England sent all four of its tight ends on the field along with RB LeGarrette Blount. Michael Hoomanawanui and Michael Williams were, at first, in three-point stances to the right of the tight o-line formation; Gronk was in that same position to the left; Chandler was the fullback in front of Blount. When Brady got under center, Hooman and Gronk flared out to the flanks, while Chandler moved to the left slot alongside Gronkowski. Brady took the snap and dropped straight back, never once intending to hand off or fake a handoff to Blount. Gronkowski had CB Stephon Gilmore guarding him at the line. He released to Gilmore's inside shoulder, then feinted like he was going to turn to the back corner pylon. Instead, Gronk cut sharply inside along the back of the end zone and easily separated from Gilmore. Brady fired and made the easy connection for the score. The formation and adjustment were similar to what the Patriots did in short-yardage a week earlier against the Steelers, with Gronk running different patterns out of that same look.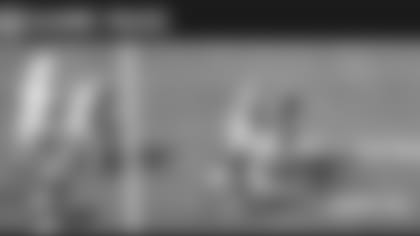 ...The first of Chandler Jones' three sacks Sunday was a testament to the entire front seven doing its collective job against Taylor. New England was pressuring Taylor with six rushers, and Collins was once again blitzing, this time from the B-gap. McCoy skillfully picked up the blitz and neutralized Collins, but Jones was bearing down on Taylor with a good bull rush on Glenn, the left tackle. Taylor panicked and stepped up in the pocket, moving to his right. Sheard and Ninkovich were there waiting for him, and as Taylor tried to run around them, Jones had shaken free from Glenn and was able to corral Taylor from behind for an 8-yard sack. Nice effort all around by the front seven.
...For the second straight game, Lewis has fumbled. He got lucky in Week 1 when Gronk recovered the loose ball, but wasn't so fortunate against Buffalo. LB Preston Brown did a nice job of using fundamentals to come in from Lewis' right side and strip the ball cleanly from Lewis' grasp. Lewis might have held on had he used both hands to cover the ball as he ran into a group of players on the screen play, but while he was attempting to do so, he chose at the last moment to keep just one arm around the ball. Brown took advantage and swiped at that arm and jarred the ball loose.
...Buffalo's second touchdown actually started with great coverage and pressure by the Patriots. With 1st-and-goal from the 9, he play-faked to the left before wheeling around to the right. DT Alan Branch didn't fall for the fake, though, and chased Taylor from the middle of the line. Ninkovich and LB Jerod Mayo were in contain on that side, leaving Taylor little room to run. Mayo was supposed to cover Clay at the snap, but when he saw Clay in pass protection, not running a route as a receiver, he went to assist Ninkovich in the flat. This left Clay open when the tight end turned and saw his QB in trouble. With no one guarding him, Clay was an obvious target and Taylor spotted him in the middle of the field. Safety Patrick Chung was late in coming in to pick up Mayo's slack and Clay scored on what looked like a busted play.
...Nice individual effort by Jones on his second sack. He just put a great move inside swim move on Glenn and dropped Taylor for a 7-yard loss.
3rd Quarter
...Andrews was correctly penalized for a holding infraction on a Lewis running play at the start of the quarter. Andrews whiffed on his initial block and grabbed Bills d-tackle Stefan Charles by the leg to slow him down as he burst into the backfield. Andrews then appeared to flinch backward just a bit, two plays later, before the snap while he and his o-line mates were set. Andrews drew a false start penalty and it was warranted upon further inspection.
...Edelman's second TD of the day started out as a play-action fake to Lewis. Edelman was lined up tight to the outside right, and nonchalantly began the play running a half-speed crossing route. The Bills defense let him go free because they bit on Brady's play fake to Lewis. Brady then whipped around and saw his receiver racing to a huge patch of green to the left. Edelman made the catch, turned upfield, and hit the afterburners. He outraced Aaron Williams to the pylon by leaping for it and reaching the football just inside it for the score. Williams also dove with Edelman to try to bring him down, but as Williams wrapped up Edelman by the legs, he severely injured his neck and had to be taken away via ambulance. However, it was reported after the game that he had been released from the hospital and appeared to avoid anything drastically wrong, thankfully.
...Three straight sacks for the Patriots defense came late in this quarter. First, DT Alan Branch was bull-rushing Miller, the rookie right guard, and got into the backfield but appeared to be muscled out of the way of Taylor by Miller. However, Branch reached his left arm around to knock the ball out of an unsuspecting Taylor's hands. The QB fell on the ball and Sheard came in to pounce on Taylor to ensure the sack was recorded.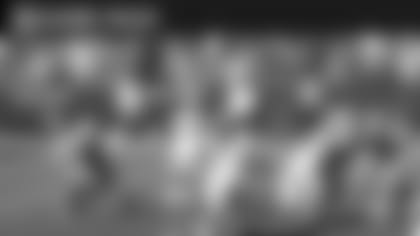 ...Collins got the next one on yet another blitz by him from Taylor's left side. He was left unblocked and got straight through, knocking the ball again from Taylor's grasp around the Bills 5-yard line, but an alert McCoy picked up the ball and gaining 14 yards.
...Jones got a bit lucky on his third sack when Taylor lost his footing while backpedaling in the pocket. To his credit, Jones was in position to fall on Taylor by virtue of having driven Glenn backwards and almost into the quarterback. So, he certainly deserves a measure of credit individually for making the play happen.
4th Quarter
...Hightower and Collins combined for a late sack in the 4th. The blitz was coming again, only this time, it looked like the front was setting up Chung for a delayed safety blitz up the middle. The Bills o-line initially was able to neutralize the four Patriots who pressured the line, but when Chung arrived, the line was confused and Hightower was left alone for a moment, which he exploited by diving for Taylor. Hightower didn't quite wrap him up the first time, but when he came back around, Collins had broken free of his man as well and the two of them brought Taylor down.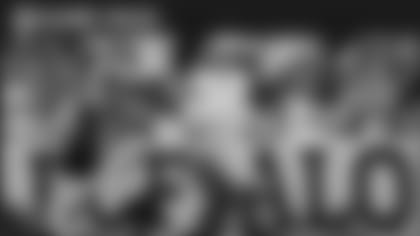 ...Taylor threw a touchdown several plays later when his initial read to the left was covered and he scrambled to his right out of the pocket. Butler found himself half-covering both Harvin and WR Robert Woods down the right sideline. Butler couldn't commit to one player or the other because he didn't have help, except for safety Devin McCourty deep in the secondary. When Taylor chose to throw to the slot guy, Woods, Butler raced inside to try to make a last-ditch leaping effort to knock the pass down. He was just inches away from doing so, but he mistimed his jump and the ball made it just barely over his outstretched arms. McCourty couldn't get to Woods in time and the receiver hauled in the pass for a score. Seemed like someone else should have been out there helping cover either Woods or Harvin more closely instead of leaving Butler exposed and outmanned.
...New England's second failed 4th-down conversion attempt was much closer to succeeding than the first. The Patriots came out with another "heavy" personnel package. Blount was the deep ball carrier, Gronk and Michael Williams the tight ends in three-point stances to the right of Vollmer. Edelman was the lone receiver, lined up tight to the left next to Solder. Mason was in the game as Blount's fullback, with Jackson at right guard and Kline at left. Both tight ends released into pass patterns at the snap, as did Edelman. Brady faked the handoff to Blount and Edelman simply ran a fly route past Gilmore. Edelman had a full yard of separation, but Brady's pass was just overthrown and Edelman's diving effort came up empty inside the 10.
...The Patriots seemed to ease up a bit on their pressure once they'd built a 24-point lead on the Bills, but Taylor and company took advantage and kept fighting. Taylor's 7-yard scramble up the middle for a touchdown with 5 minutes to go came out of an empty-backfield shotgun. Taylor had trips right and two receivers left. New England had to cover them all and rushed just three lineman. Taylor just took off on what may have been a designed run to catch the Patriots looking behind them and not at Taylor. He ran into the end zone standing up. Tough to defend a play like that in that part of the field, and Taylor ran it very well.
...Harvin slipped on the ensuing 2-point conversion (after dropping an earlier one) or else this game might have been even closer.
....Bills got the ball back two plays later. From the shotgun, Brady took the snap, but DE Jerry Hughes timed it perfectly, getting a split-second head start on Solder. The left tackle dove at Hughes' legs, but didn't do so cleanly and Hughes managed to keep his feet and get behind Brady, who didn't see or feel the pressure to his backside. Hughes karate-chopped Brady's throwing arm and the ball popped out.
...The final Bills TD was just a poor effort by CB Bradley Fletcher on WR Sammy Watkins. Fletcher was playing tight on Watkins at the line of scrimmage, but didn't even get a hand on him to jam him or alter his route at all. Watkins' release was textbook, with a slight head feint to the outside before cutting inside and streaking down the numbers. Taylor hit him in stride with a great pass over the head of the trailing Fletcher.
...Maybe the play of the day was made by WR Danny Amendola on the Patriots' game clinching final scoring drive. Running down the numbers, looking back into the setting sun, he made a diving, twisting catch on a slightly overthrown ball by Brady to keep put New England in scoring position at the Bills' 17. Phenomenal individual athletic effort by Amendola, who had CB Nickell Robey draped all over him. Outstanding.
...Kudos also to CB Logan Ryan for coming up with a tip-ball-drill-style INT to seal the win. Taylor threw another high ball intended for Watkins deep down the middle of the field. Again the ball tipped off the target's fingers, and Ryan was in position not only to see it and react, but also to make a great individual diving play to catch it before the ball hit the ground.
...Good day for WR Aaron Dobson. Perhaps his best as a Patriot. He showed sure hands and a confidence that had been heretofore lacking. Dobson would have been a perfect 8-for-8 on the afternoon were it not for a pass thrown slightly behind him by Brady in the third quarter. Overall, though, this was easily Dobson's strongest, most complete performance as a pro.
...Once again, I was impressed with how well the young interior o-line did in pass protection for Brady. Even more so than Week 1, because Buffalo's defensive line is one of the biggest and most powerful in the NFL. They're gaining some valuable experience under fire in these early games.