Last July, on the first day of Patriots training camp, something was wrong with David Andrews. New England's starting center and a team co-captain experienced chest pains, trouble breathing, and coughing up blood. Chalking it up to just an illness, he kept practicing. For a while. Until it became unbearable. So, he went to the hospital and wound up staying for five days.
Throughout that time, he recalls feeling like a guinea pig as he underwent test after test after test before his doctors finally diagnosed him with blood clots in his lungs.
"I kind of laughed about it," Andrews reveals with a wry grin. "Seems like I can't have a traditional football injury."
Three seasons earlier, while the Patriots were spending a week in the altitude of the Colorado Rockies in preparation for a trip to Mexico City, Andrews came down with another, apparently unrelated malady that forced the team to send him back to New England prematurely.
"Just two crazy, unfortunate things. Weird, I guess," Andrews continues. "I like to keep doctors on their toes, you know?"
He can joke about his condition now, because the Georgia native and six-year veteran, who'll turn 28 in July, has been cleared by his doctors to play football once more. He made the news official with a social media post on Day 1 of last week's 2020 NFL Draft.
A few days later, on Monday, April 27, the start of New England's virtual offseason workout program, Andrews took a few moments to reflect on a 2019 season that initially put his NFL career in serious jeopardy. He admits to being nervous about the prospect.
"Yeah, especially early on," he adds, "just because there was so much unknown about it. Hearing doctors talk sometimes is a little unsettling, because they're trying to check all their boxes, and I'm just looking for a straight yes or no [answer]. As a player, it frustrates you, but they're doing the right thing. There were definitely times when we just didn't know, especially when I was in the hospital, [asking] 'Where did this come from? Cancer?' That kind of stuff."
Andrews did not indicate if his doctors ever determined exactly how he came down with the clots, or if there's any risk of a relapse in the future. However, what's clear is that he's back to feeling like his old self after several months that compelled Andrews to make a difficult life transition.
Following his diagnosis at the end of last August, Andrews was prescribed blood-thinning medication, the effects of which preclude a patient from engaging in rigorous physical activity, like playing professional football, or even lifting heavy weights. As a result, the Patriots placed Andrews on their Injured Reserve list.
Incapable of sitting around at home, the conscientious center kept showing up at Gillette Stadium every day, as normal, to do whatever he was allowed, which was reduced to attending meetings and observing practice sessions from the sideline.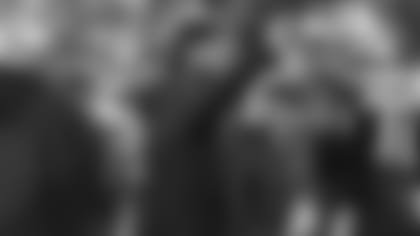 A week after being discharged from the hospital, he took his first steps – quite literally – toward recovery.
"Walking up stairs was pretty taxing to some extent," he acknowledges. "I started going for a walk before practice. We usually have an hour or so to get ready for practice. Obviously, I didn't have much to get ready for, so, I would usually eat lunch and take a mile walk, or just start trying to walk a mile."
As the 2019 regular progressed, Andrews' relative inactivity caused this 6-foot-3, normally 300-pound professional athlete to lose a considerable amount of weight. Yet, at the same time, he began noticing improvement, however incremental, in his medical condition. Andrews altered his diet to avoid putting on what he called "bad weight" when he started doing more physical activities later in the regular season.
'It took a while to build it, my strength included," he continues. "Had to rebuild my body from the ground up, get back to my playing weight."
By January, he felt as if he could play football again, but he still needed clearance from medical professionals. That involved a number of doctors visits, which Andrews is thankful happened just before the coronavirus pandemic turned the medical world's attention away from most elective appointments and procedures.
"Feel great now and ready to go," he declares. "I've felt good for a long while, moving through January and February, feeling really hopeful. I've been able to do a lot of stuff, physically, workout-wise. Normal stuff I'd usually do. My lungs or heart were not affected in any way.   
"I'm going to participate in everything I can [this virtual offseason]. We're fortunate with technology that we're able to do things like this, sit in meetings, and see people."
On the same day Andrews spoke about his eagerness to resume his football career, we learned that his neighbor of two years, fullback James Develin, would be ending his as a result of a neck injury suffered last September in Miami.
The two teammates bonded further during their forced hiatus last season, when they frequently went running together to keep up their conditioning. Develin, a 2017 Pro Bowler and three-time Super Bowl winner with New England, impressed Andrews by making it to the NFL after a career as an Ivy League defensive lineman-turned-professional fullback, with early stops in the Arena Football League and now-defunct United Football League.
"Oh, man, J.D. was such a … one of the hardest-working guys we had, one of the toughest guys we had, one of the best teammates I've ever been around," Andrews gushed. "He's one of a kind. What a career. What a story."
In the meantime, when it comes to his own health, Andrews can finally breathe a sigh of relief. Once an undrafted rookie who became a Patriots co-captain and two-time Super Bowl Champion, he's anxious to add to his own remarkable story's next chapter here in Foxborough.