Patriots Chairman and CEO Robert Kraft spreads holiday cheer with almost 250 children during this year's holiday party.


What present comes wrapped and weighs 325 pounds? To the 250 children at Gillette stadium on Tuesday, December 14 it was Vince Wilfork. The defensive lineman was one of several Patriots players covered in wrapping paper and bows during the popular Wrap-a-Pat game at the 17th Annual New England Patriots Charitable Foundation Community Holiday Party.
Patriots Chairman and CEO Robert Kraft, Wilfork, LB Jerod Mayo, S Brandon Meriweather, WR Deion Branch, RB Sammy Morris, TE Rob Gronkowski, LB Gary Guyton, P Zoltan Mesko, WR Matt Slater, LB Dane Fletcher, K Shayne Graham, Pat Patriot and Patriots cheerleaders joined children in need from Salvation Army programs and 10 community centers throughout Massachusetts and Rhode Island for a unique night full of holiday fun, food, games and gifts.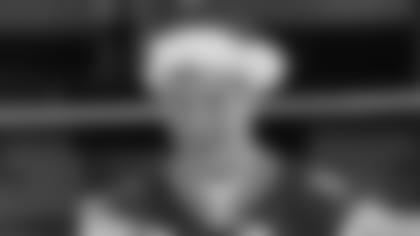 ]()During dinner players visited each table meeting youth and signing autographs. "I will not be the first to drop the pizza!" said Mayo as he served the children their dinner donated by Papa Gino's.
"Seeing kids come with wide-eyes, looking at the players and Santa, is a pretty special moment," said Kraft. "Especially in these economic times, to see how excited these kids are, it's nice that we are in a position to help bring holiday cheer."
Following dinner, the much-anticipated game time with Patriots players filled the room with competition, cheering and declared champions. The highlight of the evening was Wrap-A-Pat, where children raced to wrap and decorate players head to toe with wrapping paper, tape and bows.
"Coming out here and seeing these kids smiling is a really good thing for me," said Guyton. "I absolutely love doing this."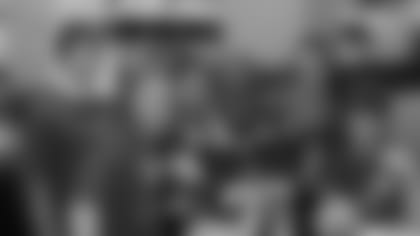 ]()"These 200 plus kids who come here and experience being able to meet the Patriots and Mr. Kraft is wonderful," said Major William Bode, Salvation Army Divisional and State Commander. "I've talked to a lot of them and asked 'Have you ever been here before?' and they said 'No, I didn't ever think I'd ever be here.' So this is exciting for them."
Each child that attended received, gifts passed out by Pat Patriot, that included winter hats, toys and t-shirts compliments of the New England Patriots Charitable Foundation as well as teddy bears donated by the Four Season Hotel in Boston.
As children left with arms full of gifts and memories to last a lifetime, the holiday spirit had officially arrived in Foxborough.