The Taste of the NFL brought out the best food from each football city, celebrity chefs and famous figures for a cause: kicking hunger. Before the event, the stars in attendance hit the red carpet, and that's where Lifestyle caught up with Olympian and Patriots fan Aly Raisman. 
The gymnast is attending the Super Bowl for the first time with her family and said they were all excited for the game.
"My dad has been a Patriots fan for his whole life, so from the moment I was born I knew about them. It's very exciting. They're amazing; I think that goes without saying," Aly said.
Simone Biles also attended the Taste of the NFL, and though Simone is a Texans fan, Aly said it didn't take much to convert her to a Patriots fan for this one game. 
"She's rooting for the Patriots because I told her she has to," Aly said with a laugh. "[She] and I are very close, and Gabby [Douglas] is a big Patriots fan as well. She's always been. So I think she just did what we were doing because we were both fans so she was like I might as well cheer them on too."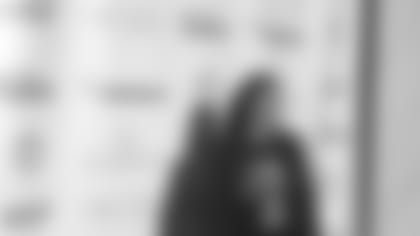 Aly wasn't the only star talking football on the red carpet. Celebrity Chef Alex Guarnaschelli said even though she loves a good underdog story in the Atlanta Falcons, she has deep roots in New England and respects the Patriots organization fiercely. 
"I think that Tom Brady is unbelievable, and I think that Bill Belichick is unbelievable. The powerhouse of talent, it gives me chills when I see them take the field. It really does," Alex said. "The relationships, the way they work, the collaboration, the diligence, the hard work -- it's undeniable."