In many ways, expectations were met.
Aqib Talib, the talented cornerback for whom New England traded, started at the premier spot – left corner – in his Patriots debut, as many thought he would. He also not only picked off a pass, which some predicted he might, he even took it 59 yards – in dazzling, dizzying fashion – for a score.
This is the same Talib who's been on the shelf the past month while serving a league-imposed suspension.
And at times it showed, as you might expect.
Talib was also involved in two other scores – both for the Colts. He was guarding rookie receiver T.Y. Hilton on both of Hilton's touchdown receptions: a 14-yarder in the first quarter and a 43-yard pass in the fourth.
"On the short one, just got undercut at the goal line, I just didn't play good technique," Talib explained. "I let him get wide of me to get back inside. The other one, I had my eyes in the wrong spot. My eyes were exactly where they shouldn't be – on the quarterback. I watched him throw a touchdown. Got to get a lot better."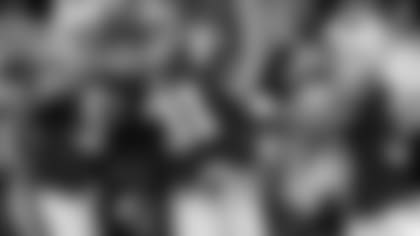 He finished with seven tackles and a pass defensed, plus the pick-six, but Talib described his Patriots debut several times as "all right."
"I felt pretty good. Just have to get in a little better game shape, get my eyes in the right spots, I think I'll be all right… A little sloppy. My feet were everywhere, but it'll get better as I get in a little better shape. It's been a while, but… quick transition. That's what they pay me for.
"You go sit down for five or six weeks, then come out and have a game in a week, you're not going to be your ordinary self. As I put the pads on, practice, play more games, I think I'll be all right."
Talib, who has succeeded in his previous NFL seasons playing tight man-to-man coverage, was thought to be the kind of player who might impact the way the Patriots play defense. Heretofore, New England would mostly rush its four defensive linemen and drop the back seven into a zone. The thinking was that Talib's presence might allow the Patriots to take more chances, blitz more, and play more aggressively overall as a secondary.
At times against Indianapolis, that's what we saw.
And even though Talib is a potential "shut-down" corner, Colts rookie QB Andrew Luck wasn't afraid to try his luck by throwing at the veteran – as Talib himself said he expected.
"Yeah, I play corner, man," he laughed.
"He was a good quarterback. He ran the offense as he was supposed to. He missed a couple of throws, but he made a lot of throws. Andrew Luck's going to be a good player in this league."
While Talib was graciously crediting his opponent, he new teammates were busy lauding him for his initial effort.
"Talib has come in and done a great job for us. I think that he's a playmaker. He's out there making plays and scoring," defensive end Rob Ninkovich noted, coming from someone who's made some plays of his own this season (including a strip-sac/fumble recovery of Luck).
"I think that's something that you love to have on defense – a guy that you know when he touches the ball, something is going to happen; something great is going to happen," Ninkovich continued. "So, I was happy that he was able to come in for his first game, make an impact and score."
"Oh yeah, that's a big spark," echoed defensive back/co-captain Devin McCourty, who continued playing safety while Talib manned McCourty's usual left corner spot.
"Anytime we get a turnover or a takeaway, it really gets the defense going, it gets the team going. But when you can turn it into points, it kind of gives you momentum and leads you into getting another defensive stop, offense going down there and scoring another touchdown. I think Aqib did a good job of just, once he got the ball in his hands, finding the end zone."
That play seemed to settle the defense down. They only allowed 10 more points from then on.
Still, Talib was in managing-expectations mode after the game.
"We had a good week of practice, man. We put a lot of emphasis on playing fast and communication. We could have done better today, gave up some stuff, but I feel like it was all right. Could get a lot better, though."
For a player who's had his troubles off the field – in his personal life and even with teammates in Tampa Bay – being traded to New England must be seen as a welcome change of scenery.
Talib admitted as much when his name was announced over the public address system at Gillette Stadium for the first time.
"When they said my name at the beginning, I got a pretty good welcome [from the fans]. Made me feel pretty good. Maybe a little more excited than I already was," he conceded with a grin.
"We won the game," he concluded, "and I had a lot of fun out there."