Two questions, Brandon Bolden seemed to be on the field more than Stevan Ridley and LeGarrette Blount against the Bucs, does that mean he's going to be the starter at least for now? And who do you think the offense views as a better target out of Aaron Dobson and Kenbrell Thompkins?**
Daniel Greenwood
I don't think the Bucs game is any indication that Bolden will emerge as the lead back. Ridley still got the majority of the carries early in the game and Blount closed it out against his former team. Bolden only got three carries and was his involvement in the game plan likely was more due to his ability to catch the ball rather than anything else. He's the best receiver of the current group (Shane Vereen and Leon Washington were out) and clearly the coaches wanted to get the back involved in the passing game. But I wouldn't make any assumptions moving forward. If the game plan calls for a similar course of action, Bolden will likely be leaned on again. But it just as easily could call for a heavy dose of between-the-tackles running and Ridley will be back in the spotlight.
As for the receivers, I believe Dobson is more of a possession guy and therefore will get more opportunities than Thompkins, but both should see their fair share of passes. It looks like Dobson is more adept at getting across the middle while Thompkins is best suited outside, although each has worked in the opposite manner as well. In terms of catches I'd say Dobson will finish with more, but Thompkins may wind up being more productive in terms of yards and touchdowns.
Paul Perillo
In his remarks on the radio, Tom Brady said that on the interception play he assumed that Julian Edelman and Kenbrell Thompkins would be covered and he went for Zach Sudfeld who ended up to be covered. That tells me that either Brady did not have time to survey the field or he makes predetermined decisions, which for quarterback of his caliber and experience are surprising or is it?
Frank G.
Well first you're confusing two plays. The one he threw toward a covered Sudfeld came in the first half when Edelman and Thompkins had both broken into the clear for would-be touchdowns. Brady said he was expecting a different coverage and therefore assumed things would play out differently. The end zone pick (which was incorrectly reported as having been intended for Sudfeld) was actually a poor throw for Aaron Dobson in the back of the end zone. Brady said he didn't wait long enough for Dobson to clear and rushed the throw. Brady surveys the field as well as any quarterback and therefore does not simply make pre-determined reads. He does understand coverages and reacts to what he sees, as any good quarterback would, and on the first play he clearly had his attention in a different area than deep down the field where his two wideouts had broken free. Certainly that was a play Brady would like to have back.
Paul Perillo
!I have a trade proposal that I was thinking about yesterday while watching football. I heard that after unloading Trent Richardson, the Browns are rumored to have Josh Gordon on the trading block. Now, I know Rob Chudzinski said that they don't plan on trading him, but he doesn't have Bill Belichick-like power over the roster. I know that Mike Lombardi has always been a big fan of Ryan Mallett, so I was thinking of a trade of Ryan Mallett and maybe a later-round pick for Josh Gordon. I know we have a lot of young receivers, but why not bring in another? What do you guys think? I wouldn't mind a guy who can reel in 10 catches and 146 yards from an undrafted, first-time-starting QB.
David Hessel
Lots of problems with this scenario. First, who backs up Brady if you trade Mallett? Second, what happens if Gordon fails yet another drug test and is suspended for a year, which is what he's facing if he screws up again? Gordon had a big game against Minnesota for sure but I'd rather either wait it out with the young receivers or invest in a proven veteran who could be relied on. Gordon has talent but would scare me to death given his track record. Even after his latest suspension for drugs, which came in June, he incurred a speeding violation for reportedly traveling 98 miles per hour during training camp. And just for the record, Hoyer started last year for Arizona, although your point regarding Gordon's performance with an inexperienced quarterback remains valid. I just wouldn't want to take on the Gordon risk.
Paul Perillo
So far, Tom Brady and Zach Sudfeld haven't produced well. Do you think Brady will just target Michael Hoomanawanui more, or will he try harder to integrate Sudfeld into the offense? Why hasn't Josh Boyce been targeted more? Does he have trouble getting open or catching the ball?
Michael LoRocco
Sudfeld is a nice story following a hard-luck college career at Nevada. He spent six years there due to various injuries and had only one really productive season for the Wolfpack. Then during the summer as an undrafted free agent, Sudfeld took advantage of the opportunities he received due to the Patriots health problems at tight end and he caught everything in sight. Thus far during the season he's found it much more difficult to find openings. He hasn't really broken free on any of the few targets he's received and failed to catch a ball in the first three games (he missed the Jets game with a hamstring injury). I wasn't expecting Sudfeld to be a big part of the passing game, especially early on as he adjusts to the intensity of the regular season. Hooman at this point is the more reliable options, and Rob Gronkowski will obviously be a huge part of the offense as well.
Boyce hasn't had many chances yet and I'm not sure why. He has the speed to get open and even though his hands seemed a bit shaky in the summer he did improve in that regard as camp and the preseason progressed. Hopefully we see a bigger role for him moving forward.
Paul Perillo
The last time Patriots were 3-0 was in 2007 and nobody on that team was celebrating then or even when they were 13-0, and this team after beating three utterly inept teams keep talking how happy and proud they are to be 3-0. Why is BB allowing and even contributing to this happy-and-proud mindset, which we have not seen from him or his other winning teams unless they won it all?
Stan C.
Like Belichick often says, every team is different. In 2007 the Patriots were far and away the most talented team in the league. They were a veteran-laden bunch that understood that winning was expected. Therefore, their approach was quite businesslike and that was also true of several other Patriots team. The current version is littered with young and inexperienced players. It has 14 rookies and very few veterans who have experienced a tremendous amount of success as pros. And winning against anyone in the NFL is difficult, so finding a way to win games with so many young players is worth getting excited about. By no means is anyone satisfied but I don't see anything wrong with enjoying the wins.
Paul Perillo
Given reports that the concern is with Gronk's forearm, rather than the back, what exactly is the issue some 4-5 months after the last surgery on it? Is it lingering discomfort/pain, is it the strength of the forearm, is it concern about it holding up in in-line blocking?
Tony D.
I am not privy to the information that led to that report so I cannot say for sure what the specific problem with the arm is. But my assumption would be all of the above, and most certainly building the strength back. Gronk dealt with a nasty infection that prevented him from lifting weights virtually the entire offseason. For the arm to be lacking at this point would make sense. The question would be, will it prevent him from getting back on the field? Only time will tell.
Paul Perillo
Hello from Israel. How many wins will be enough to get in to the playoffs? I think that 11 wins might not be enough, the wild card battle should be really tough, each division has two good(?) teams, NE-MIAMI, DENVER-KC, COLTS-HOU, BAL-CINC. Your thoughts?
Guy Hilli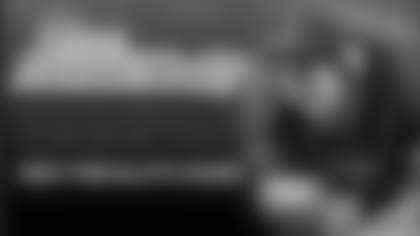 ](/fan-zone/patriots-football-weekly.html) It's way too early to start projecting how many wins it would take to secure a playoff spot, but I would be stunned if 11 didn't get the job done. I am not ready to anoint Kansas City or Miami as "good" just yet. Both are off to solid starts but there's a long way to go. And even if both remain competitive and in the race, I don't see 11 wins not being enough to earn at least a wild card. Just for the sake of answering your question, I'll say one of the wild card teams will win 10 games.
Paul Perillo
I don't usually respond to flamboyant media nonsense, but how can you cry about Dont'a Hightower's production thus far? He's been in the field for the vast majority of snaps this year and has yet to be responsible for a big play, a bad touchdown or any significant missed tackles. What do you expect out of a second-year LB playing in a complicated defense that has been in nickel most of the season? Pathetic.
Todd Bergenty
Wow, some hostility there. Usually when I get ripped I have a good idea why, but I'm not sure I see it in this case. Hightower has been fine, nothing great and nothing awful. He's a solid three-down linebacker and has shown the ability to help out in coverage while contributing against the run. I have been a bit critical of him at times because I thought he was capable of being a game-changing type player – one who could rush the passer, disrupt tight ends and running backs in coverage and basically do everything. I haven't seen that yet but he has been solid, as I stated. By no means would I say he's not playing well – to the contrary he's done his job.
Paul Perillo