A friend & I were discussing the possible pluses with the swap of Revis for Talib in the backfield such as durability and familiarity with our AFC opponents. He brought up that the Pats should end up with a high compensation draft pick for Talib. That Revis will not count against the formula since he was cut by Tampa Bay. Is that correct? If so, based on what I've gleamed from the system we could expect at least a 5th round pick next year!**
Dennis Hanson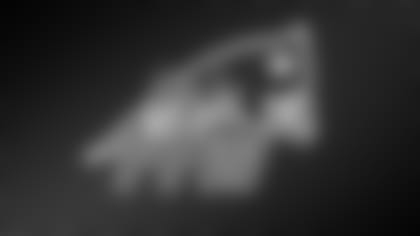 You are correct that Talib will warrant a significant draft pick in compensation and that some of New England's signings such as Revis and Will Smith will not as they were cut and not simply unrestricted free agents. My guess, and I haven't nearly mastered the compensatory pick formula over the years, is that they will get at least a fifth-round pick and likely higher than that.
Andy Hart
Hi. Why didn't the Pats give Kevin Williams a sniff? Do you think we should consider Brandon Flowers at the right price? (GO PATS!) Best Regards.
David Segarra
Glendale, N.Y.
The Patriots did "sniff" Williams, hosting him in Foxborough for a visit. According to reports, New England actually offered the veteran more potential money than he received in Seattle. So there was apparently legitimate interest. As for Flowers, I'd certainly be interested at the right price. You can never have enough corners. But given that he was a Pro Bowl talent in just 2013, and the Patriots have already added to veteran cornerbacks this offseason, I don't really see a likely marriage with Flowers.
Andy Hart
I hear often about how the wide receivers will improve from having to go up against Revis and Browner every day. Do you think Garoppolo will be able to improve a lot also or do you think he will not get to throw against them often in practice?**
Jacob Mattson
Having good talent on defense will help the entirety of the New England offense on the practice field, certainly the quarterbacks. Garoppolo may not get quite as many reps against the top defensive backs as Tom Brady, or even Ryan Mallett, but he'll get his share throughout drills and scrimmage action. He'll see elite coverage ability in Revis, elite size and physical play in Browner and veteran tricks from both guys. How much that will help the young quarterback's development is certainly up for debate, but it can't hurt.
Andy Hart
Hey guys I have a few questions following the teams OTAs. First I've read conflicting reports about how Kenbrell Thompkins had performed. Some say he looked great like he did last year around this time. And others have said he had dropped and bobbled some passes. How do you feel he did? The other thing I noticed is that Dennard and Armstead haven't been participating. Do you think it's a legal thing for Dennard, or maybe he's not happy with his contract? I hope it's not another Spikes' situation. It seems the Pats have been lenient with him thus far. And is Armstead just collecting a paycheck? He's the most frustrating!
Nick Cabrera
The reports you are reading about Thompkins being too inconsistent in OTAs were probably coming from me. So I agree with those reports. I've seen too many bobbled passes and suspect hands. He also struggled trying to work as a returner. I may stand alone on this, but I think Thompkins might be in a competitive fight for a roster spot. I've thought dating back to last season that he doesn't catch the ball well or clean enough, or look like an overall fluid fit in the passing attack. We'll see. My guess is that Dennard, who did spend time in jail earlier this offseason, is probably rehabbing from some injury/surgery that we're not aware of. He did have knee and shoulder injuries last year. Until I'm told otherwise, I won't read too much into his absences, although it's obviously not ideal. Finally, I'm in the dark about Armstead. He was on the field the first day the media could watch OTAs and we haven't seen him since. We never saw him after this point last year. There is no doubting his athletic potential, but it's feeling like he's wasting a year-plus of time that could have been used learning the defense and acclimating him to the system. Add in his time at USC and he's basically been out of football for two of the last three seasons. The other was spent in Canada. It's really hard to count on him or expect much at this point. Fair or not, it does feeling like he's just been collecting a paycheck for a year.
Andy Hart
What's the rush to sign Jermichael Finley or Dustin Keller? I don't see one. Maybe Patriots like what they see in Justin Jones or Asa Watson. Why bring in someone that's injured and can't practice anyway. Let's see what the kids have and give them plenty of reps (Jones sat out all of last year so he should be fresh as a daisy). If you don't like what you see either Keller or Finley will still be out there when training camp opens? What say you PFW?
Zak Asatrian
I'd prefer that any player I expect or hope to be part of the plan for the season to be in camp now. This is valuable time to learn the scheme, learn teammates/coaches and get acclimated to the overall program. Sure it's good to get young players like Jones and Watson reps, but it's also good to get a new veteran as many reps as possible, whether those be mental or physical reps. I had assumed the Patriots would sign Keller as soon as June 1 passed (therefore eliminating him counting against them in the formula for compensatory picks). But that was more than two weeks ago, so I'm not sure what's going on at this point. Still, I'd rather have them in town sooner rather than later.
Andy Hart
Are the Patriots planning to play a base defense with 3 or 4 cornerbacks and only 1 safety? Given the way the league is going is strong safety going the way of fullback; some teams use them some teams don't? Do you think Dr. Bill is planning to play interchangeable DBs to better disguise his defenses?**
John Gawienowski
Belichick has always seemingly enjoyed playing a wide variety of defensive backs in various positions and numbers. Back in the day it was the Big Nickel with Victor Green. Then there were dabblings with Tank Williams in a hybrid linebacker/safety role. Those never played out for long, but Belichick is opened minded in the back end. Certainly the strong safety has become a much tougher spot to fill in recent years. Offenses are more athletic, diverse and spread. That puts more pressure on the strong safety spot to cover. There are only so many guys who are able to be physical, hitting options in the box and still cover well enough to not get exposed in matchup issues. I think that Duron Harmon is penciled in as the starter at strong safety next to McCourty, but he's not a true strong safety. Nor was predecessor Steve Gregory. Many, including Rodney Harrison, have said the Patriots need an enforcer in the back end. Those guys are tough to find and Belichick seems more willing to put two guys capable of covering on the field rather than trying to simply find a big body who doesn't fulfill enough of the requirements of the spot. That's a long-winded way of saying I think Harmon will get the first shot at safety, but you will also see plenty of other bodies roll through the back end over the course of the season based on health, game plan and the way guys are fitting together.
Andy Hart
Two completely unrelated questions here: could you see the Patriots trading for LaMichael James and what do you think we would have to give up to get him? Also, if you could take one of the top two pass rushers of the last two drafts, Jadeveon Clowney or Ziggy Ansah, which would help the Patriots more?
Alex Marr
I wouldn't be stunned to see the Patriots give a guy like James a shot. He's had virtually no role on offense in San Francisco in his two years and is frustrated, even staying away from team workouts this spring. He's also an option as a punt and kick returner, a spot the Patriots could use boost in. That said, I can't see New England giving up more than a conditional, late-round pick for James. The need isn't that great and his college potential hasn't be realized much at the NFL level. I would easily take Clowney. I think he has elite potential and unique skills that are almost unmatched in terms of recent prospects. There are no sure-things, but he's incredibly talented with crazy potential. Ansah had a solid rookie season in Detroit, but I've never been as high on him as many others.
Andy Hart
Hi guys, here's a trade proposal.....Ryan Mallett, Kenbrell Thompkins and Ryan Wendell, to the Texans for Andre Johnson, and 4th rnd pick. Johnson agrees to restructure his contract, extend McCourty and Gostkowski. I like it, wadda ya think?
Shag Mac
If you could pull off that trade, you are more than just the Mac, Shag. Three guys who could be cut this August for a Hall of Fame talent and a fourth-round pick? If I'm the Patriots I would do that deal in a heartbeat. Of course I'm sure Houston wouldn't be quit as quick to pull the trigger. Oh, and we get Johnson at a discounted rate? Love it! Sorry that it will never happen, though.
Andy Hart
Hey guys love the work you do =). I know I'm a bit late in complaining about this, the draft having been over a month ago, but overall, what grade would you give the Patriots for their drafting in 2014? This can be 1-10 or or A,B,C,D,F...Honestly, I was disappointed. I thought that our most pressing needs were Safety, Tight End and Defensive End. Yet our first six picks were for a defensive TACKLE (?), quarterback, offensive line, running back, offensive line, offensive line, and THEN Defensive End waayy down in the 6th round. And a month later into the offseason, we've yet to sign a TE, or a Defensive End, or another safety. Am I right in being disappointed? Or do you think our beloved Pats have been making the right moves so far?**
David Guerra
I, too, was a bit disappointed with the draft. Obviously it really hinges on two very key factors -- Easley's health and Garoppolo's long-term potential/success. You're right in that the team didn't seem to fill its biggest needs, almost regardless of how you ranked those heading into the draft. Culling all this together, I think I'd give the draft a C. Perfectly average, with the potential to be much better or much worse when it plays out over the next few years. I will say that the one positive I took from the team not addressing the likes of tight end and safety is that there is the possibility that Gronkowski is healthy and they expect him to be ready to go sooner rather than later, and that they may believe that Harmon is the answer in the middle of the secondary. Not sure I agree with those two ideas, but they know much more than we do looking on from the outside.
Andy Hart
Brady is getting older and the Patriots are not signing offensive weapons. Just this year Eric Decker was available and there seemed to be no interest at all and the Pats settled for Brandon LaFell who is OK but not great. They haven't traded for a decent receiver since Randy Moss and each year I am hoping that New England will address wide receiver but each year I am disappointed by the fact that New England won't address that obvious need. Will the Pats address the need anytime soon? If so who?
Connor Heim
The Patriots addressed the need over the last two seasons. They invested a second-round pick in Aaron Dobson last year and signed Danny Amendola to a deal worth $30 million. They signed LaFell this year and re-signed Julian Edelman. You can disagree with some of the talent they chose to obtain/retain, but you can't say they haven't addressed the spot at all. I've been impressed with Josh Boyce this spring and hold out hope that Dobson has intriguing potential when he recovers from his foot injury and gets back to work. Given the logjam of veteran's under contract and young players I don't see New England adding a receiver of note at this point in the process. The Andre Johnson dream is a fun one and I'd love to see him on the team, I just don't think it's likely. He's the obvious answer and a guy with the talent to upgrade the spot. Otherwise, not sure there are too many likely/logical candidates.
Andy Hart
The Patriots drafted someone who is more of a receiving back in James White. Do you think they therefore trust Ridley to be the workhorse back this season?
Adam W.
Ridley is what he's been for years. A guy with the ability to carry the load who has ball security issues. The depth behind him as a more traditional back is thinner without the departed LeGarrette Blount, but guys like Brandon Bolden or Stephen Houston, the big undrafted rookie, are still options. The lack of a veteran addition, though, would seem to indicate the team has a decent level of faith in Ridley's ability to carry the load as much as is necessary within the offense. He's really the only somewhat proven option at this point.
Andy Hart
You would always start Jamie Collins over James Anderson? If so, can you explain why? And do you think the Pats should rethink Amendola's contract during the season if he can't stay 100% healthy?**
Alessandro Bernini
I would start Collins until he proves he can't handle the job. I think he has impressive upside and unique versatility given his size and athleticism. He looks the part of the future of the linebacker position. I'm not sold he's ready to be an immediate star or even consistent playmaker, but he certainly has earned the shot to do the job. Anderson is a good backup option with veteran experience. I like the signing and the depth was needed. But from where I sit any reps that go to Anderson over Collins are simply limiting the younger player's advancement and experience level. As for Amendola, he certainly will be under a microscope this season. Fans will be looking for more and the team will probably be looking for more from its pretty significant financial investment. Some thought he might be cut/traded this offseason. Those thoughts will only increase next spring if Amendola can't have a healthier, more productive season in 2014.
Andy Hart
This may be a silly non-football question, but I'll ask it anyway. Last year the Patriots revealed their new "font "if you will, replacing the old Script logo here on the website and then in the end zones. I never saw any gear or merchandise for sale with that curved ,block style logo on it though. Will this year's new apparel etc. have the new Patriots logo on it and when?
Gary Abrams
Merchandise/apparel with the new logo and font is already on sale in the Patriots Pro Shop here at Gillette Stadium as well as online on Patriots.com! Go get yours now. And I'm sure even more such merchandise with the new look will be available moving forward.
Andy Hart
Hey guys, love reading these Q&As every week. My question is about Amendola and Edelman. If Edelman outperforms Amendola again this season, can we assume that Amendola will be cut? I know his salary makes him almost untradeable if he doesn't produce, but what would need to happen for both of these athletes with similar skill sets to both be Patriots beyond 2014?
Maxwell Fox
As I said in the previous answer, Amendola likely does have a lot to prove this fall. First, he must stay healthy and prove he can build a more productive rapport with Tom Brady. That said, I think Edelman must also prove that he can stay healthy again and recreate his success from last fall. Those things are mutually exclusive. If both happen, then both will be here for the future. Obviously the chances of that only improve if Gronkowski is on the field to boost and open up the passing attack as a whole. But if Amendola has another year like last year, which was actually very similar to the bulk of his career, then he indeed could be a candidate for trade or cut moving forward, more likely the latter.
Andy Hart
As far as the RB position is concerned, could you see a scenario in which the patriots kept 5 backs on the roster, those being Ridley, Vereen, and the 3 rookies? I like the skill sets from both Houston and Finch, plus White's draft position, I think that would present an interesting group.**
Josh Boles
Barring injury, I think that Ridley, Vereen and White are pretty much locks to make the roster. After that, I think the roles are up for grabs. That also includes a numbers game with other positions like tight end, fullback, special teams and elsewhere. Houston certainly has the size to be a true backup. Finch is a unique athlete and potential returner. Bolden may be in a fight for his life. And another name might come to the forefront, say Jonas Gray, as the summer wears on. I wouldn't rule out five running backs. But I wouldn't rule out three running backs, either.
Andy Hart
Hey guys Pats fan from the Caribbean here. I just wanted to know what happened with Justin Francis is he still with the Team or Practice squad? And if so didn't he had better play than Jake Bequette when he was given the chance? We've already gotten rid of Ras I, Why haven't we gotten rid of Jake as yet?
Kacey Lewis
Francis was a bit of a surprise cut after last summer. As far as I know, the former undrafted rookie never caught on elsewhere. Bequette, remains on the roster but is very likely in a fight for his job this summer after two seasons with very little production and primarily serving as a healthy scratch on game days. The former third-round pick has a lot of prove right now or his days could very well be numbered.
Andy Hart
I'm hearing a lot about the 6-8/ 277 TE Justin Jones. With his size and reliable hands do you think he can fill the void in the Patriots two-TE offense , second to Gronk? If so do you think Gronk would take him under his wing and teach him the secret to success?
Terrance Little
To me Jones looks like a big, raw body right now. I haven't seen nearly enough to consider him more than a guy competing for a backup job on a very thin tight end depth chart. I certainly don't see a guy worthy of joining the field with Gronkowski in two-tight sets. And I'm not sure Gronk could teach Jones the secret to his success if he wanted to, which I'm sure he'd be open to. The bulk of what makes Gronkowski elite is God-given – his great hands, great size and unique athleticism. You can't teach any of those things.
Andy Hart
Hello PFW, Last year, after watching highlight tapes of Armond Armstead in his CFL days I was excited to see what contributions he might make before being placed on IR by an undisclosed infection. Though he played against lesser competition in the CFL he displayed explosive interior pass rush ability with tremendous lateral agility and block shedding ability. I was disappointed he did not see the field last year and now it appears he has not been a participant in this years OTA program to date. What on earth is going on with this guy and do you have any updates as to why, after a year of recovery from his undisclosed illness it still appears he is not ready to go?
Edward Haskell
Nobody knows much about Armstead's situation. Belichick did say to open mini-camp that the defensive lineman had done everything the team has asked of him. Clearly he's not fully healthy, given that he worked with the rehab group of players during the early parts of OTA action. Beyond that, we'll all just have to wait and see. I still hold out hope based on Armstead's potential and skills, but having missed two of the last three seasons all together and having not played American football for the last three years it's harder to keep holding out hope with each ensuing day.
Andy Hart