When you have a brand new Super Bowl ring, you don't need a reason to flaunt your jewelry, but the Patriots had a pretty good reason to Wednesday night.
The annual ESPYs awards were hosted on July 10 in Los Angeles, and with the Patriots being nominated for Best Team, the guys rolled up to the red carpet in style. Rob Gronkowski, David Andrews, Stephon Gilmore, Sony Michel, Kyle Van Noy, Deatrich Wise, Elandon Roberts and Obi Melifonwu all represented the team at the awards ceremony.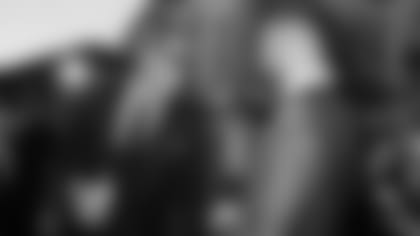 Ultimately, the Patriots did not end up walking away with an ESPY, as the U.S. Women's National Team won for Best Team, just days after winning their fourth World Cup, but one Patriot did receive a special honor.
Instead of picking a specific play, this year's Best Moment honored three legends who called it a career. Dwayne Wade, Lindsey Vonn and, of course, Gronk.
On the ESPY stage, Gronk thanked his family, his coaches and his teammates for making his historic career a fun one too.
"When I look back on my career, what I look back on, what I'm most proud of was the teammate I am," he said. "My teammates knew I would do anything for them, and I knew they'd do anything for me. I know the relationships we formed will stay with us for the rest of our lives, so thank you to all the guys I played with and thank you for making the ride so much more fun and so much more memorable."
The ESPYs make for an inspiring night, and that is in large part to the legacy of the ceremony, with unforgettable moments like Jimmy Valvano's 1993 speech. The award named in his honor is given to someone in the world of sports who has overcome obstacles with perseverance and determination, and this year's recipient, Rob Mendez, a high school football coach born without limbs, is a living example of unwavering conviction and strength.
And it turns out, he has gathered inspiration from Tom Brady.
In a video posted to NFL on ESPN's Twitter, Rob said if he could give an ESPY to anyone, it would be Tom.
"That's where I got my passion for football was from Tom Brady," Rob said. "How excited he gets on the sidelines and how he leads his troops and the other players, it's just so inspiring to watch him on the sidelines get fired up. I love Tom Brady for that passion and that fire he has."
Though the Patriots, as a team, didn't walk away with a new ESPY for the trophy case, it seems like the guys had fun in Los Angeles. You can check out more pictures from their stint on the red carpet below.