The Australian New England Patriots Fans has nearly 500 club members sprawling across Australia. Some have met in person, but most have not. Despite their distance, when the Patriots are playing in the early morning hours, the group lights up with activity and chatter. 
Though many have never met face to face, that changed in a big way on Dec. 12. 
A group representing the Australian New England Patriots Fans made its inaugural trip to Gillette Stadium to catch the Monday Night Football action, with many of those on the trip meeting for the first time. While a few of those who made the trek have been to the U. S. to see a Patriots game before, it was the first organized effort to get multiple members going at the same time. 
Russell Corr has made several trips to Foxborough over the years, and he helped lead the charge to get a group trip. 
"The last time I was here, we met up with about four or five others. We realized so many people seem to go separately so we just decided let's try and organize one for everyone," Russell said. 
With the weather hovering in the low 30s on Monday night, the group shed its layers in the corner of CBS Scene in Patriot Place before kickoff, and to the casual passerby, the fans decked from head to toe in Patriots gear blended right in. However, for them, being surrounded by a sea of Brady jerseys, Flying Elvis logos and football fans was a welcome change. 
"I just love like seeing everyone else in Pats gear. Even when you're in Boston, you're like, 'Oh, there's a Pats fan. There's another Pats fan,'" Marcus Sasson said. "If you're wearing anything NFL-related in Australia it's like, 'What's that?' You won't see anyone for like a week wearing something from the NFL, so it's cool being just around Patriots fans." 
Rees Heatley, who also made the trip, echoed this. 
"It's surreal to be around so many people who have a similar interest as you because we don't have that back home," Rees said. "When you talk about American football over here they know exactly what you're talking about. They know who they are talking about."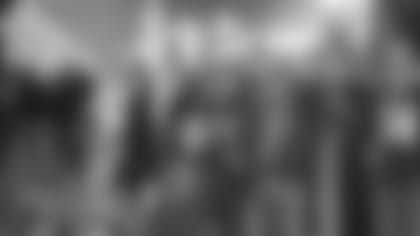 Each one found the Patriots in their own way. For Rees, his cousin from New Zealand got him into the Patriots. For members Matt Carstens and Anthony Baranyay, it was chance. Patriots games were available when they sat down to watch a football game in South Africa and on a cruise ship respectively. Russell got into it growing up in the U.K. Esther Baker started following in 2007 and agreed to start dating her now husband, a native of Cape Cod, because he was a Patriots fan.
And Marcus found NFL while surfing the internet and procrastinating for tests during college.
"I realized I should choose a team, and I was watching ESPN before the 2012 Super Bowl. They did a full thing on the 2007 Patriots, and I remember getting unnecessarily worked up about the fact that they lost the Super Bowl," he recalled. "I was really, irrationally upset about it and was like, 'OK well, I'm going to go for the Patriots then because this is the most I've ever gotten into a game before in my life.'"
But no matter the different paths they took to find the Patriots, this group of Australian Patriots fans has bonded because of them. They wake up with the sun to catch some games, depending on kickoff times, and traveled the across globe to see a game in person.
Though just a handful made the inaugural trek to Foxborough, Russell said he is hopeful they will add more and more each year to make it a blowout tradition. As for this sliver of the club's hundreds of members, they've earned the title of "hardcore fans," according to Esther.
"Talk about hardcore fans – this is it. We're it," she said.
"Hardcore" just begins to cover their dedication.
Want to create an Official Patriots Fan Club? Check out the Fan Club and Bar Registry to connect with Patriots fans near you.
RELATED LINKS