After an extended mid-season break in the schedule, the Patriots were back at work at Gillette Stadium Tuesday. The team enjoyed several days off during its bye last week, but players were on the practice field once again for the start of preparations for their next game, this Sunday night at Indianapolis.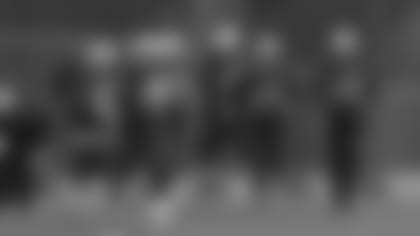 Players were free since last Wednesday evening, and while the rest was welcome, the 7-2 Patriots are eager to pick up where they left off.
"It's the same thing it was prior to the break," running back Shane Vereen remarked. "I don't think much has changed as far as our goals and points of emphasis. Hopefully, we can get back to it and get better. There are still a lot of things that we need to get better at."
Because this is a week coming off a bye, New England has an extra day of practice, but the club is still only required to submit three injury reports to the league. So, we likely won't know until tomorrow why two of the three absent players were not on the field today.
DE Chandler Jones (hip) remains out. He's not been seen since the Jets game in Week 7. Also missing Tuesday were veteran wide receiver Brandon LaFell and rookie DL Dominique Easley, who was seen last week getting some sort of medical treatment on his right leg.
In the locker room afterward, it appeared that LaFell had not been at the facility or had left early, while Easley's locker had a set of crutches in it. However, he was later seen walking through the locker room without them.
Former Patriots kicker and likely Hall of Famer Adam Vinatieri was a topic of discussion Tuesday, as he's this week's opponent. After signing with Indy in 2006, he was replaced in New England by Stephen Gostkowski, a fourth-round draft choice who has since carved out a fine career of his own.
Vinatieri will turn 42 in December, but is a perfect 20-for-20 in field goal attempts for the Colts this season.
"It's super impressive. The guy is unbelievable," Gostkowski said of the man he supplanted. "I've heard the stories of how hard he works out. To be that good – I mean, I don't know how he feels, but he doesn't make it look like he feels old. I wouldn't say 42 is old, but he's doing a good job.
"I admire every kicker in the NFL. I know how hard it is to be successful on a week-in-week-out basis. No one's done it better than Adam. He deserves all the accolades and respect in the world."
Could Gostkowski, now in his ninth NFL season, envision playing for another decade or more like Vinatieri?
"I'm just worried about playing right now, this game. I'm a game-to-game, week-to-week, year-to-year [mentality]," he maintained. "If you do well and play well, good things will happen. I'll try to play as long as I can stay healthy. All I'm really worried about is playing this weekend."
For the second straight game, New England will face an opponent with an equine mascot, and while they were able to slow down the galloping Broncos, corralling the Colts won't be easy.
"It's a very talented defense. At home, they play very well," Vereen noted.
Offensively, Indy features several dangerous weapons, beginning with QB Andrew Luck.
"He's a guy that can definitely take off when things aren't looking good for him in the secondary," said DE Rob Ninkovich. "He can buy some time and scramble around a little bit. He's definitely one of those playmakers. Defensively, you have to be smart and have good pass rush integrity."
Two of Luck's favorite targets are his tight ends, Coby Fleener and Dwayne Allen, and Ninkovich is getting familiar with their skill sets.
"They're both big targets. Fleener is a tall guy that can make some plays. You have to respect when he's on the field. Allen's also a big target. Both guys are a challenge for us.
"I'm excited to play the Colts," Ninkovich added. "They're a good football team. It's a good week to prepare after having a week off. We've seen what happens when we go out there and play well after having a good week of preparation. It all comes down to that. You have to prepare well and know that this is a tough team, especially in their house."