Aside from the defensive backfield, the only other position on the Patriots roster that has experienced as much upheaval since Super Bowl XLIX is their counterparts on offense. The departures, via free agency, of former draft choices Shane Vereen and Stevan Ridley have created openings for the defending champs' remaining stable of ball carriers, including some fresh-faced newcomers.
Veterans LeGarrette Blount and Brandon Bolden are the only relatively known commodities in the group, which includes younger, less experienced players like Jonas Gray, James White, Tyler Gaffney, and free agent Travaris Cadet. Bolden is predominantly a special teams contributor, Gray had one phenomenal game against the Colts last November, White (mostly inactive) and Gaffney (injured reserve) were non-factors as rookies, while Cadet was mostly utilized as a receiver with his former club, the New Orleans Saints.
Who among these men will emerge in 2015 remains to be seen, as the competition plays itself out on the field this summer. Meanwhile, in spring practices the past couple of weeks, New England's backs have been doing what they can to separate themselves from the rest.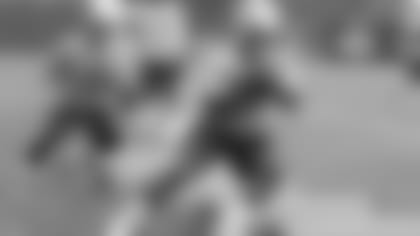 White, a 2014 draft choice, spent nearly all of last year as a game day inactive as the low man on the depth chart. With Vereen now in New York as a Giant, the second-year White could have an opportunity to fill the third-down back role in the mold of Kevin Faulk, Danny Woodhead, and Vereen.
"I'm just excited to be out here," he said after Thursday's organized team activity (OTA) practice. "Whatever role the team has for me, I'm going to go out there and fill that. I learned a lot [last year], from being on the field, off the field taking care of my body, doing whatever it takes to help the team win. I think I've come out here each and every day of these OTAs and tried to become a better player."
Gray was briefly in the team's dog house for oversleeping and arriving late to work following his 200-yard rushing performance last season at Indy. He is perhaps the most serious challenge to Blount to be the team's top rusher this season.
"I've moved on from last year," asserted Gray. "I'm really focused on this year. We know how crucial a time of year this is for the team. That's what I'm excited about, coming to work every day and getting better.
"I think there's always an opportunity when you have the chance to come out and compete every day, regardless of who's here. I'm just trying to get better. Use this time of the year to get to know your teammates, work on your individual goals, and just keep competing every day."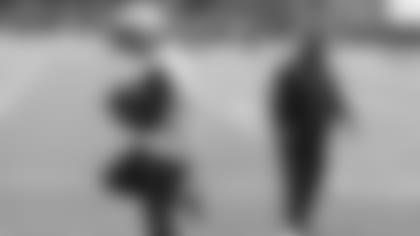 Cadet might have the most to learn, being the only running back who's new to the system. However, as competitive as each man is, Cadet says Blount has been more than willing to help him get accustomed to the Patriots playbook. Whenever Cadet has a question, he says he usually seeks out Blount.
"He'll gladly answer it. He's a great guy, a great leader," said Cadet. "He's a competitive guy, a strong runner. He's all-around: he can catch, he can pass pro[tect]. He's a great leader in our room. I've learned a lot from him day in and day out, on this system, the techniques, what the coaches look for in certain things."
Technique is something White insists he's working on when it comes to pass protection. As one of the smallest backs on the roster, he has to rely on that to overcome any size disadvantages he may face.
"For me," White added, "I want to continue to get better at pass blocking and being a better overall football player. I want to be able to do all things. Whatever the coaches ask me to do, I want to be able to do it. Working on footwork, punching bags. Whatever it takes. It's not necessarily how much you way, but more technique."
And whether New England employs a more traditional ball carrier, like Blount, or a hybrid runner/pass-catcher like White more often as they embark on a title defense this fall remains to be seen.
"It's up to the coaches to identify who they think can do that job," Gray pointed out. "Each guy in the room, myself included, we're given the opportunity to win a job. We'll see."
In the secondary, as noted earlier, there's been plenty of turnover as well, meaning younger players like Logan Ryan might be asked to play a more significant role in 2015. Like the running backs, the cornerback position could be one of the most competitive in camp this summer, as virtually no one has a lock on a starting or backup job.
"We're always going to have talented guys that work hard and want to win. I'm a competitor," Ryan told reporters Thursday. "I want to push guys, and I think we have that.
"Last year, we learned how hard it is to get where we got, and this year, we're going to have to do it all over again. Nothing's handed to us. Probably going to be a little bit harder. We have to focus on the now, just like we did last year."
The focus at the moment, according to Ryan, is on each man's individual performance, more so than an overall secondary cohesiveness.
"It's just a process," he explained. "We're really early in the process right now, just worrying about our fundamentals.
"It's a one-day-at-a-time thing. All we can focus on is today. We can't jump ahead of ourselves and start thinking ahead because other teams in the league will catch up on you and pass you. So, right now, we're just trying to focus on our running, our lifting, our conditioning, learning our defense, and working as a unit.
"One thing I learned about playing corner is one play at a time. You can have a terrible play, but you can't make it a bad day. You can have a string of good plays, but that doesn't mean you're going to have a good game the next time. You just have to focus on one day at a time, one play at a time. I think that's what I'm doing."
It's a been a difficult first two years for Aaron Dobson. Since being drafted in Round 2 in 2013 has rarely played and frequently been injured. Following Super Bowl XLIX this February, Dobson remained in Arizona to train before returning to New England this spring in hopes of turning his career around this season.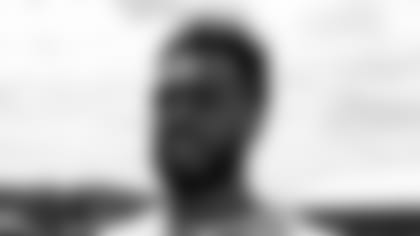 The receiver tried to put a brave face on when asked how difficult it was to watch while his teammates were winning the Super Bowl earlier this year.
"It was a good experience, either way," he asserted, "but right now, it's a new year. I'm just trying to get back on the field and do what I can do for this year. I'm happy to be back out here with the guys. I'm working hard, trying to play fast, and get back on the field."
New England's OTA schedule will continue next week, with media invited to view next Thursday's practice and speak to players thereafter.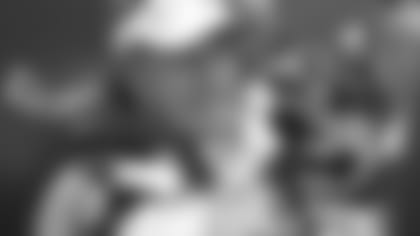 Head coach Bill Belichick addressed reporters after the most recent workout and expressed satisfaction with what his players have accomplished in the past two weeks.
"Six practices, I think we're getting a little bit better each day, just try to keep building on our base and a good foundation. We have a lot of guys working different positions, different groups. It's not really about that. It's about everybody getting an opportunity to learn what's going on and execute it and us trying to build our overall system, which we'll continue to do that next week. It's a four-day week, so hopefully we're ready to build into that and just keep pushing ahead."
The Patriots will conclude their spring practices with a three-day mini-camp June 16-18.